Throughout the previous decade, texting and emailing have been the two most popular modes of communication. However, as a company owner or manager, we're guessing you've encountered organizational difficulties when using these and other platforms. Between business communications and personal messages for both managers and workers, it might be difficult to keep track of which platform was used to contact you.
While SMS and email are both great for one-on-one communication, they have become messy for team management. For example, managers often get trapped in a flurry of back-and-forth communications with workers requesting explanation or permission. Similarly, you may get an email or even a Facebook chat from workers who have queries regarding the weekly agenda. You may even be required to respond to the same question many times for various team members. When attempting to operate a company, all of this creates an environment conducive to confusion, disorganization, and overload.
Team chat applications are an excellent way to tame the chaos. They serve as a hub for all critical communications, including project progress updates, business-related messages, and status updates. Essentially, a solid team chat software will minimize most of the noise related to SMS messaging and back-and-forth email conversation, simplify all corporate communication, and promote employee productivity and cooperation. Choosing the best team chat app for your company will also enhance responsibility within your team and eventually save you time and energy by centralizing everything.
Who Can Benefit from Team Chat Apps?
Team chat applications are ubiquitous and may be used to improve organization across sectors. Any organization may benefit from employing a team chat application, whether it's for an office atmosphere, shift work such as retail, restaurants, and etc., or operations and facilities. Such applications are an easy way to ensure that nothing falls through the cracks.
Ultimately, those that operate in fast-paced workplaces will gain the most from a team chat app.
8 Benefits of Using Team Chat Apps
By 2016, 53% of firms worldwide have deployed collaboration technology, according to a Statista analysis, and the percentage has been continuously increasing since then. As organizations seek digital solutions, the usage of work chat applications and collaboration platforms to facilitate cooperation is increasing.
The following are some of the key advantages of using a team chat application for your business:
1. Communication Improvement.
Without a doubt, team chat software is meant to facilitate smooth communication between team members. Physical proximity is not always feasible. These technologies enable you to communicate and exchange ideas, documents, messages, and videos even from far away locations.
2. Workflow Streamlining.
A collaborative tool enables distant team members to operate more productively. It is an efficient method of streamlining an organization's process. Team members may use these technologies to conduct virtual daily meetings in which they can exchange plan sprints, current work, and even solicit immediate feedback.
3. Improved Engagement of Employees.
While the primary function of office chat software is to connect individuals and streamline an organization's process, it also boosts employee engagement. When workers are engaged, their total productivity increases as well.
4. Increase in Accountability
Internal communication also serves to hold individuals responsible for their assignments and job obligations. As team members are required to inform management of their progress, they acquire a feeling of responsibility for their job and communicate using office chat platforms.
5. Improved Project Management
Coordination is required for good project management. When communication is effective, the likelihood of uncertainty and errors decreases as well. It is one of the most effective methods for determining whether or not things are progressing as envisioned and desired. As a result, team chat software enables smooth project management.
6. Staying Organized
When things are already moving, it's easy to lose sight of what has been accomplished, what is occurring, and what remains to be accomplished. Team collaboration applications assist in preserving order and controlling phases, which assists you in remaining organized.
7. Time Savings
Work and deadlines are inextricably linked. It is critical to manage your time well while cooperating with others. An ideal team chat software is one that minimizes the time required to stand up and approach a person to ask a question. Not only can coordinated work save time, but it also reduces resources used and efforts put in. The more time you manage to save, the less unnecessary charges you will incur.
8. Strengthened Team Relationships
When individuals collaborate on various activities and projects, they often create a positive working connection with their teammates. Communicating with coworkers through chat or in person helps you to build a positive work atmosphere conducive to creativity and growth.
6 Things to Look for While Selecting the Best Team Chat App
Consider your team's unique demands while determining the best team chat software for your organization. Not only do the majority of team chat applications work as a centralized communication center, but they also serve as a repository for user manuals, schedules, and to-do lists. In some ways, the most critical characteristic of a successful team chat app is its adaptability; as such, I've identified the following features as critical when selecting a team chat app:
1. Easy Accessibility.
Wherever your staff is, they should be able to use the app and its communication tools. Employees should never find it difficult or cumbersome to communicate with their team members, whether they are on the road or at their workstations. A team chat application should be compatible with both desktop and mobile devices.
2. Organization.
Your organization should be able to simply form chat groups around certain teams, themes, and perhaps other similar categories. This structure results in less "fog" and confusion, since it ensures that only relevant staff are kept informed and not the entire organization.
3. Search Feature.
The app should enable your team to easily look for messages that include certain data, preferably through a search bar. This reduces time spent manually looking for messages when going through communication.
4. Ease of Use.
A team chat application should be straightforward to use and intuitive to navigate. The user interface should be basic and easy and onboarding new staff should be painless.
5. Notifications.
When workers are tagged in any message or certain tasks or schedules are assigned to them, the app must be able to tell them. Employees shouldn't be forced to "keep up" by scrolling through a discussion for context. Additionally, reminders are an excellent way to guarantee that employees meet deadlines and finish allocated tasks.
6. Accountability.
A team chat software should facilitate task management. The task lists should include the option to designate tasks as "complete" or "in-progress". This means, team members may collaborate on projects or check on their progress, rather than merely discussing them in their communications.
15 Best Team Chat Apps in 2022
Okay, now that you know about the benefits of using a team chat app and the things to look for while selecting a team chat app, it is time that you dive into the list. So, without further ado, let's begin.
#1. Slack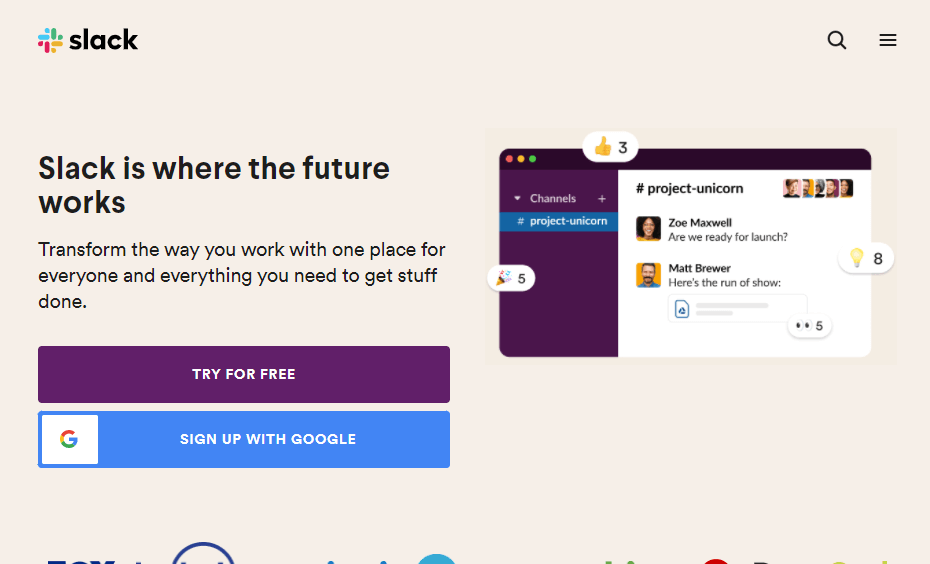 Slack is a long-established and renowned team communication platform that continues to perform well.
Slack happens to be the first app that I used, and it continues to be my all-time favorite. I've witnessed the app evolve and develop over time, but the basic functionality has stayed consistent.
Slack conversations are sorted into Channels depending on the subjects you choose. For instance, you may establish a channel for marketing conversations, another for sales discussions, and still another for company-wide discussions. In addition to Channels, Slack enables you to send private messages to specific team members.
Additionally, you may construct Threads to aid in the organization of discussions inside your direct messages or even channels. The Threads in question are similar to the way discussions are conducted on social media platforms such as Facebook, and they're becoming more prevalent in other chat applications as well.
Additionally, Slack has a built-in "Slackbot" that may give you reminders or assist you in learning how to use Slack. Additionally, Slack interacts with dozens of other popular business applications, like OneDrive, Gmail, and Todoist among many others.
If you appreciate Slack's interface and don't have a strong reason to use another software. It continues to be a powerful and user-friendly team chat app that many organizations use on a daily basis.
Supported Platforms
Slack works on Windows, Mac, Android, iOS, and on the web (browser). Slack has introduced its Linux variant, too, but it is in its beta stage.
Slack Pricing
Slack has a free version available that costs nothing. However, there are strict restrictions. If you need more, you can upgrade. The options available are:
Pro: It costs $2.67 per user per month when paid yearly.
Business+: It costs $5 per user per month when paid yearly.
Enterprise Grid: It offers bespoke pricing. You must contact their sales team.
#2. Microsoft Teams
Microsoft Teams is a component of a broader suite of collaboration products. It is the obvious chat option for firms that already use Microsoft Office.
Numerous organizations, notably large corporations and educational institutions, depend on Microsoft Office to perform their functions. If your business is one of them, Microsoft Teams is an excellent tool for staying connected with coworkers.
Teams provides basic messaging capabilities that enable one-on-one or group communication. You may utilize all of the material that chat applications have come to anticipate, like GIFs, stickers, and emoticons. And, similar to Slack, you can group chats into channels.
However, where the software really excels is in its extensive connectivity with other Microsoft Office applications. You can edit Word documents, PowerPoint presentations, and Excel spreadsheets from inside the program, for example. As a result, it is an extremely effective tool for communicating with other team members in real time on projects.
Supported Platforms
Microsoft Teams works on Windows (obviously), Mac, Android, iOS, and even Linux and the web.
Microsoft Teams Pricing
There is a free version available that will allow limited file storage capabilities. You can always upgrade to one of their paid plans. There are multiple plans with different pricing. If you select Microsoft 365 Business Basic, the pricing is $5 per user per month.
#3. Ryver
Ryver is a more cost-effective alternative to Slack, particularly for small organizations. Additionally, it has project management capabilities.
Ryver aspires to be an all-in-one project management and team communication application.
Ryver's UI is similar to Slack's and various other similar applications. Teams, Forums, and People are used to organize conversations, which are similar to the Channels, group messaging, and direct messages found in other chat programs.
However, inside each of these categories, there are subcategories: Chat, Tasks, and Topics. Chat is just what it sounds like: rapid instant messaging. Topics are comparable to Twist or Slack's threads, assisting in the organization of talks and making them simpler to reference afterwards.
The Tasks, on the other hand, are unlike any other software we've covered thus far. When you go to a Team's Tasks page, you'll find a kanban-style board where you can create, organize, and execute tasks relating to the Team's current topic. Additionally, you'll discover common task and project management tools like tags, checklists, and the option to assign tasks to particular individuals.
Ryver, in my opinion, is an audacious effort to blend team communication with project management. I can imagine the many levels being complicated, and they're certainly overkill for a small team of a few individuals.
However, Ryver's flat-rate price model may make it far more affordable for smaller enterprises than Slack or other chat applications' per-user pricing. Additionally, there is no need to separately pay for a standalone project management application with its own per-user cost structure.
Supported Platforms
Ryver supports the following five platforms – Windows, Mac, iOS, Android, and Web.
Ryver Pricing
Ryver gives a 14-day trial. You do not need to provide credit card details for using the trial. Once the trial is over, you must upgrade to one of the following paid plans:
Starter: It costs $49 a month for a maximum of 12 users.
Unlimited: It costs $79 a month for unlimited users.
Enterprise: It costs $149 a month for unlimited users.
Note that the Enterprise plan does not offer any free trial.
#4. Chanty
Chanty is a Slack-like software with straightforward task management capabilities and a low pricing tag. Chanty's mission is to be a more straightforward, user-friendly alternative to Slack.
In reality, the two applications seem and perform similarly. Chanty allows you to establish Conversations, which are comparable to Slack's Channels. You can have both public Conversations in which your complete team can join and private Conversations in which only a select set of individuals may participate. Additionally, you may send private messages directly to certain team members.
The primary elements that differentiate Chanty from Slack are its price system and task management capabilities.
Beginning with task management, Chanty enables you to convert any communication into a task that can be assigned to anyone. At the moment, the functionality is rather simple, consisting of a list of activities that you may complete or remove.
Chanty has a powerful task management system that allows stuff like checklists, task priority, due dates, subtasks, and also a powerful kanban-style view. The program also allows setting and controlling roles and permissions, highlighting members with @mentions, and much more.
Supported Platforms
Chanty supports the following platforms: Windows, Mac, iOS, Android, and Linux (Fedora and Debian).
Chanty Pricing
There are only two plans that Chanty offers. One is the 'Forever Free' plan where you can have 10 members with certain features missing. If you want all the features, you can upgrade to their 'Business' plan that costs $3 per user per month.
#5. Flock
Flock is an app for team communication that includes several unique features such as polls and an integrated note-taking application.
Flock aspires to be the center of your team's activity. At the heart of this are messaging capabilities, such as Channels and even direct messages found in practically every chat software.
Where Flock becomes intriguing is in the functions it delivers in addition to chatting. Along with the normal GIFs, emojis, and file sharing, Flock now enables the creation of polls inside Channels. This may be beneficial when deciding on everything from the greatest logo design to where your team members should have lunch.
Notably, Flock features an integrated note-taking application. Called "Notes," it enables you to quickly compose and format small texts. Additionally, you may share these docs with all team members that can help you avoid sending lengthy, difficult-to-read messages in your conversations.
Supported Platforms
Flock works on the following platforms: Web, Windows, Linux, Mac, iOS, and Android.
Flock Pricing
Flock has a free plan that allows up to 20 team members. If you are not happy with the free version, you can upgrade to their Pro version that costs $4.50 per user per month. This plan supports up to 100 team members. However, if your team has more than 100 users, you can upgrade to their Enterprise plan that comes with bespoke pricing.
#6. RingCentral Video
RingCentral Video is a video chat application for teams that includes important collaboration tools such as task management and screen sharing.
This tool aspires to be a "collaboration" application that enables your team to work more successfully collaboratively. Chat capabilities play a significant role in this, and the UI of RingCentral Video will seem familiar to anybody who has used Slack or any another popular chat application.
You may create Teams on certain themes and send private or direct messages to members. Additionally, you may communicate by voice or video, and even share your screen if desired.
RingCentral Video has a rather extensive task manager in addition to these conventional chat functions. You may use this to handle tasks independently of RingCentral Video chats, or if you wish, you can assign new tasks directly from inside RingCentral Video discussions. Along with the regular list view, this application now includes a calendar view for your team members' and your responsibilities.
By and large, RingCentral Video is a respectable entrance into the realm of team chat applications. At the very least, it's worth a look because of its expansive Free plan, which offers unlimited meetings, allows up to 100 people in a meeting, and interfaces with key productivity tools.
Supported Platforms
RingCentral Video works on Web, Windows, Mac, iOS, and Android.
RingCentral Video Pricing
RingCentral Video has two plans to offer – RingCentral Video Pro and RingCentral Video Pro+. The first one, that is, RingCentral Video Pro is a free plan, and it allows hosting up to 100 participants per meeting (available only if you sign up within December 2022). If you need to add more participants, you can upgrade to RingCentral Video Pro+, and it costs $11.99 per user per month. This plan will allow hosting up to 200 people per meeting and offers a slew of other advanced features.
#7. Rocket.Chat
Rocket.Chat is a simple, open-source chat application that allows for extensive customization.
At first sight, Rocket.Chat seems to be similar to the majority of other team chat applications. That is accurate on the surface. Conversations are divided into public channels and private channels. There is support for direct private messages for engaging with individual team members. Additionally, there are all of the regular chat capabilities available, including file uploads, emoticons, support for GIFs, and even @mentions.
However, Rocket.Chat does have significant differences from other team chat apps. Rocket.Chat is totally open source, which means that if you have someone on your team with software programming expertise, you may adapt and alter the app to perform the way you want it to.
Along with its open-source nature, Rocket.Chat has great linguistic support. The commercial plans of the program enable you to easily integrate Google Translate using API, allowing for real-time message translation.
While this does not guarantee error-free communication, it does offer up several opportunities for global and multi-lingual enterprises. Additionally, the UI of the application is available in 50+ languages.
If you're searching for an all-in-one team chat solution, Rocket.Chat is certainly overkill. However, if you want something that you can configure to create the precise team chat experience you like, Rocket.Chat is an excellent choice.
Supported Platforms
Rocket.Chat works on the web, Linux, Mac, Windows, iOS, and Android.
Rocket.Chat Pricing
There are two ways you can use Rocket.Chat. You can use it as a SaaS application where you do not need to worry about hosting the application on your server, or you can use it as a self-hosted solution.
SaaS format comes with three pricing plans:
Bronze: $2 per user per month for annual billing.
Silver: $4 per user per month for annual billing.
Gold: Customized pricing.
Self-Hosted format comes in three pricing tiers:
Community – Complete free.
Pro – $3 per user per month.
Enterprise – Customized pricing.
#8. Twist
Twist, positioned as a competitor to Slack and provides a chat environment that emphasizes asynchronous communication.
Numerous chat applications emphasize real-time communication, emulating the experience provided by iMessage, WhatsApp, or Messenger.
Twist is aimed to alleviate this sense of urgency via the use of an interface that seems more like an email client. When you fire up Twist, you're presented with an Inbox that details changes that occurred while you were gone. This alleviates the need to stop your job in order to reply to incoming communications.
As with Slack, conversations are grouped into Channels, and each Channel has Threads devoted to certain subjects. This helps keep talks on track and makes them simpler to refer to afterwards. Additionally, you may send private messages to anyone on the team through direct messaging.
Twist's sole drawback is a lack of connectivity with other popular work tools. It does integrate with a number of developer-focused applications, like GitHub, as well as with Todoist, but that might not be enough for many users. There is a remedy to this problem. They provide API access that you can use for creating custom integrations.
However, if you wish to integrate with popular programs such as Dropbox, you must do it using Zapier. This might entail paying for yet another subscription.
Supported Platforms
Twist works on the Web, but you can use it on your desktop (Linux, Mac, and Windows). You can even have it on your mobile (iOS & Android).
Twist Pricing
They have just two plans:
Free: Allows up to 500 participants.
Unlimited: $5 per user per month – allows unlimited members.
#9. ProofHub
ProofHub is a collaboration tool that centralizes all of your project communications. It's the ideal location for any chat and helps keep your teams' communication inside the workplace or with customers in check.
ProofHub's features include one-on-one chat to enhance office conversation clarity; group chat for easy collaboration and completion of tasks; the ability to brainstorm and discuss topics with distributed team members; ability to use @mentions for bringing specific team members in loop.
Supported Platforms
It works on the Web, and you can install it on your Windows desktop, and iOS & Android devices, too! Since it works on the Web, you can use it even when you are using Mac or Linux operating systems.
ProofHub Pricing
ProofHub is one of the few platforms that offers flat pricing. There are two plans:
Essential: $45 per month with annual billing, and allows unlimited users, 40 projects, and 15 gigs of storage.
Ultimate Control: $89 per month with annual billing, and allows unlimited projects, unlimited users, and 100 gigs of storage.
#10. Troop Messenger
Troop Messenger connects teams! Collaborate and communicate on a unified platform, and communicate at all levels of hierarchy via forkout, audio messaging, one-on-one discussions, screen sharing, voice-video calls, and group conversations, among other features. Making favorites, sharing files, filtering material, and previewing files are just a few of the wonderfully designed tools that contribute to a positive user experience. Share work, projects, and ideas using Troop Messenger to simplify your teams and pave the way for successful cooperation.
Troop Messenger comes with a few awesome features including the ability to suggest users to the admin, an unread message filter allowing users to read messages that they missed, the ability to use forkout for sending attachments and text messages to multiple groups and multiple users, etc.
Troop Messenger offers brilliant custom administrative controls alongside an intuitively designed dashboard. It also throws in vendor collaboration features along with API delivery and self-hosted solutions.
Supported Platforms
Troop Messenger works on the Web. You can also install it on Windows, Mac, Linux, iOS, and Android devices.
Troop Messenger Pricing
Troop Messenger has a wide range of pricing options available. These options are distributed as SaaS, On-Premises, Defense, Politics, NGOs, Education, APIs, and On-Premise API.
For SaaS format, there are three plans – Premium, Enterprise, and Superior. The Premium plan costs $1 per user per month, the Enterprise plan costs $3 per user per month, while the last option, that is, Superior, is not available for now. They will be opening the option soon.
#11. Brosix
Brosix is an instant messaging application that enables you to manage your own private team network completely independently. Beyond simple instant messaging, Brosix has a variety of collaboration capabilities that enable your team to exchange files, engage in chat rooms, collaborate through screen sharing, and conduct audio and video conversations. Brosix encrypts all communication channels using peer-to-peer technology, resulting in a highly secured environment for communication.
Supported Platforms
There is a web client available in case you want to use it directly from the browser. Apart from that, you can install the application on Windows PC, Mac, iOS, and Android.
Brosix Pricing
Brosix has three pricing plans of which one is completely free. The options you get include:
Startup: A free plan that allows up to 3 users.
Business: It costs $4 per user per month when paid annually and offers unlimited users.
Premium: It costs $6 per user per month when paid annually and offers unlimited users.
#12. Connecteam
Connecteam is an all-in-one app for employee management that provides enterprises and teams with efficient communication tools. You may access social postings, group or private chat, real-time updates, and an employee directory all from a single app.
Among the various features available with Connecteam are the ability to create location-based chats, department-based chats, and project-based chats. It even allows igniting private chats with individual work contacts. It allows sending updates to team members, and even allows tracking who viewed those updates, and who didn't. It also features a powerful survey feature to get feedback. Additionally, it offers an employee directory, HR suggestion box, and detailed analytics and reporting.
Supported Platforms
You can work with the web client or you can decide to install it on your iOS and/or Android devices.
Connecteam Pricing
Connecteam offers a forever free plan where you can have up to 50 users. Beyond that, you must upgrade to one of their paid plans that include:
Basic: $39 per month for annual billing and allows 50 users. Every additional user is charged at $0.5 per user per month.
Advanced: $79 a month for annual billing and allows up to 50 users. Every additional user is charged $1.5 per user per month.
Expert: $159 a month for annual billing and allows up to 50 users. Every additional user is charged $3 per user per month.
They also have an Enterprise plan, but that comes with bespoke or customized pricing. You must contact their customer support team with your specific requirements to get a quotation.
#13. Spike
Spike transforms your email inbox into a highly productive productivity tool. It integrates with your current email, which eliminates the need to migrate your team or work to a different chat platform or project management platform. Spike consolidates productivity features such as collaborative notes, to-do lists, video meetings, tasks, calendar, and phone conversations, email & chat, and groups into a single cross-platform software. This removes the necessity for app switching.
Spike comes with a host of features including streamlined chat, asynchronous communication with voice message, reminders, scheduled sending, collaboration with people not using Spike, etc.
Supported Platforms
Spike offers a web client, but if you wish, you can install it on your Windows PC, Mac, iOS device, and Android device.
Spike Pricing
Spike offers a personal plan that you can continue using for free forever. However, if you are not happy with the limitations set by Spike, you can use one of their three paid plans that include:
Solo: $12 per account per month with annual billing. Requires a minimum of one business account.
Team: $8 per account per month with annual billing. Requires a minimum of two business accounts.
Business: $7 per account per month with annual billing. Requires a minimum of three business accounts.
#14. Flowdock
Flowdock is a real-time team chat application that centralizes all of your workplace interactions, tasks, and tools. It enables you to prioritize tasks and resolve conflicts amongst teams, regions, and time zones. Flowdock utilizes flows, which are open-source locations for teams to communicate and interact, enabling you to invite stakeholders of a project to engage in conversations and see project updates right from inside the tool.
Flowdock organizes the conversations using threads. It comes with over 100 integrations, allows file sharing, enables adding message tags, and even use bots, emojis, and GIFs.
Supported Platforms
You can use Flowdock directly from the web browser, or you can decide to install it on your Linux, Windows, or Mac computer. It is also available for installation on Android or iOS devices.
Flowdock Pricing
Flowdock offers a 30-day free trial. After the trial ends, you must upgrade to one of their paid plans that include:
Standalone: It costs $3 per user per month.
Enterprise: It costs $9 per user per month.
#15. Google Chat
Google Chat is a straightforward team messaging application that is tightly connected with Google Workspace.
Prior to doing research for this piece, I believed Google Chat (previously "Hangouts Chat") was only a one-to-one messaging platform for conversing with pals. I was wrong! Google Chat is much more capable than that.
Google Chat is a rather straightforward application. Within your organization's Google Chat, you may build many Rooms (which are essentially Channels) arranged around certain subjects.
Additionally, you may start discussion Threads in each of these Rooms that users of the Room can react to utilizing all of the multimedia elements available. Additionally, you may send private or direct messages to small groups of people or to individuals.
However, Google Chat's greatest strength rests in its strong connectivity with other Google products. It's simple to share files from Google Drive, Slides, Sheets, and Docs, and the same technology powering Google search enables you to swiftly locate objects in your Google Chat discussions.
Additionally, you can integrate a number of bots into your conversations to automate tasks like as meeting scheduling and data extraction from third-party applications such as Salesforce or Asana.
If your team currently uses (or wants to use) Google Workspace, Google Chat is worth considering for your communication requirements.
Supported Platforms
You can use Google Chat on the web or on MacOS, Windows OS, Android, and iOS.
Google Chat Pricing
Google Chat is free to use for individuals. If you are using Google Workspace, Google Chat is included in it. Pricing for Google Workspace starts at $6 per user per month.
Conclusion
This list has now reached its conclusion. Is it the most complete list ever? No, it isn't! There are many more options available out there, but these 15 are the best in business in my opinion. Take a closer look at them and select the one that best suits your requirements.
However, do remember that no matter which team chat app you select, you must always try to inculcate great work habits within you. An app can help you to improve productivity, but it cannot change your mindset or your approach to work. If something is wrong, if something is blocking you from being a productive person, you must work on it and ensure that the roadblocks are removed.
Having said that (that is giving you unsolicited advice), I will suggest that you go for one of the top five options listed here. But do not forget to take all of them for a ride before you settle for one.