With only a few hours or days left till the deadline for your project or report, how do you come up with a stunning summary that doesn't infringe on someone else's copyright.
The short answer is using a summarizing tool that can easily summarize an entire text, or portions of it, without plagiarizing.
If you're prepared to do a work that is well-planned, well-elaborated, and well-researched, you may get started by using one of the many top summarizing tools available on the market.
So, in case you are looking for the finest options in this niche, this article sums up the 15 best summarizing tools you can find. Yes, some are freemium tools while a few are free tools. Depending on your needs, you may need a paid tool, but for smaller, not so important tasks, the free tools can help you.
So, without further ado, let us begin.
Best Summarizing Tools
1. Scholarcy
Scholarcy is an online summarizer capable of scanning your material in seconds and breaks it down into bite-sized chunks for easy access and evaluation.
Researchers, students, and various professionals use the application to rapidly summarize any paper or report or to write valuable summaries which can be easily referred to at a later stage.
Additionally, you can extract essential numbers and references from any paper, report, or article in a PDF or Word format within seconds and generate a nifty summary flashcard.
The program provides links to open-access versions of mentioned sources and allows for the extraction of figures, tables, and photos.
Additionally, Scholarcy enables you to follow arguments, skim information, and extract key elements in a matter of minutes.
Scholarcy throws in a browser plugin for the Microsoft Edge and Google Chrome browsers that connects to open access repositories.
Additionally, it links with Scholarcy Library, a monthly membership service that enables searching summary cards that can be accessed via any device.
Additionally, the summarizing tool proposes background reading, generates and locates summaries, and pulls figures and tables for your use.
Additionally, you may save any tables discovered by the program in a PDF or Word document and perform your own computations on the data.
Additionally, Scholarcy searches the web for the publications cited in your assignment or report's references. It utilizes the UnPaywall API to discover open-access PDF files from Google Scholar, arXiv, and a wide range of other sites.
You must pay $7.99 each month or a yearly payment of $72 to access the Scholarcy Library.
Academic licenses start at $8,000, and commercial API licenses start at $225. The price for the API license will depend on your chosen plan. The available plans include Starter Plan, Growth Plan, Dedicated server or cluster, and a Custom Plan.
2. Resoomer
A summarizing tool, Resoomer is mostly used by teachers, journalists, college students, readers, libraries, editors, organizations, museums, and publishers to summarize various documents and assignments.
The program enables you to quickly analyze your work by filtering it according to critical aspects, major subjects, and concepts. It's a simple-to-use application that enables you to quickly summarize or analyze text.
You may summarize content by pasting the material directly it into the tool or by utilizing an online summary extension.
The program simplifies learning by condensing lengthy passages of text from research documents or other publications into a concise form.
The interface is straightforward and intuitive, the process is quick, and you have complete control over how much summarizing is done depending on the length of the summary you choose to create.
Additionally, you may reverse any modifications made, and the tool is available in a variety of languages, including French, Spanish, Italian, and German.
Additionally, Resoomer has a paraphrasing tool for when you wish to rephrase your summary. However, since the program only works with argumentative material, it will not correctly rephrase other forms of content.
A free version of the tool is available; however, it includes advertisements and does not support file import. You may also purchase a premium Resoomer membership for 4.90€ per month or decide to go for a yearly subscription that costs 39.90€ per year.
Resoomer respects your privacy and does not save your text in accordance with European data protection rules.
Additionally, the program is free to use and exports as Doc and PDF files.
3. Text Compactor
Text Compactor is a popular and free summarizing application that enables summarizing any part of text and requires you to choose the text percentage to be retained in summary.
You may always modify the percentage and retry if you are dissatisfied with the outcome.
You are not required to register to access the ad-free site. However, it does not support the import of files and URLs, and it doesn't even allow saving the result in the most popular file types.
The application includes a language translator and a handy slider for selecting the proportion of copied material that should be retained in summary form.
However, if your material surpasses 500 words, the tool will generate longer and complex phrases; thus, you're better off utilizing it for shorter pieces.
Although Text Compactor was designed to assist readers who struggle with large volumes of text, the overall approach is beneficial to busy teachers, professionals, and students.
Once you've entered text into Text Compactor, the software will calculate each word's frequency in a given passage, following which it will assign each sentence a score depending on the words' frequency count.
The most significant sentence is the one with the greatest frequency count.
While readers may disagree with this method of automatic text summarizing, it works best with reference materials, textbooks, and other expository content.
When a paragraph has a small number of sentences, it is easy to bias the findings.
Additionally, the tool has a limited word limit and struggles with fiction material, such as tales about imagined events, people, and locations.
4. QuillBot
QuillBot is a powerful online summarizing tool that allows you to take any written material and extract the most critical bits of the content with just one click.
The application utilizes AI-based algorithms to extract the most salient points from your lengthy material and guarantees that the summary is accurate to the original context.
You may summarize material using bullet points or paragraphs, or reduce lengthy articles, documents, or studies into a brief paragraph.
The AI program extracts critical information while retaining the original context using what is known as NLP or natural language processing.
QuillBot summarizes your work with the help of Paragraph and Key Sentences mode.
The Key Sentences feature extracts the most critical sentences from your text and presents them. Additionally, the summary length slider allows you to modify the number of words you get.
Using the paragraph mode will condense your text into a paragraph that functions as a combination summarizer and paraphraser.
This manner, you may produce text that flows organically while still emphasizing crucial points, as well as manage the paragraph's length using the fancy slider.
You may use the summarizing tool for extracting information from numerous sources, such as an article, a paragraph, or even a research paper.
5. SummarizeBot
SummarizeBot is a time-saving text summarizing program that generates almost accurate summaries. This makes it simpler to digest big chunks of information in compressed formats.
The program helps you to better organize your time to analyze the most relevant and engaging stuff, allowing you to learn more with less reading.
The chatbot is driven by artificial intelligence and analyzes a multimedia file, a paper, or a web link, extracting the key concepts and condensing them into a brief synopsis.
By becoming more effective and efficient, you may summarize online links and radically alter your surfing experience.
If you operate a company, SummarizeBot assists you in structuring unstructured data by producing improved versions of it.
The program makes use of technology to provide the most accurate summary results possible. It is ad-free, simple to use, and allows text compression to save time on research.
The summary maker reveals the amount of reading time that you have saved, as well as other useful information.
SummarizeBot works with a variety of file types and languages, including DOC, PDF, JPG, mp3, and TXT.
SummarizeBot has no character restrictions and supports the input and export of files and URLs.
It does not, however, have a web version, and users who do not have a Slack or Facebook account will be unable to use its capabilities.
6. Summarizing Tool
Summarizing Tool uses artificial intelligence to condense your lengthy information into a concise version.
The summary text comprises essential lines that provide context for the entire text, and the tool combines three or four paragraphs into just one with just one click.
You may summarize for professional or educational purposes. Irrespective of the use, the tool is beneficial, efficient, and accurate for creating a summary of your information.
The tool is powered by powerful algorithms that analyze your material and then provide a summary depending on the context of the texts written.
However, it does not alter the meaning of the content, but rather comprehends it in order to provide the most accurate summary.
The Summarizer Tool's primary features include displaying the best phrase with the greatest score and allowing you to customize your content's summary percentages.
Additionally, it provides you with the desired format and creates content sequences depending on your rankings.
Each phrase is scored by the tool's AI algorithms depending on its word choice, optimization, structure, and correctness.
The technology deduces which phrases are more critical and where to locate them based on the score.
After scoring your work, it creates a summary using the most significant and informative lines and finally, it automatically proofreads the summarized text to eliminate any flaw.
7. SMMRY
SMMRY is a tool designed to aid in the comprehension and summarization of texts and articles.
The program does this by condensing the information to the most critical lines, rating them with a core algorithm, and restructuring the summary to concentrate on a certain theme.
Additionally, the tool eliminates redundant transitions, clauses, and instances.
You'll find everything you will require for a flawless summary in this application, which includes a plethora of features, an intuitive interface, and complex options.
Additionally, the online service summarizes text that is copied and pasted into it, as well as material that is uploaded from a URL or a file.
With URL uploads, there is no need to alter the material; just enter the URL and the tool will hand over the results.
An additional feature that the tool offers is a heat map responsible for color-coding words according to their relevance, as well as the ability to skip through exclamations, quotes, and questions.
8. TextSummarization
This program is simple and straightforward to use. Just about anyone can use it.
This tool enables pasting a URL or the text, and it will scan the content and summarize it to the desired word count.
On the downside, the tool does not always correctly identify the text, although it works effectively in the majority of cases.
Additionally, there is an API for Ruby, Java/JVM/Android, Objective-C/iOS, Node.js, PHP, Python, and .Net development environments.
You may evaluate the API by using the free plan, which allows for 100 requests each day.
While the application is free to use, it does include advertisements and does not allow you to import files directly or to export the findings in common formats like TXT, PDF, or Doc.
9. Tools4noobs
Tools4noobs is an online tool that provides handy widgets and scripts for usage on or integration with your website.
It is a free tool and happens to be quite user-friendly when it comes to creating article summaries, since it enables you to immediately paste a URL or text.
You may choose the kind of summary you want, and even assign a threshold value between 1 and 100 to reduce the summary size depending on the relevant terms.
Additionally, you may alter it depending on the number of lines you wish to show.
Tools4noobs may highlight your sentences based on their keyword density and relevancy, as well as enlarge the most often occurring terms in your material.
Additionally, you may utilize the summarizer, and if you wish, add widgets for free to your WordPress-powered website.
The program is fully customizable and ad-free. It is an open-source program, and you may contribute towards its development by making a donation.
10. Autosummarizer
If you're strapped for time, the Autosummarizer is an excellent summarizing tool that you can utilize for your summarizing needs.
The tool is limited in functionality, but it provides concise summaries, which you may customize to include between five and ten phrases.
Autosummarizer is free to use. This program does not need registration, although it cannot summarize files or web pages.
Additionally, it contains advertisements, which means you must utilize an ad blocker to access the site if you're not a fan of intrusive pop-ups and advertisements.
For text articles, the summarizing tool selects the most essential sentences and rank them according to their significance.
Autosummarizer may be accessed through an API that connects with applications or websites to create summaries for specified sections of text.
There is an algorithm provided that assists in extracting the key points from the original text.
Autosummarizer offers a straightforward UI and a slew of other helpful features, but it does not have the feature of file import and export. Also, it restricts you to summarizing up to 3375 words.
11. Summarizer
Summarizer is a small Chrome addon that assists you in summarizing any information you find on the web.
After installing the extension, you can just open the content or the article that you want it to summarize.
In your Chrome browser, the program processes PDF documents and diverse text fragments, with just 7% of the original material included in the summary output.
If you're not in the mood to read lengthy texts or magazines, Summarizer is an excellent tool to have on hand.
However, it is only compatible with Google Chrome and does not allow for the download of the result. It doesn't even allow importing files or exporting the results.
12. Free Summarizer
Free Summarizer is a well-known summarizing application that is simple to use and allows you to manually put your text into the platform.
After that, you may choose the quantity of phrases you'd want the tool to summarize for you.
The tool generates insightful summaries, which compensates for the tool's restricted feature set; also, you get a nifty proofreading tool that you may use to double-check the summary before submitting your work.
13. Simplifly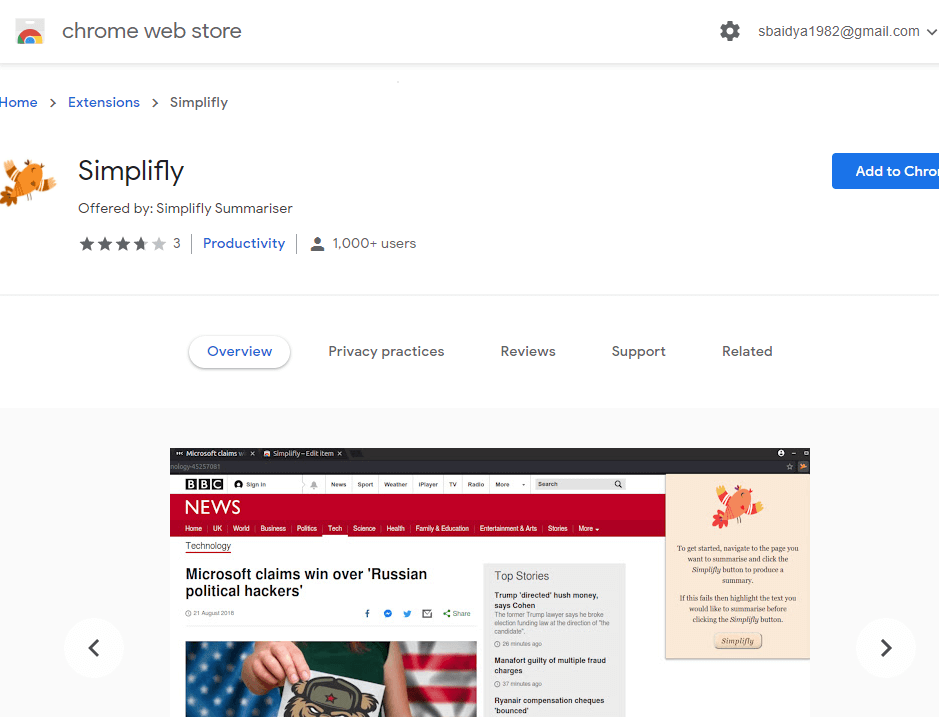 This summarizing tool is yet another Google Chrome extension that does not impose and character limitations. No registration required for using this tool, and it offers an ad-free interface.
For using this tool, you must scrape the title of the content and its body, and then pre-process the extracted content using Porter-Stemmer method for removing stop words and stemming. Once you do that, the tool will provide several sentences, which will serve as the foundation for the summary.
Simplifly enables you to quickly summarize any kind of material, including news stories.
However, it is only compatible with Google Chrome and does not support the importing and exporting of files using common formats such as PDF.
14. Split Brain Summary Tool
This application enables you to summarize in 39 languages!
You can have the content summarized just by inserting a URL.
Different summaries may also be achieved simply by defining the summarization ratio that can be varied between 5% and 80% by adjusting the paraphrasing density.
Split Brain Summary tool does not support file import/export to common file formats such as PDF or DOC.
However, the website is ad-free, and you may access additional services, which is particularly useful if you are a student.
15. AppZaza Article Summarizer
This tool is completely free. You don't need to register to use it. As the author of all your content's summaries, you can depend on this tool for rephrasing material that you type directly into it or paste into it.
The software performs optimally when only well-structured papers are summarized.
Sadly, appZaza does not support file import and export.
However, there are several more helpful tools and applications available on its website for editing your material.
Tips for Proper Summarization
Before you start using the tools mentioned here for content summarization, it's critical to understand what content summarization includes and the approaches available.
Prior to skimming the text, the following approaches will help you preview the work and verify that you do not get copied content:
Include the content's title.
In your opening sentence, name the creator of the piece.
Ascertain that the author's thesis or core material is conveyed in the first phrase or two of the summary, and that you have used your own words for the summary.
If you are trying to summarize a lengthy piece, be certain that the many phases of your reasoning and explanation are connected via relevant paragraphs. You may break the article into parts and use one or two lines to summarize each section's important topics.
Remove any concept that is not necessary for your material in order to avoid reproducing the author's precise words.
Eliminate particular instances and specifics.
Avoid expressing personal ideas or comments in your summaries.
Even if you include a few of the author's phrases, ensure that they are enclosed in quote marks. It is recommended that you create your summary's initial draft without examining the original text.
Conclusion
It's critical to know the method for summarizing your work irrespective of whether you're a researcher, a student, a professional, a teacher, or a journalist.
This enables you to condense the content's core themes into one or a couple of paragraphs, reproducing the overall ideas in detailed but exact language.
When you are using one of the aforementioned summarizing tools, you can rest assured that you're obtaining a summary of the key points in a short form or a long-form piece of information without having to depend on the author's words to construct your own arguments.