There was a time when selling new or used items was a Herculean task. You had to opt for flea markets, garage sales, local bazars, etc. But that was the time when e-commerce had not yet come into the scene.
Today, things are different. Just anyone and everyone can sell products online, thanks to the many marketplaces that exist. You need to sign up with one or more of them, agree to their terms and conditions, and voila! You will start selling in no time! Sell as many products as you want!
If you don't want to sell through an e-commerce marketplace, you can build your own online store in a jiffy with options like Shopify, Magento, BigCommerce, and more.
While owning your own e-commerce shop is always a great idea, choosing an online marketplace will give you the necessary head start and exposure to a wide range of potential buyers.
I will always suggest that you create your own online shop and still sell through e-commerce marketplaces. You can use the marketplaces to divert your customers to your own website with better deals and bigger collection.
Your own e-commerce shop will take some time to grow. Have patience! It takes time to build a brand.
Okay, now that I have given you the priceless suggestion, let me walk you through the different sites that you can use to sell your products online.
Ready?
Of course, you are!
Best Sites to Sell Your Products Online
#1. Amazon – The Most Popular Name
It is needless to say that Amazon is the world's largest online marketplace. It is the first name that pops up in mind when anyone wants to sell or buy something. The company sells well over 400 products every minute.
The reason why people buy so much from Amazon is that there is a sense of security and comfort. The company does an excellent job in keep counterfeit products away from its marketplace.
What more? The company ensured that the products purchased by people reach them within the promised timeframe.
No wonder, Amazon is a go-to platform for billions of people across the world when it comes to shopping online.
Undoubtedly, you can leverage that and sell your products through Amazon. The only problem is that the insane popularity of Amazon and its trust attracts extra fees for the sellers.
As a seller, you can create any one of the two types of seller account with Amazon. One is a professional selling account where you can sell more than 40 items a month. You have to apply for this account and there will be a monthly fee of $39.99 over and above the fee that you pay for every single item you sell.
In case you don't want the professional account provided you don't intend to sell more than 40 products a month, you can go ahead and create an individual selling account that will charge you $0.99 fee per item you sell plus a certain percentage fee for per item you sell. The percentage fee will depend on the category in which you are selling. There is no monthly charge to pay.
Amazon is 'THE BEST PLACE' if you want to grab a very large audience, of if you are planning on selling large quantities of products.
#2. eBay – Yet Another Famous Platform
eBay is the original platform for selling stuff online. What do I mean by original? Well, this platform has been around since 1995. Well, you can guess how powerful this platform can be!
You should go for eBay when you are trying to sell stuff that are a little weird. What kind of weird stuff you ask? It can be anything from a human kidney to celebrity leftovers to a man's entire life and what not. Read this interesting article!
I am not saying you should be selling such stuff, but hey, why not!
Anyway, coming to the point, eBay is a great place to sell stuff, but the trust level of eBay is less than that of Amazon. But if you are happy with low trust, you can get into a marketplace with 182 million users worldwide.
Here is what you need to know about selling on eBay. When you list your product for sale, there will be a 'listing price.' If you want to add the same product to a different category, there will be something called 'insertion fee.'
Apart from those, there will be what eBay calls, the 'final value fee.' This fee consists of a certain percentage of the price at which the item sells (eBay says it is 10 to 12% for most of the categories) plus a certain percentage of the shipping fee.
The final fee you need to pay to eBay will depend on factors like the product that you list, how many items you are listing, which categories you are listing your products in, and the shipping fee.
#3. Etsy – A Niche Marketplace
Etsy primarily caters to a niche. The niche is made up of antiques, collectibles, art, and your handmade goods. If you want to sell anything that falls in that niche, Etsy should be the best bet.
In 2019, Etsy's annual sales exceeded $4.97 billion. Yes, you can look at it as a very lucrative platform.
Whenever you list something on that platform, you need to shell out $0.20 listing fee. Etsy will keep the item listed on your store for 4 months or until the product is sold – whichever comes first.
One you sell a product, Etsy will charge 5% transaction fee in addition to a processing fee of 3% plus $0.25. The processing fee will fluctuate depending on the location where the bank of the seller is located.
If you are selling from Canada or the US, the transaction fee will apply only on the product's listed price and not on the sales tax.
Do remember that if you are charging extra shipping fee to your customer, Etsy will charge an additional 5% on that shipping fee.
Etsy is quite famous and has a good reputation, making it a desirable destination for those who want to sell online.
#4. Ruby Lane – Sell Antiques and Vintages
If you are into selling antiques and vintages, Ruby Lane will be a great choice. In 2019 EcommerceBytes conducted a survey in which they recommended Ruby Lane as the preferred destination for the niche.
In case you decide to go with Ruby Lane, you can tap into a user base of 1.80 million unique visitors (data of November 2020).
If you decide to set up your shop with Ruby Lane, there will be no listing fee and no shop setup fee. However, if your shop has 50 items or more, you need to pay a monthly maintenance fee of $54.
Ruby Lane will charge 6.7% service fee on purchase order totals excluding the sales tax.
#5. Handshake – It's a Shopify Property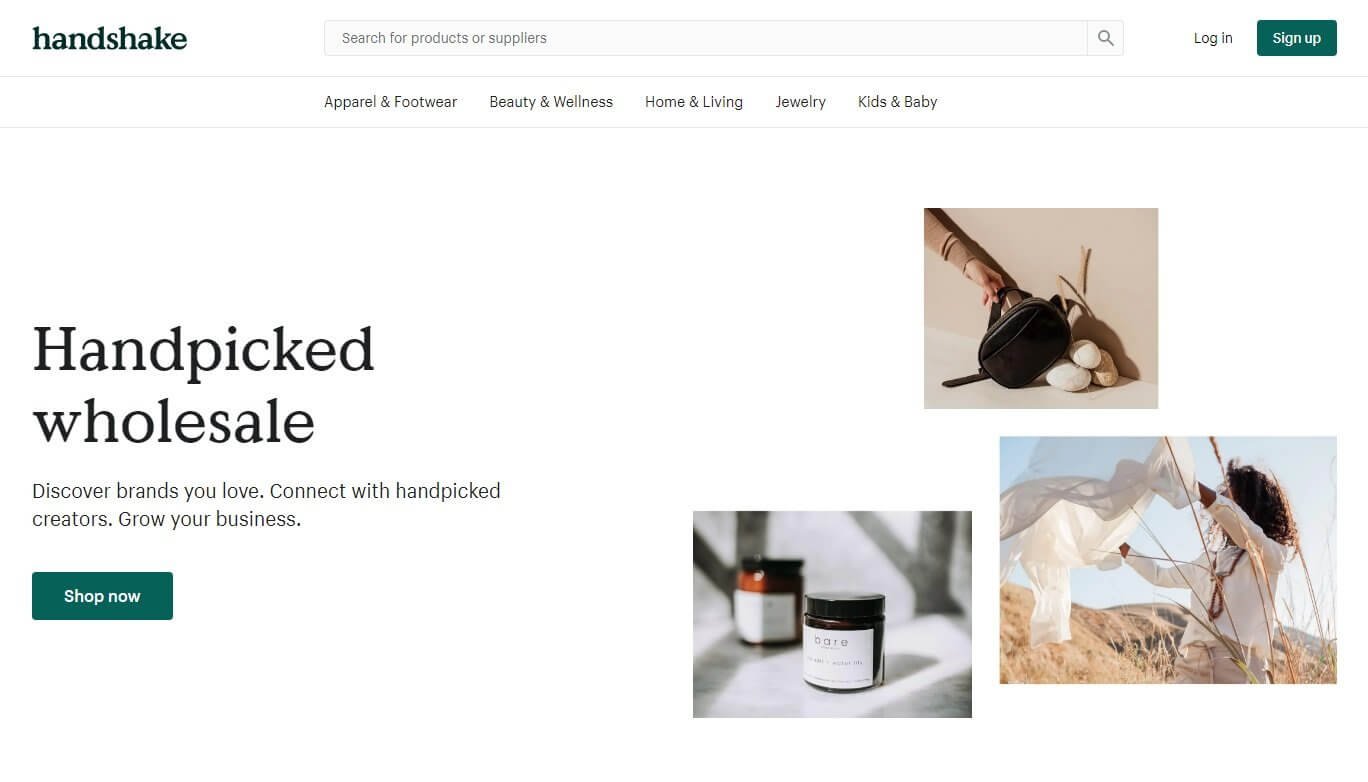 Handshake is a property of Shopify. It is a complete marketplace designed for wholesale. This is where retailers and suppliers come together. Handshake has a policy of handpicking the suppliers. However, for retailers, there are no restrictions. Retailers can be online or have brick and mortar shops.
If you intend to sell on Handshake, you should have unique and distinctive products and join the platform as a wholesaler.
Handshake has a massive collection of non-mass-produced and unique products. The platform completely integrates with Shopify.
In case you are not aware, Shopify is one of the leading e-commerce platforms that is perfect for wholesalers and retailers because it allows inventory management, sales tracking, and execution of new orders from within the same ecosystem of e-commerce that they may already be using.
Handshake is a completely different idea from the existing players in the wholesale marketplace ecosystem where CSV uploads and manual upkeeps take the central stage.
#6. VarageSale – It is from Toronto
VarageSale came into existence after an ex-elementary teacher became frustrated with the illegitimate listings and scams on various classified sites. Based in Toronto, VarageSale requires all sellers to have a verified Facebook profile.
The merchants need to use a real profile image on Facebook, real name and a personal bio. This ensures that the buyers feel comfortable because they will have a fair idea of who they are dealing with.
To sell on VarageSale, there are fees involved. If you are a seller, you need to create a listing by adding product photo, description, and a headline. Whoever is interested in buying your product is allowed to reserve your item and then make an online payment through Stripe or meetup at a scheduled place for the exchange to take place.
The best part is that you can sell for free. There are no transaction fees or any form of fee involved. This policy may change later.
#7. Bonanza – A Fast-Growing Seattle-Based Online Marketplace
It is relatively new, but not very new! The platform boasts 50,000+ sellers and lists over 35 million different products. It is a community of online shops. In 2016, Bonanza earned the title of one of the "Best Entrepreneurial Companies of America."
There is a fee for selling on Bonanza. This fee is based on the Final Offer Value. The calculation of the Final Offer Value is quite interesting. It is the total of the price that the buyer will pay for the actual item plus the portion of the shipping fee that exceeds $10.
So, if you are selling a product for say $30 and you are charging a shipping fee of $16, the Final Offer Value will be $30 + $6 (the amount above $10) = $36.
Bonanza will charge 2.5% of the Final Offer Value. In this example, the fee you need to pay to Bonanza is $0.90.
However, do remember that if your product is selling for a dollar value above 500 USD, the rule will remain the same, but there will be an additional charge of 1.5% (flat rate) on the amount that exceeds $500.
You don't have to pay anything for setting up your shop. It is completely free. Only when you sell something successfully, the fee rule mentioned above will come into play.
#8. Swappa – Sell Your Used Tech Gadgets
If you have a working tech gadget lying around and collecting dust, Swappa is the best place to convert it into some cash. Swappa is a marketplace where you can sell you used gadgets, provided they are in perfect working condition.
The people who made Swappa ensured that they weed out any and every scammer and illegitimate seller. Every product you try to sell will go through proper scrutiny to ensure that what you are selling is a gadget that others can use for a long time to come.
You don't need to pay any fee for listing your product on Swappa. You can, however, pay them $5 and have your product listed on the featured segment. They will charge a fee for the products you sell through the platform, but it is one of the cheapest I have seen.
Typically, all transactions will use PayPal payment gateway, which means that sellers need to pay a certain amount of transaction fee to PayPal when buyers make a payment.
They also have something called Swappa Local that will allow you to sell your gadgets to your local community. This eliminates shipping logistics.
#9. Chairish – An Online Consignment Store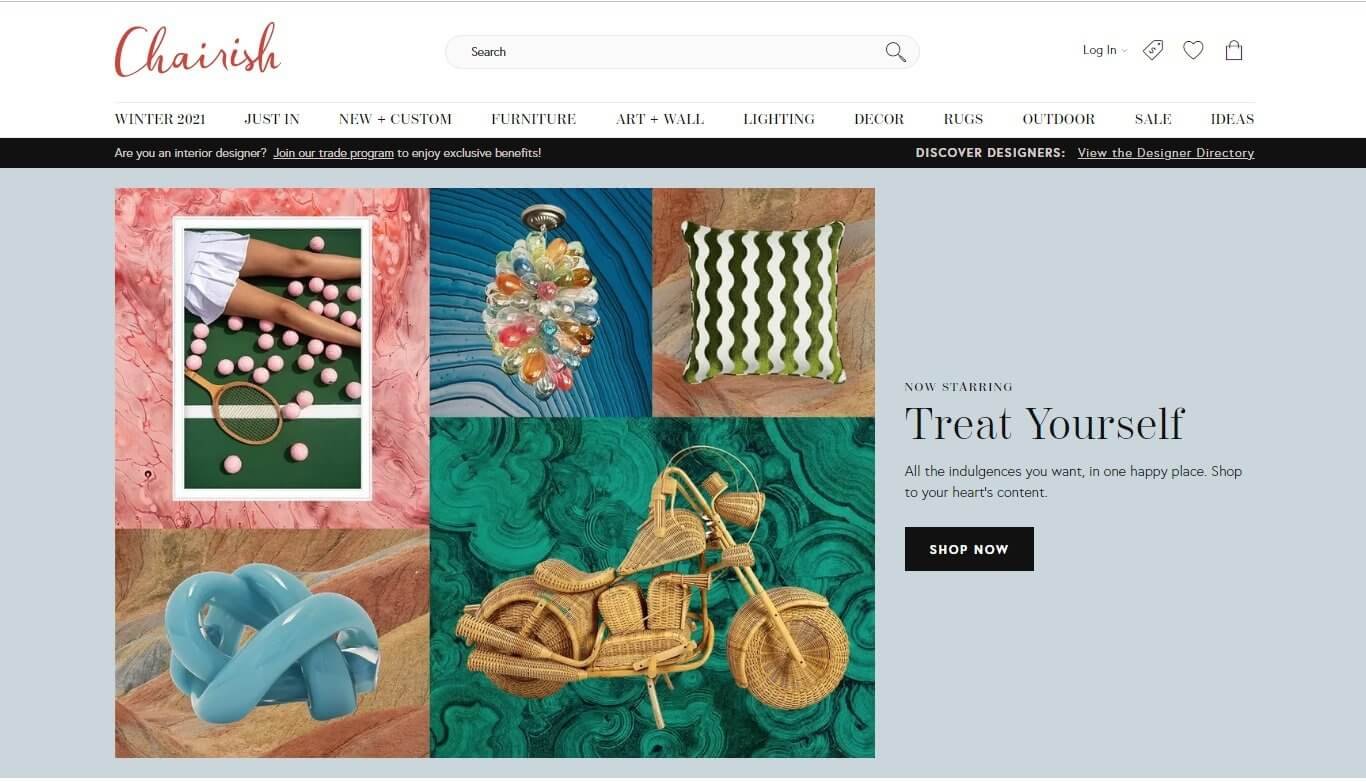 If you have high quality home décor and furniture to sell, Chairish should be your preferred destination. You can quickly list all your items on Chairish. They will charge a percentage on overall selling price.
How much will the platform charge? This is where things become a little complex. They have tiers. For the first 2,500 USD, the charge will be 20%. For the next 22,500 USD, the charge will be 12%, and for the next 15,000 USD, the charge will be 3%.
So, if you are selling a product for $40,000, you have to pay: $500 + $2,700 + $450 = $3,650. So, you will be paid $35,350 (you will be paying additional $1050 in other charges), which is approximately 91% of the total price.
Listing your products on Chairish is free, but if you choose to go for their Elite service, you have to shell out $149 a month.
Once you list your items, Chairish curators will start reviewing them to ensure that the standards are met. After that, they will brush up on the photos you provide and make the item available for sale.
Chairish will take care of shipping logistics. You don't have to worry about it. However, you have the option of arranging the shipping by yourself if that suits you.
Do keep in mind that selling of Chairish isn't that easy. You have to ensure that whatever you are trying to sell is of very high quality. If your products do not meet the quality standards of Chairish, they will reject the listing.
#10. Facebook Marketplace – Yes, It Exists!
Facebook has a marketplace that started in 2016. The whole idea was to bring together people in communities so that they can buy and sell. Later, Facebook moved on to invite ecommerce merchants as well by partnering with ecommerce platforms like Shopify.
Listing on Facebook marketplace is free. However, if you are an online merchant, you need to play by the rules of Facebook. You can find the rules here.
#11. Nextdoor – A Forum and a Selling Platform
Nextdoor was designed to be a forum where you can share with your neighbors and community. What can you share? Information! You can tell your neighbors what's going on in the community, announce parties, complain about traffic, etc.
But that's not the only thing you can do there. There is also a free forum for selling your stuff. You can list everything for free. However, you will need to meet in person with the buyer to accomplish the sale. You don't even have to pay to be a member of Nextdoor.
The platform may sound somewhat dangerous because it goes unmoderated, but it is not really so! Some element of scam and fraud is eliminated as people need to signup and create an account before they can sell anything. This makes Nextdoor somewhat safe. However, I am not claiming that it is ultrasafe. Anyone with the intention of committing a fraud can find a way to do so.
#12. Craigslist – Since 1995
Craigslist started out as a forum in 1995. Craig Newmark was the person who started it to provide all information on local happenings around San Francisco Bay Area. Now, Craigslist has become a go-to online selling site for various businesses and individuals.
However, Craigslist doesn't really score good on the trust part. It is full of frauds and scammers. You have to deal with everything from refunds to fraud disputes, etc. This means Craigslist is a very risky place.
Craigslist is perfect for local selling, and if you are good with market arbitrage, you can buy for less and sell for more, making a good profit.
Conclusion
The list here is not complete. It is virtually impossible to provide a complete list because there are too many online marketplaces. You may know of several that have not been listed here. However, if you really want to reach a large audience and potential buyers, the online marketplaces listed here are the best place to start. You can always look for niche-specific marketplaces that are scattered all over the world. Happy selling!