In essence, screenwriting software enables you to create, edit, format, and print screenplays for usage in films, television, or video games.
It assists scriptwriters in adhering to the industry's strict formatting standards, studying and correcting grammar and language and grammar, and maintaining backups of their work. This program removes the requirement for manual formatting to bring your script up to professional standards.
Screenwriters may easily create dialogue, action, parentheticals, scene headers, slug lines, transitions, and character names using easy keyboard shortcuts. Hundreds of screenwriting programs, on the other hand, are accessible on the market nowadays.
To assist you in moving from the dreaded blank page to a completed screenplay, I've rated and evaluated 2022's finest screenwriting software that your money can purchase for you.
So, what are you waiting for? Dig and find the treasure trove of the best in business software programs.
Just in case you are short on time, here is a quick list of the best screenwriting software in my opinion:
Final Draft
Squibler
Celtx
Fade In
WriterDuet
StudioBinder
Trelby
Scrivener
KIT Scenarist
Highland 2
Movie Magic Screenwriter
Page 2 Stage
Slugline
Okay, now that you know which ones are included in the list, consider spending some time reading through each item's short description and find out what it can do for you.
#1. Final Draft
Final Draft is the industry's finest screenwriting program. It is widely utilized in the entertainment business and has received many accolades throughout the years. It includes over 300 templates, making your job simpler than before. Final Draft is available for Mac, Windows and mobile devices, making it the ideal multi-device program if you are looking for one!
It won a Primetime Emmy Engineering Award in 2013 and is widely utilized by Paramount, NBCUniversal, Netflix, Pixar, and ABC among others.
Suited For
Final Draft is the industry standard for the motion picture industry. Final Draft is frequently utilized by major television programs for screenwriting, therefore if you're intending to create stage plays in the style of a Hollywood film or a television show, Final Draft is your best option.
Core Features
Auto-backup.
Collaboration in real time.
Over 300 templates.
Simple to use interface.
Tool for converting speech to script.
Tool for story mapping.
Trial period of 30 days.
Visually arrange your thoughts using beat boards.
With revision mode, powerful formatting choices are available.
Writing without distractions.
97+ language support.
Available for Windows, iOS, and OSX.
Pricing
Free Trial – You get a 30-day trial where you can test the software program thoroughly to understand whether it meets your requirements or not.
Paid – It is available $199.99. You will get to download it digitally. If you happen to be an educator, you can get the program for $99.99.
#2. Squibler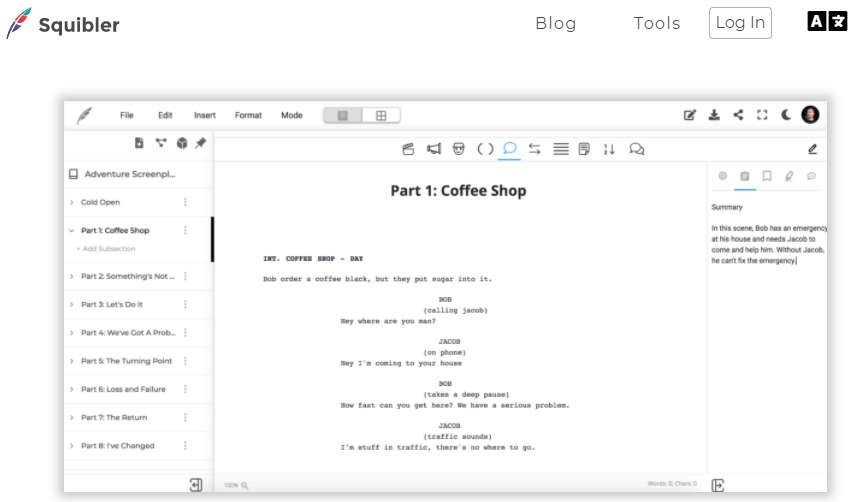 Squibler is one of the most highly rated screenwriting programs on the market today. It has a feature-rich but simple-to-use text editor, making life simple for screenwriters. It includes over 30 screenplay templates to assist you in getting started quickly and easily.
The drag-and-drop user interface makes adding beat boards, headers, and other components a breeze. Multiple authors may collaborate on a single narrative concurrently using the collaboration function. This eliminates the need to distribute the narrative to many peers and then wait for them to contribute their part.
Suited For
Squibler is a universal platform that is appropriate for all kinds of authors, scriptwriters, and non-fiction and fiction writers. It's ideal for screenwriters looking for simple-to-use, dependable software that allows them to create high-quality material with confidence.
Core Features
Built-in collaborative capability that is very effective.
Easily integrates with Dropbox and Google Drive.
Includes many useful tools for authors, including a story generator.
Interface based on drag and drop functionality.
No distraction mode.
Simple to use.
There are over thirty templates to select from.
Trial period of 30 days.
Works on the web, a personal computer, an iPad, an iPhone, or an Android device.
Pricing
Free trial – You can test the software program for 30 days without paying a dime. Pay only when you think it is suitable for you.
Paid – You need to go for a monthly subscription plan that will cost you $9.99 a month (monthly billing cycle).
#3. Celtx
A multi-purpose production and scriptwriting tool, Celtx is built especially for big teams and businesses that aim for planning, writing, and shooting from a single platform. The design is simple to use and intuitive, making it ideal for screenwriters. It includes a variety of tools for authoring, script formatting, cost management, production, collaboration, and reporting.
Suited For
Celtx is ideal for collaborative screenwriters. This software is mostly used for pre-production by businesses that want to control all aspects of production, starting from scriptwriting and all the way through to production management.
Core Features
A true multi-purpose software with full support for production as well as budgeting.
Allows tracking revisions.
Offers team support.
Supports offline usage.
Supports the use of storyboards and index cards in the creation of stories.
Team cooperation in real time.
Trial period of 30 days.
User interface is simple and intuitive.
For novel writing, it supports a rich text editor module.
Allows tagging elements within scripts.
Offer mobile apps for Android, iPhone, and iPad.
Offers fully cloud-based solutions.
Pricing
Free trial – They had a completely free plan available once, but as of now, they offer only a free trial for testing the software. You can use the free trial for 30 days after which you need to purchase it for continued use.
Paid – They have three different plans. The first is Scriptwriting Plan costing $7.50 a month for annual billing. The next plan is Video Production Plan costing $13.50 a month for annual billing. Finally, they have the Game Production Plan costing $13.50 a month for annual billing.
The company also offers CeltxPRO and CeltxPRO EDUCATION just in case you need them.
#4. Fade In
Fade In is designed especially for motion picture scripts. It is an ideal solution for writers in the game, television, and film industries. It has a slew of convenient features that make it ideal for scriptwriters of various genres. It is a cross-platform application that runs on Linux, Windows, Mac, and even on mobile devices.
Suited For
Fade In is appropriate for screenwriters who work in the film, television, or game industries. The tools and capabilities facilitate the creation of scripts for motion pictures.
Core Features
Collaboration in real time.
Compatible with Windows, Linux, Mac, and mobile devices.
Includes a no-cost demo.
It also offers an autocomplete tool.
It comes complete with distraction-free typing.
Multiple languages are supported.
Offers cloud-based storage services.
Support for a variety of file types, including PDFs and images.
The tool has a simple graphical user interface that can be configured as per user requirements.
Pricing
Free demo – Fade In gives a fully-functional demo to work with. The demo version has all the features so that you can check out each one of them.
Paid – Fade In is available for $79.95 one-time fee, making it the most affordable option available. Future updates for the software are completely free.
#5. WriterDuet
WriterDuet is a very simple but highly efficient screenwriting application that emphasizes real-time collaboration. It was created in 2013 as a platform for authors to collaborate. Since then, it has evolved into a full-featured screenwriting application. It has an outline tool, templates, and tagging capabilities. Because it is a cloud-based application, you may access it from any location in the globe.
Suited For
WriterDuet is best suited to professional screenwriters who collaborate with other authors. If you have a team of authors and wish to create and modify scripts concurrently without interfering with the work of others, this is the program you must use. Its true power is its real-time cooperation.
Core Features
Allows backing up copies to Google Drive, Dropbox, iCloud, and even to your local computer.
Can be accessed through any platform, including mobile and a standalone desktop application.
Collaboration in real time.
Completely integrated with SSL certification.
Feature of outlining and tagging available.
Includes templates.
Offers a free plan.
Possibility of developing custom templates and processes or workflows.
Simple to use interface.
Software that is fully customizable and includes plugins and scripts.
Supports different mobile devices and various browsers.
Pricing
Free Plan – Upon signup you get a free plan that will allow three scripts.
Paid – Their Pro plan begins with $11.99 a month but with annual billing cycle. The next paid plan is a lifetime purchase plan that will cost $199. You are entitled to get lifetime updates.
#6. StudioBinder
StudioBinder is a comprehensive production management software. This cloud-based software includes professional screenwriting among its many in-demand features, which include screenplay shooting schedules, script sides, script breakdowns, etc.
It enables production firms and other creatives to remain connected, informed, and organized throughout the pre- and post-production processes using just one platform.
Suited For
StudioBinder's greatest strength is its comprehensive approach to picture and video creation while being very simple. The program itself is not complicated, and everyone from filmmakers and photographers to independent creatives and large production organizations may profit from its well-designed features.
Core Features
A simple drop-down menu interface.
Auto formatting and predictive features are available. They are industry standard features.
Capable of importing scripts in various formats like fdx, pdf, doc, etc.
Clutter-free layout.
Free version available that you can use for as long as you want to use.
Online collaboration in real time with real-time feedback, updates, revisions, etc.
Storyboard and shot lists builder available.
Sync and resync available to simplify pre-production chores.
Versions of scripts are simple to generate, replicate, and traverse.
Pricing
Free option – They have an instrumental free version available indefinite use.
Paid – Individual plans start from $29 a month and scale all the way up to 99 USD a month. For businesses, the plans start from $249 a month and scale all the way up to $1499 a month.
#7. Trelby
Trelby is one of the finest free and open-source screenwriting applications available. Trelby is often updated and enhanced by developers using feedback that screenwriters provide them from time to time. It is a cross-platform application that runs on both Windows and Linux.
Suited For
Trelby is adaptable, configurable, and free, making it an ideal option for budget-conscious authors. It is ideal for beginning screenwriters who do not want to invest in expensive screenwriting tools.
Core Features
A thorough character names database.
Files in a broad variety of formats may be imported and exported.
Forever free.
It can work on old systems because of its minimal system requirements.
It comes with a built-in script comparison capability.
It is compatible with both Windows and Linux systems.
Simple-to-use interface similar to that of any text editor.
Supports a variety of file types, including PDF.
The interface is fully customizable and may be modified to meet specific requirements.
Various view options.
Pricing
Trelby is completely free. It will remain free forever because it is an open-source program.
#8. Scrivener
Scrivener is a software of choice for authors of all types, including journalists, non-fiction writer, novelists, and academics. Scrivener provides screenwriters with various templates and also gives them the flexibility to create and arrange their work as they want.
However, it does take some time to get familiar with how to use all its features. It is compatible with iOS, Mac, and Windows.
Suited For
Scrivener is available for Windows, iOS, and Mac, with each version tailored to meet the platform's needs. Scrivener is a preferred software program for screenwriters because it simplifies the whole research process, from concept generation to adding references, including pictures and audio.
Core Features
Accepts a variety of different import and export formats including PDF, Word, EPUB, Final Draft, etc.
Automatic saving and backups.
Corkboard mode allows you to quickly access synopses and notes for each scene in your script.
Create your own templates or utilize pre-made ones.
Customizable toolbars with industry-standard editing capabilities.
Full-screen composition mode available that may be customized for distraction-free writing.
Limit the number of words and characters in each section.
Maintain a version history to keep track of changes and revisions.
Organization and formatting using the program is quite flexible.
Organize drafts by creating folders and subfolders.
Scrivener has a drag and drop interface.
Sectioning is available that is simple to browse and may be regarded as a single document.
Pricing
Free trial – They offer a 30-day free trial to test the software and its capabilities.
Paid – For Windows and Mac, the program is available for $49, while the iOS version is available for $19.99.
#9. KIT Scenarist
According to the majority of users, KIT Scenarist is one of the finest screenwriting software solutions presently available. It provides one of the most extraordinary complete scriptwriting experiences available.
The greatest aspect is that it is free. Being an open-source software, KIT Scenarist allows for extensive customization. Additionally, it is utilized by over 3000 writers worldwide and keeps up with the newest technology via almost monthly updates.
Suited For
Especially advantageous for high-level scriptwriting work suitable for feature films and television shows. Additionally, it is beneficial to novelists and authors, and is ideal for authors who have requirements in several languages. It also offers statistical analysis for those who need it.
Core Features
Allows switching between light and dark themes.
Comes with an integrated, powerful formatting tool and script editor, allowing users to focus on writing.
Compatible with the following operating systems: Linux, Mac, Windows, Android, and iOS.
Completely integrated with built-in set management and characters management.
Has a comprehensive research module that allows managing a list of characters, collecting the information that is needed, and storing a wide range of materials.
Includes built-in statistics tools
Provides a built-in card module that helps in story development and providing visualizations to work with.
Provides services in a variety of languages
Scripts may be exported in a variety of formats including FDX, Fountain, PDF, and Docx.
Pricing
KIT Scenarist is a free application that you can use over the internet. To utilize cloud services, however, you must subscribe to a premium subscription after you exhaust their 30-day free trial.
#10. Highland 2
Highland 2 was developed with the difficulties of a scriptwriter in mind, which led to the development of its effective, easy-to-use interface. The person who created it is John August, who himself is a screenwriter.
Highland 2 may be mastered in less than five minutes. The navigator, live margins, revision mode, and the bin are the four primary screenwriting tools.
The navigator maintains track of your screenplay's scenes, sections, synopses, and notes, all of which may be simply reordered using the drag and drop feature. The bin contains all your alternative ideas, backup storylines, and improvisations in the form of text fragments. Live margins let you see your prepared screenplay, while the revision mode highlights your modifications using diverse colors.
It is available for download on the following operating systems: Android, iOS, Mac, and Windows.
Suited For
Highland 2 can convert any of your draft files – even plain text – to a suitable screenplay format with just one click. It is regarded as a viable alternative to Final Draft, but at a lower price.
Core Features
Allows creating dialogues in various languages.
Assets utility for importing and managing pictures and files into your document.
Five dark and five light themes available to work with.
Full-screen mode for uninterrupted writing.
Scratchpad is a note-taking tool available with the program that works independently of the document.
Sections and subsections are simple to construct.
Simple and clutter-free user interface.
Sprints allow for the establishment of time constraints and an improvement in productivity.
There are ten templates, including a screenplay, a multi-cam, and a manuscript template.
There is a separate editor mode and preview mode for writing as well as auto-formatting.
Tutorials available on how to use Highland 2.
Pricing
Free option – There is a lifetime free option with limited features.
Paid – There is a Pro version available for $49.99 that gives access to all features.
#11. Movie Magic Screenwriter
For decades, Movie Magic Screenwriter has been the screenplay program of choice for pros. Its most recent edition, Movie Magic Screenwriter 6, combines all the screenplay tools and features imaginable into a single platform. Simultaneously, it is straightforward, simple to understand, and does not need any expertise on the side of screenwriters.
However, if you're still interested in learning about all of Movie Magic Screenwriter's capabilities, it includes not just a print handbook, but also an electronic manual, example documents, and PDF guide to help you get started without any trouble.
Suited For
While Movie Magic Screenwriter is mostly utilized in the film business, it may also be used in the educational sector to create and submit assignments and research papers. Despite the addition of additional capabilities, the high price makes it too expensive for small businesses to utilize it.
Core Features
4 panels of navigation for the outline, notes, bookmarks, and scenes.
Automatic backup available.
Collaboration through the internet is now possible.
Eight instructional templates available.
Features are color-coded for easy organization and reference.
Formatting in real time.
Installation is simple and automatic updates are included.
It's simple to keep track of changes and revision history.
Multiple language thesauruses, spell checkers, and dictionaries available.
Over a hundred screenwriting templates.
Rapid import and export capabilities for a variety of file types.
To hear dialogues, use the text-to-speech function.
Pricing
Movie Magic 6 is available for $169 (the regular price is $249.95). If you are upgrading (either Windows or Mac), it will cost you a good $89.95. If you are upgrading to Mac Screenwriter 6.5, it will cost $69.95. Whatever you purchase, you will get three activations per purchase.
#12. Page 2 Stage
Page 2 Stage was launched in 2004 and is one of the finest screenwriting programs you can find today. It has a worldwide reach due to the fact that it provides resources in 30 languages. It was designed for people writing plays, scripts, and screenplays.
Page 2 Stage was originally a commercial product, but now it is an open-source free scriptwriting software that you can use without paying a dime.
Suited For
Due to the fact that it is an open-source application, it is ideal for individuals, small agencies, and small companies operating on a shoestring budget. Additionally, you may use it for tutorial, instructional, and demonstration reasons. For those working on basic television and film screenplays, Page 2 Stage is an ideal solution.
Core Features
Auto-cheat function is available, allowing you to input as many numbers of pages as you need for your script.
Auto-save function is available that automatically saves content after 10 minutes of continued typing or after 20 seconds of idle time.
Each view has complete editing capabilities.
Grammar checker integrated.
It has an interface that is simple to use and intuitive.
There are four different viewing options available.
Up to 200 percent magnification.
You can install the program on as many computers as you wish. There is no limit.
You may browse the features page or to get a feel for the application before you begin. You can also download a demo to get hands-on experience.
Pricing
It is open-sources and free. You do not need to pay anything to use this program.
#13. Slugline
Slugline is the easiest screenwriting software available since it asks you to concentrate only on the writing. The software will take care of the rest. It makes use of the Fountain plain text screenplay format, which is capable of preserving your script for any device. It does not need any training or documentation – just launch the program and begin writing.
Suited For
The greatest feature of Slugline is how basic it is. Slugline is the ideal solution for any screenwriter who despises the technical aspects of screenwriting. It streamlines the entire process, from script breakdown through outline, synopses, and note taking.
Core Features
Collaboration feature is available.
Color-coded notetaking for simplification.
Compare changes in real time to keep track of revisions.
Create a note or script anywhere and paste it into Slugline.
Features a drag and drop interface for ease of use.
Full-screen mode for distraction-free writing.
Paging in accordance with industry standards.
Preview prior to printing.
Supports common emphasis-related keyboard shortcuts.
Supports Infer formatting. Infer formatting is a function that automatically formats your text as you write.
There are invisible elements for print preview in real time.
When necessary, an autocomplete popup appears.
Pricing
Free version – There is a free option available, which is perfect for short films. It has a 6-page limit for writing.
Paid – The premium version costs $49.99. There are no limits on this.
Frequently Asked Questions
What is the best screenwriting software to use?
The finest screenwriting software to utilize is one that meets your requirements and aids in productivity improvement. Bear in mind that screenwriting software is an investment, but it will pay off in the long run by saving you time and effort while creating scripts or screenplays for films, television programs, video games, and more. That being said, Final Draft, Squibler, Celtx, and Fade In are the top four in business.
Can you write a script on Microsoft Word?
While Microsoft Word may be used to create a script, it is not advised since screenwriting tools such as Final Draft and Squibler is better suited for screenplay writing. These programs are designed to help you organize your work, go through your revisions, etc. while providing an assortment of features that Microsoft Word will not provide.
Do I need screenwriting software to write a screenplay?
No, you do not need a screenwriting software to write a screenplay if you are fully aware of the industry standard formatting. In such an event, a simple word processor program like Microsoft Word is good enough!
What are the benefits of screenwriting software?
There are several benefits of using a screenwriting software. Some of them are:
*Assistance with mind mapping and outlines.
*Auto-correction, spell-checking, and grammatical suggestions.
*Builder with drag-and-drop functionality.
*Collaboration with other authors and stakeholders in real time.
*Import and export of quick drafts.
*Integrations with various cloud services.
*Note-taking instrument.
*Premade templates that can be readily used.
*Sidebar on the screen for fast access to scenes and characters.
*Story maps.
*Support for a variety of devices and platforms.
*They come with simple interfaces that are intuitive and clean.
*Writing without distractions.
Wrap Up
That completes the list of best screenwriting software for 2022. However, I will never say that this list is complete. There are many other software programs available for scriptwriting. A couple of notable names are Storyist and Fountain. You can find several others if you do a quick Google search.
Of all that I have tried so far, Final Draft and Squibler are the best. However, that doesn't mean you should not check out the rest. All of them have their strengths and weaknesses. You must select the one that suits your needs.