Working from home with a large cup of coffee or possibly a pint of lager beer next to your comfy armchair was once a dream. The COVID-19 pandemic at least helped in making that dream a reality. Not just your home, you can work from literally anywhere. Perhaps a café or from your grandma's attic? Or may from the nearby park while watching over your kids?
We have ushered into an era of remote work revolution, and this is going to stay for a while. With remote work comes a lot of benefits like time flexibility, no commute, comfy environment and location, among others.
Now, if you think that the benefits I cited above are just a figment of my imagination, you can look into some statistical data that FinancesOnline gathered. Here are a few important data points that you might want to know now:
40% of employees are more than happy to absorb a greater workload when allowed to work remotely, while 18% would happily take a pay cut.
73% of workers find it more productive to work outside their usual work hours.
75% employees said that remote work helped to increase their productivity due to fewer distractions, while 74% related increased productivity with absence of or reduction in interruptions from coworkers.
If that information is not enough, you will be surprised to know that remote work also helps companies in retaining their employees for a longer period. For instance, a study found that 49% of remote employees stayed with their job for 1 to 5 years, while 21% stayed for 6 to 10 years, and 22% stayed for over 10 years!
Now, what would be your reason for sticking with a job for a very long period? Of course, you must be satisfied with the job. With remote work, there is always a greater sense of satisfaction.
In fact, many employers have now realized that remote work or work from home has helped to increase the productivity of their employees. The only thing to take care of is the right set of tools that enables remote working without any glitch.
So, if you are wondering what best remote work software are available today, this list is going to make you happy, very happy!
Continue reading!
Remote Work Software for Task Management & Collaboration
Remote work will invariably involve team communication, task management, and collaboration. So, you will need tools for those things. Here is a list of the best in market software designed for task management & collaboration:
#1. Slack
Slack is one of the most widely used professional messaging platforms. There isn't a single office that hasn't heard the classic message notification sound.
It's high time you tried Slack if you haven't already. You can make channels for different teams or themes, giving each piece of information its own home. Furthermore, searching the shared data is a breeze.
Hundreds of apps, including several essential remote working tools, can be integrated with Slack.
Slack allows a person to converse with himself or herself. Now, this may sound truly amusing, but there is a real benefit of the feature. You can use the Slack app while commuting if you want to save an item for later or need to make a work-related note for yourself. So, you can just talk to yourself and put the note there to access it later!
Reminders are another of the many great features that Slack has to offer. You may specify who or which channel will be reminded of what and when.
#2. ProProfs Project
If you're seeking for a reliable application to help you arrange your duties while working remotely, ProProfs Project is a good option. You can establish projects, delegate work to them, and set deadlines for them. You may use this project management program to keep track of time, create correct invoices, create reports that can be presented directly, and manage timesheets, among other things.
You may track the status of your projects, including tasks and subtasks, using Gantt charts. It prevents you from going astray if there are distractions at your home office that could cause project delays.
ProProfs Project is available on iOS and Android smartphones, allowing freelancers, project managers, and telecommuters easy access and increased productivity.
#3. ProofHub
When working with remote teams, cooperation/collaboration and task management become a major difficulty. Fortunately, ProofHub, a project management software and online collaboration tool, is up to the task.
You can build unique roles and create tasks and assign start date and finish date for those tasks so that everyone understands what they're meant to complete and when. Custom reports are available to help you manage and plan your activities, resources, and projects.
To bring everything together in one location, ProofHub can be integrated with other popular programs like Outlook, QuickBooks, OneDrive, iCal, Google Calendar, Google Drive, FreshBooks, Dropbox, and more.
The online proofing aspect of ProofHub is something you will truly like about it. The software makes evaluation and approval of work super simple. In addition to a dedicated space for real-time talks, ProofHub also includes a file sharing option that is great for collaboration.
#4. GanttPRO
GanttPRO is a famous project management solution with a unique twist. Yes, you guessed it right! It is built around Gantt charts!
You'll love GanttPRO if your team enjoys reporting on percentages and visualizing results of project management. Gantt PRO comes with the simplicity of the drag-and-drop feature, using which you can effortlessly build projects and arrange them. The tool will even allow automation of online project scheduling.
You can use the Gantt chart creator to track progress, manage teams, and redistribute resources. You can even use it for project cost estimation.
GanttPRO has already gained the trust of highly effective teams at Salesforce and Sony. So, you can rest assured that it is going to help you out, too!
#5. Sprint Retrospective Tool
At your company, are retrospectives and scrums becoming too long? The Boldare team realized this problem and created the Sprint retrospective tool to address it.
The team first designed this application for using it within the company, but as more companies move online and undertake retros, the Boldare team realized that providing a free software solution will help the scores of businesses struggling with the issue. So, they made it public.
Sprint comes with certain interesting features such as allowing employees to vote on cards, sharing retrospective boards with coworkers, and even remote team collaboration. When time is short, Sprint speeds up assessment and decision-making.
#6. Hiver
Hiver is a Gmail add-on that allows remote workers to handle group inboxes like info@, support@, and contact@. Hiver's shared inboxes allow for smooth email discussions.
With Hiver, you can allocate every email to a specific person and track in real time until it is resolved. Rather than relying on external chat tools, team members can now collaborate effortlessly utilizing internal notes.
Hiver allows easy delegation and tracking of emails, as well as converting emails into tasks and assigning them to members of a team with just a couple of clicks. You can now get away from external collaboration tools and wandering email threads by collaborating with your team using notes.
To ensure a high level of accountability, get a comprehensive history of all actions made on an email using Hiver's activity timeline. The tool will also view all unassigned emails in a single convenient location ensuring that you never miss an email.
You may also track critical data from the Analytics Dashboard using Hiver's shared inboxes. These actionable insights can be used to monitor staff productivity. You can also use the insights for identifying areas of improvement and addressing them.
#7. Filestage
Filestage is for individuals who wish to provide their audience with exceptional, high-quality work. It's a one-stop online proofing tool that allows coworkers to examine each other's work without having to go through a lengthy and time-consuming review process. This program can help you neatly arrange the customer approval procedure if you work alone as a freelancer.
Professionals can use Filestage to leave comments on files, establish a consistent and structured review process, receive official approval on items of work, and even track progress.
Miscommunications are all too often in distant teams. With Filestage you can eliminate such miscommunications and deliver nothing less than highest quality work in front of your clients.
#8. Miro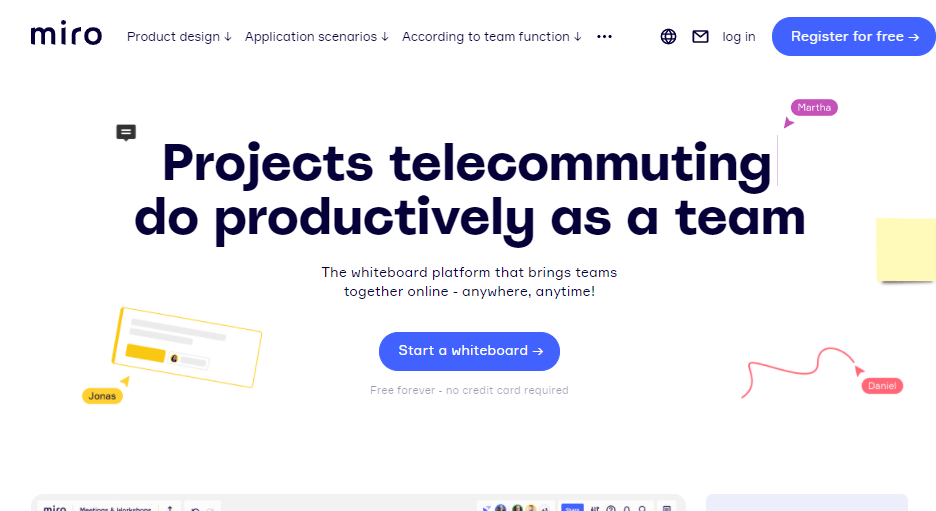 Almost everyone will accept. Whiteboards are awesome. Absence of a whiteboard can kill creative ideas to a great extent. But where do you get a whiteboard that will allow remote teams to work together?
Miro replaces the physical whiteboard and comes with a slew of features you are absolutely going to love. Draw on it, connect work items, add sticky notes (the virtual kind), and even invite your team members to collaborate on it. It is plain – AWESOME!
What is interesting is that Miro works flawlessly on touchscreens, giving you a far more natural feeling. You will possibly agree that a stylus is better than a mouse pointer.
Remote Work Software for Document Management and Cloud Storage
Ever haunted by the following things?
A crashed computer
A misplaced or corrupted USB stick
Power failures
Ransomware attack
A virus infection
A phishing attack through an unsolicited email
If you have experienced one or some or all of these, you know that carrying documents in a USB flash drive or sending them to people using emails is just 'ANCIENT.' And it is needless to say that those activities are threatened by unforeseen threats.
Do you want to risk it all?
Times have changed. You must change, too. It is time to replace your old methods with the more modernized solutions focusing on easy collaboration, secure storage, and universal accessibility.
This is where software designed for document management and cloud storage come in handy for remote teams.
Here are some of the best remote work software that you might want in your arsenal at any given time:
#9. Google Drive & OneDrive
Google Drive is from Google. No brainer here. OneDrive is from Microsoft. Take your pick. It really doesn't matter. Both of them are intended for the same set of purposes – online document storage and team collaboration.
Irrespective of which one you select; you get to create an easy-to-use folder structure that will aid your team members in finding the materials and files they require.
You may also choose who has access to which documents and what amount of access they should have, as well as share documents directly via a link. This will keep confidential information safe, but it will also make the view easier for everyone on the team.
You may rest confident that your team members will always have access to all files and folders if you set up a sync between your PC and Google Drive or OneDrive.
Just in case you are not too confident about the two organizations' privacy policies, and you think they might take a peek into your confidential documents, there are other great options available. Just do a quick Google search. But these two are obviously cheap and even accessible (albeit with limited storage) without a fee.
#10. Skitch by Evernote
Evernote is certainly well-known, but have you heard of Skitch?
Evernote is fantastic; it does all a notepad app should and more: in addition to written and audio notes, reminders, and attachments, you can also add handwritten notes, which is particularly useful on a touchscreen device.
You can even take images of documents, business cards, and the office whiteboard using the app, which isn't a big deal in and of itself, but you can then choose the type of image you want to save, and Evernote will improve it accordingly.
So, even if Evernote is fantastic, Skitch is a game-changer for remote teams. Adding arrows and circles to a screen share can instantly eliminate any ambiguity. It's a lot quicker than writing an essay about the part of an image you're talking about.
#11. Xtensio
Xtensio enables teams to collaborate on excellent business content. Internal how-to manuals, presentations for external use, sales decks, and onboarding templates, may all be created while maintaining brand consistency.
All updates and edits in Xtensio documents are synced in real-time across all devices, making them simple to collaborate on. It's also simple to navigate your documents because you can categorize them and assign them to clients, teams, or projects.
Your content is always accessible, but only to the proper people, thanks to SSL encryption and backups.
Remote Work Software for Meeting & Scheduling
Meetings are an important aspect of any business that wishes to keep the flow of information running smoothly. If you have to check availability of each of the team members to locate a mutually convenient time, scheduling meetings can be a significant burden. This problem is addressed by meeting scheduling software.
#12. Acuity Scheduling
Acuity Scheduling is appointment scheduling software designed specifically for small to medium firms in the service industry. It saves you time and irritation by removing the need for lengthy, often meaningless back-and-forth talks about time zones and availability.
Calendar synchronization is possible with Acuity. Analytics, email marketing, accounting, video conferencing, and customer relationship management (CRM) software are just a few of the key corporate applications it can link with.
Acuity Scheduler also allows you to trademark it, set scheduling limitations and preferences, set up different automatic email reminders, accept online payments (through Stripe and PayPal), access advanced reporting, and more.
It's also possible to embed Acuity Scheduler on your website. It can also be included in marketing emails and shared on social media platforms. This user-friendly software can help you get a competitive advantage over your competitors.
#13. 10to8
The 10to8 appointment scheduling application is a cloud-based software that automates the scheduling and management of appointments.
Customers can make appointments online based on your set availability after you've configured your preferences and availability. Following that, 10to8 assists with confirmation, client information management, reminders, and customer review request follow-up.
It is possible to embed on websites, and you can easily share on social media platforms and via marketing emails. You can easily integrate the scheduler into your existing brand thanks to a range of branding options.
10to8 integrates with personal calendars as well as business apps like Salesforce and Zoom. With Zapier, you can connect 10to8 to 1,500+ additional business apps and seamlessly integrate it into your existing workflow.
The setup is simple and straightforward, with straightforward instructions. Once set up, 10to8 requires little to no attention from you. You may also send personalized email, SMS, and voice call reminders, which can be adjusted to be activated based on time or service type.
#14. Calendly
Calendly is a time-saving scheduling application that automates several of the most time-consuming parts of scheduling, such as time zones and availability management. It works with calendars and a variety of other typical corporate applications.
Calendly links can be embedded on websites and shared on social media. Set meeting preferences, choose from a number of meeting styles, and send SMS and email reminders to personalize your meetings. It also provides features for team collaboration.
When consumers book meetings, Calendly allows you to automate the delivery of emails or SMS. Sending email reminders, follow-up meeting requests, feedback surveys, and thank-you emails will also be possible with the program. Calendly brings together all of the tools you'll need to schedule, track, and manage appointments into one easy-to-use interface.
Calendly has a strong integration ecosystem with major corporate tools including calendars, video conferencing programs, CRMs, and so on. Calendly also allows users to set preferences, track stats, and schedule a variety of meeting formats directly from the site.
Remoted Work Software for Support & Remote Access
#15. Fluvid
Fluvid is a super-handy screen recorder with group sharing capabilities, allowing you to share your recordings with numerous people at once. You can use this program for sending video communications instead of plain text — we're all sick of emails anyhow.
Another useful feature is the ability to record meeting rundowns. You can screen record every detail of your conference with Fluvid. You'll no longer miss vital details because you were focused on typing something else.
Fluvid may also be used to create video presentations, code reviews, product demos, onboarding videos, training, and investor pitch decks, among other things. You can live stream the video or schedule the video for later time. It even allows adding custom call-to-action buttons, password protection, and finding out important data on who watched the videos.
#16. TeamViewer
You can use TeamViewer to remotely access other people's computers if they have the application installed and you have the proper login credentials. TeamViewer's system is extremely dependable, so you can trust it when you need to securely access a remote device.
There isn't much else to say. It's merely a remote viewing program that also allows you to take actions on a remote computer.
#17. StoryXpress Recorder
StoryXpress Recorder is an interactive application for video recording and sharing application that makes it easier for coworkers to collaborate. When images fail to convey a message, it's time to resort to videos – everyone knows that! This is where StoryXpress Recorder fills in the gap.
StoryXpress Recorder is a fantastic tool for quickly telling stories, but it can also be used by distant teams looking to work more successfully. Record your screen, easily edit the recorded video, and share it. Yes, it is that simple!
With features like ability to add text, use a focus tool, and draw on the screengrab, add text, you can easily get the attention of the viewers in the place where you want them to focus.
#18. Loom
Consider giving a presentation to three or more people who are located in separate time zones. It's difficult to plan a presentation like this.
Instead, you can use an app like Loom to produce a video tutorial and then distribute it to anyone who requires seeing it.
You can make video recordings with Loom that your teammates can see at any time. Loom makes creating and sharing all of these videos simple, whether it's a quick update on a project, an instructional, or an introduction video for new employees.
It allows you to record your computer screen and make annotations while using a face overlay. This is a far better approach to communicate with your team than sending an email or struggling to locate a time that works for everyone. It's also more entertaining and convenient.
Loom features desktop programs, an iOS app, and a Chrome extension so you can generate necessary videos whenever and anywhere you want.
Remote Work Software for Time Tracking, Productivity, Remote Security, Finance, Team Management & More
Honestly, there is no limit! I can keep adding to this and make it a mega list, but you are most likely going to ignore it and hit the back button.
So instead, I decided to wrap things up quickly by listing a few more that you will find handy.
#19. Hubstaff
Now that you're working from home (or remotely, whatever you prefer to say), you'll need an app to help you keep track of your work hours and progress in the same way that you would if you were working in an office. Hubstaff is an application that can help you.
Hubstaff Desk is a time tracking and task management app designed for remote teams so that they can make the most of their time, establish accountability, and build trust.
The simple desktop program for Linux, Windows, and Mac allows tracking time with a single click to start or stop the clock. It is also available for mobile devices and there is a web version, too.
With accountability capabilities that enable you to view apps and URLs used, Hubstaff Desk will automatically track the hours you and your team members spend working. When a team member forgets to end the timer, you can enable idle time notifications and screenshots. Apart from that, Hubstaff comes with a slew of interesting features like employee scheduling, invoicing, payroll management, project profitability monitoring, automated timesheets, and more.
#20. Todoist
Todoist collects all of your to-dos in one location, allowing you to better manage your day and avoid forgetting anything crucial.
In the scenario of an unexpected event, you may simply set a reminder and return to what you were doing before being interrupted. Using the Quick Add tool, you may create to-dos and reminders in just a few seconds.
Todoist allows you to create sub-tasks and displays your daily or weekly productivity trends. It also works with virtual assistants such as Alexa and Google Home, allowing you to add items to your to-do list as they arise.
#21. PukkaTeam
PukkaTeam was created with the goal of bringing remote teams closer together. It takes images of your coworkers' faces throughout the day, allowing you to observe their faces throughout the day.
This displays which team members are now at their desks and available to speak with, as well as which are currently unavailable.
The program interacts with Skype and allows users to make video calls with only one click. Team members can see what you're working on at any given time thanks to status updates.
PukkaTeam does not require any downloads and can be used directly from your browser.
#22. Xero
With Xero, you can track bills and pay them with just one click. It allows you to approve and reimburse claims, claim expenses, and keep track of your spending.
It's also possible to link the app directly to your bank account and have it automatically import transactions. You can then either manually categorize and reconcile all your bank transactions or set up rules to have Xero handle it for you.
The app allows you to create invoices and make payments online. You may also use it to generate a range of reports to assess the financial success of your company.
#23. Time Doctor
Employee and remote worker time tracking software can be a double-edged sword. Some bosses may utilize it to keep an uncomfortably close eye on their employees. When done correctly, though, time tracking can have a significant impact on productivity.
Time Doctor is a user-friendly time tracking program that assists remote employees in identifying where their working hours go and what they can do to improve their workflows.
Time Doctor allows you to keep track of your check-in and check-out times, as well as your breaks and report on how long you take to complete a task. The software works on multiple devices, offers a wide range of integrations, and features off-track reminders so that you can keep time wasters at bay. All of these can help you create a better work-life balance by ensuring that you work successfully during office hours and turn off when it's time for your personal life to take over.
#24. NordVPN
The first step toward secure remote work settings and home office is to have solid regulations in place. The next stage is to put them into practice, such as by securing gadgets. Simple security precautions, such as establishing a short screen lock period and concealing the webcam with a slide-sticker, can help prevent catastrophic data intrusions. Installing a VPN or a Virtual Private Network allows you to make secure internet connections.
NordVPN is one of the most widely used VPN service providers. It's simple to set up, compatible with every device and operating system, and offers quick and steady connections in any location.
Because NordVPN is so well-known and offers fairly priced services, you can't go wrong with them as your VPN provider. Making the appropriate decision when it comes to security is critical, so visit their website to learn more.
Conclusion
As I said earlier, there is no limit to the number of software you can find to help you with remote work. In fact, the list can become annoyingly long. The ones mentioned here, by no means, make the most comprehensive list. But they sure cover almost all aspects of remote work.
It is not necessary for you to use all of them. You can use the ones that you need. I, for example, extensively use OneDrive, Slack, and Todoist. That is all I need. Your needs may differ depending on your nature of work and your industry. Select wisely.
But at the very end I will also say – slow down and take a breath. Declutter your mind and instead of multi-tasking (which I feel is highly overrated), focus on one task at a time. Not only will you see your productivity skyrocketing, but at the same time, you will excel in whatever you are doing!