So, you run an online shop. Do you think your job ends when a person places an order from your store? Not really. That is only the beginning of your work. You must fulfill the order and it includes many things including inventory management, packaging, shipping, handling returns, and much more.
You must ensure that the order reaches the customer on time. You must also ensure that the product is not damaged. Taking care of these things is necessary so that you get a great review, and that your business gets a good name.
And trust me, it is not as simple as it sounds. There will be a lot of management and coordination involved to ensure that the shipment and transportation of the products happen flawlessly.
The good thing is that you do not have to take care of all these things by yourself. You can divert your resources and put them at work in your business while leaving the shipping and transportation to an order fulfilment service that handles everything and ensures that the products reach the customers in time and without any damage.
Of course, damages can happen, but that is not a common thing. This is where return shipments come in the play. The order fulfilment service you select will take care of that, too!
Since there are many order fulfilment services available, you can select the one that is best suited for your business and is within your budget.
Of course, order fulfilment services won't transport things for free. They will charge, and hence, it is important that you consider the budget seriously.
Choosing the right order fulfilment service can be difficult because there are many services. To make your life simpler, I have compiled a list of best order fulfilment services that you can use.
In case you are short on time, here is the quick list of options you can find in this list:
ShipBob
FedEx fulfilment
WhiteBox
FreightPros
RedHawk Global
Red Stag Fulfilment
ShipMonk
Deliverr
Omnipack
Ships-a-Lot
Okay, now that you know which options are included in the list, you can decide to pick one right away, or you can be wise enough to read through the rest of the article and learn a bit about each service before you make a decision.
I will say that the second option is always a better choice.
So, let us begin!
#1. ShipBob Fulfillment Services
ShipBob is a Third-Party Logistics (3PL) business based in Chicago, Illinois.
Drhuv Saxena and Divey Gulati established the firm after operating their own e-commerce business, SnailMailPics, and learning about the challenges faced by business owners and consumers.
The fulfilment firm collects/stores the merchandise of companies and delivers the goods as soon as a client orders them.
ShipBob is renowned for its 2-Day expedited shipping program that enables for quick product delivery to over 220 nations and territories.
There are operation bases and warehouses (physical locations) in Los Angeles, Chicago, Philadelphia, and Dallas. These locations serve as warehouses and operations hubs where consumers may speak directly with customer care personnel.
ShipBob also has numerous fulfilment facilities that company owners may use to store products.
This luxury allows eCommerce companies to distribute goods throughout the nation, reducing delivery times and costs.
ShipBob also provides a fulfilment software platform, which is completely web based. It enables business owners to collaborate on logistics, inventory management, and customer communication.
The program also includes automatic reporting and analytics that enable company owners to analyze their supply chains and enhance them when necessary, giving them a key competitive edge.
ShipBob integrates with major eCommerce systems like Etsy, eBay, Amazon, and Shopify, enabling eCommerce companies to manage inventory from their preferred marketplaces.
All of these extras are free.
ShipBob also provides B2B wholesale services and bespoke packaging and labelling.
There is no minimum order amount, and the business works with major delivery agencies like UPS, DHL, and FedEx to guarantee fast order delivery.
It now ranks 115th on Deloitte's list of South America's fastest-growing technology firms.
Benefits of Using ShipBob
Delivery in 2 days.
Suitable for SMEs.
B2B wholesale order management and inventory management software.
Custom boxing and knitting.
Popular eCommerce platform integrations.
Inventory storage in multiple locations.
Pricing
Pricing depends on which services you are selecting. You can go for Receiving, Pick & Pack, Storage, Shipping, and Standard Packing. Plans are either fixed fee, monthly, incorporated in cost of products, or quota based.
#2. FedExFulfillment Services
FedEx Fulfillment, established in February 2017, is a 1971-founded FedEx company. FedEx Corporation is an American international transportation business best known for its overnight air delivery service, FedEx Express.
Aside from truck deliveries, the delivery business has the biggest and most reputable LTL freight delivery service in the States.
FedEx Fulfillment was created to offer small businesses greater flexibility and independence in order management. It enables customers to concentrate on developing business brands while the firm handles order management and fulfillment.
FedEx Fulfillment is a user-friendly software platform enabling businesses to centralize order fulfillment.
Business owners can easily manage, monitor, and modify product inventories directly from the dashboard of the platform, knowing when to replenish stock. The information provided by the platform becomes vital in running business operations smoothly.
The platform also enables company owners to monitor orders, sales channels, and shipments in real-time. Companies get data reports and analytics. Information about business trends along with vital consumer feedback on order fulfillment assist owners enhance their operations and business strategies to ensure steady growth
It also integrates well with third-party eCommerce marketplaces such as Shopify, Walmart, and eBay. FedEx Fulfillment also provides tools like Square and Xero in addition to order management and integrations with major eCommerce platforms.
An experienced Customer Success Specialist helps clients through unforeseeable issues and guarantees a smooth experience for both company owners and the customers they deal with. Kitting & assembly, custom packaging & gifting, and fulfillment of wholesale batch order are all available.
The FedEx Fulfillment services typically involve owners of businesses uploading inventory into its software platform, connecting the software platform with chosen online marketplaces, delivering goods into its warehouses, and flawlessly tracking order fulfillment. FedEx Fulfillment is a big delivery service with a diverse range of order delivery options.
Benefits of Using FedEx Fulfillment
Inventory control and management.
Order analytics and reporting.
Expert Customer Success Specialist advice and guidance.
Integration of eCommerce marketplaces.
Exceptional delivery service.
Pricing
FedEx Fulfillment price is dependent on order volume and other factors like inbound shipment reception and inventory holding.
#3. WhiteBoxFulfillment Services
The Whitebox eCommerce Fulfillment and Management Platform was founded in 2013. The firm provides 3PL services to assist businesses manage their supply chains and eCommerce.
WhiteBox provides excellent 3PL services to assist company owners handle order fulfillment. The firm provides strong tools to help business owners develop their brands and manage their inventories.
It offers eCommerce fulfillment software that enables clients to manage marketplaces and fulfillment activities with ease. In addition to placing wholesale orders, WhiteBox's eCommerce fulfillment software enables companies to monitor order fulfillment and prioritise purchases based on expiry dates.
The sophisticated software platform also helps businesses optimize advertising, product listings, catalog suggestions and rankings. WhiteBox, like other marketplace platforms, informs company owners how they compare to rivals.
Businesses using the platform get reviews, market size, listing quality checks, competition sales velocity, search keyword analytics and product analysis. WhiteBox is optimized for Walmart and Amazon marketplaces, giving properly optimized options for order fulfillment to select from.
WhiteBox's fulfillment services are available to all types of businesses, from startups to wholesalers. It offers data-driven advice on how to manage Direct to Customer fulfillment. Business owners learn about prospective consumer markets and may store inventory in strategic warehouses. With these tricks and properly placed warehouses, dropshipping and order fulfillment become a breeze.
WhiteBox also provides B2B wholesale order fulfillment services to ensure smooth execution of big orders. The company also handles order packing & kitting and advises companies on safe packaging designs for various goods kept in its warehouses. Businesses may take advantage of 1-day and 2-day shipping services.
WhiteBox also handles order returns and works with major delivery providers like FedEx, DHL, and UPS to ensure low prices and a great client experience. Amazon and Walmart aren't the only eCommerce marketplaces that WhiteBox works with. It is compatible with eBay, Target, Shopify, and Costco, among others.
Benefits of Using WhiteBox
Accelerated delivery.
Detailed analytics.
Management of returns.
Optimization of listings.
Optimizations specially for Amazon and Walmart.
Order fulfillment for B2B and DTC.
Pricing
For each company owner, WhiteBox rates are decided by the kind of fulfillment service desired, and are quota based.
#4. FreightProsFulfillmentServices
FreightPros is an online shipping firm that caters to all business sizes and requirements. It was established in 2009 to provide excellent LTL freight transportation services to SMEs.
Small and medium-sized companies may customize their LTL freight transportation solutions to save time and money. Also available are rail shipping, truckload shipment, temperature-controlled shipping, expedited shipping, and various other customized Freight Solutions.
The company takes its freight services to a new level by offering extended order fulfillment services. As a 3PL, FreightPro provides comprehensive management services for shipment to clients engaged in importing raw materials and products from overseas. These services include creating professional bills of lading, real-time shipment monitoring, and client invoice management.
FreightPro also provides freight brokerage services, assisting suppliers in negotiating lower import prices and maximizing incoming freight operations. For excellent prices and to guarantee that all freight shipping operations are appropriately managed and coordinated with business requirements, the firm works closely with suppliers.
FreightPros also offers a web-based platform for clients to manage and monitor their freight operations on their own. It provides a TMS or Transportation Management System with cargo tracking and freight vehicle tracking in real-time with GPS.
Customers may also pay bills, monitor, and negotiate freight estimates, and see shipment history, including past, outstanding, and planned shipments.
FreightPros also provides professional, instructional articles, films, and demonstrations through its website and email campaigns to enhance client understanding and relationships. Customers may select from over 70 carriers, including YLT Freight, UPS, and XPO. FreightPros' thoughtful business strategy and service offering make it a fantastic choice for small and medium-sized companies.
Benefits of Using FreightPros
Ideal for SMEs.
Customized freight services.
Brokering services for inbound freight.
Web-based freight management and tracking.
Pricing
The origin and destination of shipments, their weight, and the type of shipment (truckload or LTL) are all included in defining quota, which in turn, determines the price of freight operations.
#5. RedHawk GlobalFulfillmentServices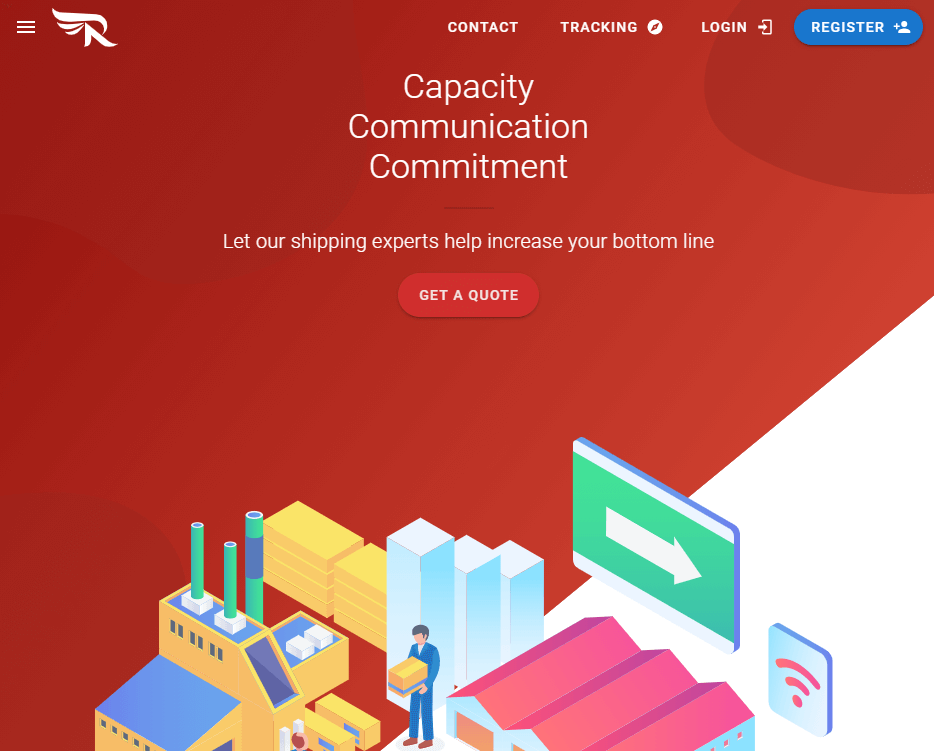 RedHawk Global, headquartered in Ohio, USA, was established in 2002 to carry products throughout North America.
The business provides temperature-controlled, truckload, heavy haulage, intermodal, and LTL logistics services. Businesses may also benefit from secure inventory management and warehouse storage services.
The company's heavy haulage services help businesses transport equipment weighing up to 80 tons, prefabricated structures, structural steel, and cranes. The intermodal freight services that the company offers enable companies to transport products quickly and efficiently via rail. These products can include hazardous materials.
Clients get route surveys, design advice, and maximum shipment dimensions to assist them make choices and creating budget for heavy freight transportation. Intermodal services are trusted by business owners since the firm transports products to the West Coast and insures the freight for at least $200,000.
RedHawk Global also provides time and money saving truckload services. It enables businesses to transport a broad variety of products through partial and full truckloads at reasonable rates, with cargo insurance ranging from $50,000 to $500,000.
Business owners may properly evaluate all essential choices in order fulfillment with LTL services that include guaranteed transit times, lane/cost analyses, same-day pickups, and specified delivery schedules.
RedHawk Global's 185,000 square foot distribution warehouse is also well located to fulfill orders for clients throughout the US.
Its warehouse in Columbus, Ohio, is within 500 miles to up to 147 million people, or over 47% of the US population. This puts the warehouse location within 1-day transit distance
The facility is located within 500 miles of many important Canadian border crossings and 13 intermodal rail ports are also located close enough. All of this facilitates faster order fulfillment in the US and Canada.
RedHawk Global also provides a software platform for inventory management and freight management. The eFreightLine web services provide a robust API for shipping and freight rating.
This API enables both company workers and customers to automatically evaluate shipping needs and costs, as well as create shipping estimates. In addition to eFreightLine, the business provides vSpeed software, which allows customers to oversee, route, and monitor freight operations.
Business owners may also compare LTL and parcel rates to see which is the most cost-effective option.
The software systems of the company enables both company owners and customers to efficiently manage options for order fulfillment and access critical data for making vital business decisions.
Benefits of Using RedHawk Global
Heavy haulage
Safe shipping options with insurance
Software platform useful for both customers and business owners
Warehouse location in a strategic place
Pricing
RedHawk Global provides company owners with insured freight services and sets prices by quotes.
#6. Red StagFulfillmentServices
Eric McCollom established Red Stag Fulfillment in 2013 and it is based in Tennessee, USA. A lack of dependability in current order fulfillment systems led the creator, then an eCommerce merchant, to establish the business.
Red Stag Fulfillment provides eCommerce companies with web based B2B and B2C order fulfillment and other third-party logistics services. The firm has four strategically placed warehouses throughout the US, allowing for fast product delivery and cheap shipping prices.
These warehouses are situated in California, Pennsylvania, Tennessee, and Utah to provide nationwide order fulfillment. Red Stag offers same-day order fulfillment to help companies deliver orders quickly. The business also offers fast and precise order fulfillment, completing 99.602 percent of US orders in 2 days or less.
The firm not only helps company owners manage orders and inventory, but it also integrates with several famed eCommerce platforms and marketplaces like BigCommerce, Shopify, and WooCommerce.
The Warehouse Management System (WMS) of the company enables business managers to check inventory levels in various warehouses and track when and how goods are received and delivered. Owners also get real-time shipping and inventory data, allowing them to make fast decisions.
Red Stag Fulfillment also handles reverse logistics, returns goods within 2 days, and refunds consumers. Business owners are informed on the state and quality of returned goods through videos and images. Businesses may also decide how returned goods are handled, including reconditioning, repackaging, and restocking.
Red Stag also provides Zero Inventory Shrinkage Allowances, which means clients do not get allowances for damaged products since stocks are fully secure.
Business owners may also use the company's bespoke knitting and packaging services for a 30 days as trial after signing up.
Benefits of Using Red Stag Fulfillment
Exceptional accuracy and speed.
Strategic warehouse locations for speed.
Services for B2B and B2C orders.
30-day trial.
Reverse logistics with great transparency.
Flexible fulfillment services.
Low-cost shipping.
Pricing
Red Stag Fulfillment bases its price on quotations and provides a 30-day free trial.
#7. ShipMonkFulfillmentServices
Jan Bednar, Vash Jares and Kevin Sides created ShipMonk in 2014 to help eCommerce companies manage their supply chains and inventory more efficiently. Based in Florida, USA, it promises to let SMBs concentrate on developing brands rather than shipping or order fulfillment.
ShipMonk's order management site is vital to its fulfillment processes. Its software platform may be integrated with preferred eCommerce/sales channels to automate order management.
Direct-to-Customer fulfillment services allow businesses to monitor orders from placement through delivery.
Businesses can easily monitor remaining stock levels, get warnings regarding low stock levels, and guarantee effective SKU management using ShipMonk's inventory management platform.
ShipMonk also offers excellent shipment management services and works with major carriers like DHL and UPS to guarantee order fulfillment. Its transparency in shipment management enables company owners to monitor real-time shipping prices as well as shipping data. These choices offer company owners ample flexibility to evaluate and improve their businesses.
ShipMonk's software platform also allows for excellent warehouse management. The business owner may plan order fulfillment and arrange bespoke order fulfillment initiatives in addition to storing and managing inventories across various warehouses of ShipMonk that are located in Los Angeles, Florida, and Pennsylvania.
These warehouses' strategic locations allow company owners to diversify product inventory storage and send delivery to consumers as soon as feasible.
ShipMonk's software platform also informs company owners on the appropriate warehouse for their delivery requirements and business models, thereby minimizing cost and maximizing profits.
Customers are also well-served by the fulfillment company's online and offline customer care solutions. Business owners may contact customer support professionals through online chat, email, or phone.
ShipMonk has been featured in major publications like Forbes and has won significant awards and recognitions.
Benefits of Using ShipMonk
Options for SKU management.
Reporting and analytics.
Services for DTC fulfillment.
Stock and order tracking.
Strategic locations for warehouses.
Pricing
ShipMonk offers four price plans: E-commerce, Subscription Box, Retail, and Amazon FBA Prep. All plans are quota-based and established by order size and anticipated warehouse storage needs.
Owners may also get unique pricing schemes for particular projects, cargo unloading, and packing.
#8. DeliverrFulfillmentServices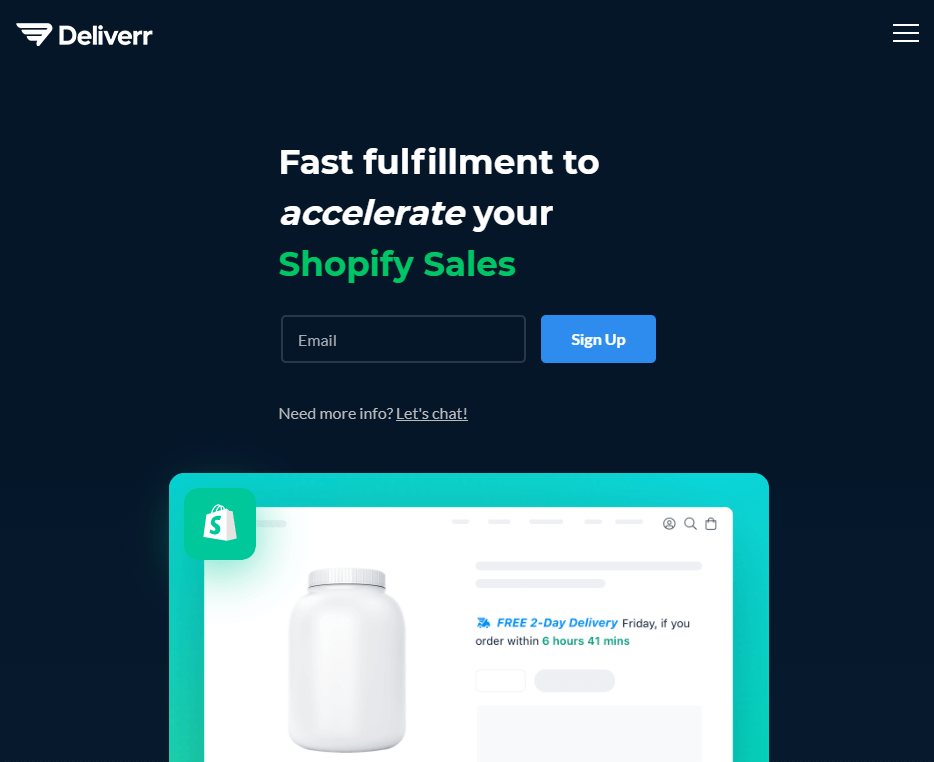 Deliverr is a 4PL company, meaning it can handle your whole ecommerce logistics. It's like an umbrella that covers everything from suppliers to shipping firms, customs & clearing agents to last-leg delivery and inventory management.
They connect all of these elements and provide clients with a unified and central dashboard to manage their whole ecommerce business.
Deliverr's main USP is its FWB design. Deliverr is one of the simplest fulfillment businesses to deal with, offering two-day delivery to 95% of America with a two-charge pricing model.
Deliverr offers one of the finest ecommerce interfaces for Shopify, eBay, Amazon, Google shopping, Walmart, and Wish. With one-click integrations and multiple tools for order management, Deliverr is a charm to work with.
Fast Tag badges are one of Deliverr's major USPs. These are Amazon-inspired badges for your product listings across several platforms.
If your goods qualify, it will show up as 'Next Day Delivery' or 'Free 2-Day Delivery' on Walmart, Facebook Ads, and eBay. Indicating precise delivery times on listings improves click through rates.
The warehouse network of Deliverr is spread nationwide. The inventory distribution system allows you to select the method for inventory shipping based on the anticipated travel time.
Deliverr provides inexpensive shipping and quick delivery. It provides 1-, 2-, and 3-day delivery along with Standard delivery (5-7 days). Their warehouse network ensures that 95 percent of US-based customers will get their shipments within 2 days.
Benefits of Using Deliverr
Easy integration with multiple eCommerce platforms.
Has Fast Tag badge feature.
Nationwide warehouse network.
Unified central dashboard.
Pricing
Deliverr charges a per-unit cost based on package weight, size, and desired service level. Fulfillment costs include pickup, packaging, boxing, and shipment. You can select between Non-Fast Tag and Fast Tag options
Deliverr's storage costs vary based on unit size, space occupied, and storage duration. Long-term storage gets better rates.
#9. OmnipackFulfillmentServices
Omnipack is a leading 3PL provider headquartered in Poland. In particular, they provide fastest access to the DACH area.
Omnipack, being a fully stacked fulfillment service for eCommerce it does everything. Omnipack manages the whole process from receiving goods to delivering it to the client.
Omnipack has been expanding rapidly since the European ecommerce boom. New warehouses added in Nadarzyn and Gorzów Wielkopolski bring your goods closer to the German-Polish border.
Omnipack's feature set includes everything an ecommerce retailer needs in today's competitive industry. They now have over 100 customers in various industries. Among the names on the list are Motorola, Sofia, Olsen, Saint, and Wish.
Omnipack supports conventional eCommerce and direct marketplace connections. The onboarding procedure is very easy, and their support staff is constantly there to help with technological issues.
Omnipack is one of the only European ecommerce fulfillment businesses situated near Warsaw airport. Deliveries to Austria, Germany, Switzerland, and the rest of Central Europe and Eastern Europe are available the next day. Not to mention Poland's railway closeness to China.
Globally, Q4 is the busiest season for ecommerce. But it may also turn into a wasted opportunity, with delayed or lost orders. SLAs are not affected by Omnipack's scalable service.
One of our favorite Omnipack features is their cost optimization. They have come up with a Micro-hub concept that gives you a dedicated warehouse, but of course, within their warehouse.
So, regardless of volume, storage costs are constant. The price is changeable, so you won't pay a set fee during slow sales seasons. You only pay for orders that are fulfilled.
Benefits of Using Omnipack
Easy integration with conventional eCommerce and marketplaces.
Conveniently located near Warsaw Airport.
Next-day delivery to major European countries.
Offers Micro hubs.
Low storage costs during slow seasons.
Billed only for fulfilled orders.
Pricing
Omnipack's all-in pricing approach means fewer numbers to deal with. Also, they only charge for services used. That is, if it is a slow sales season, you pay for packed and shipped items only
You will be provided with a bespoke quotation based on the number of monthly orders, packaging needs, storage space, and other non-standard services. Every month they provide an itemized invoice.
#10. Ships-a-Lot FulfillmentServices
Ships-a-Lot is a DTC order fulfillment service established in 2014 by two brothers, Zach and Max Zitney.
The business utilizes a single warehouse in Memphis, Tennessee, for consolidated, efficient, and accurate order fulfillment.
Ships-a-Lot also offers many technological integrations to help company owners manage their inventory.
The Warehouse Management System offered by the company integrates with popular marketplaces including Etsy, eBay, Shopify, and Amazon.
Ships-a- Lot does not handle incoming freight but has relationships with reliable air, truck, train, and ocean freight carriers like FedEx to cover all aspects of cargo transit.
The company receives inventory via well-equipped and well-trained staff and keeps them in a number of storage types.
Ships-a-Lot helps company owners select the optimal storage type for each of their SKUs, ranging from pallets to bins among others.
Ships-a- Lot's Transportation Management System handles order packing, kitting, and customized shipping choices for customers.
The business works with major carriers including Passport, FedEx, UPS, DHL, etc., to provide customers affordable delivery costs.
The company also offers reverse logistics, including return processing, inspection, and even disposal.
Benefits of Using Ships-a-Lot
Emphasis on direct-to-consumer fulfillment.
Ideal for small companies and entrepreneurs.
Limited SKUs for better inventory control.
Partnerships with major carriers.
Pricing
Ships-a-Lot bases its pricing on the anticipated monthly shipments. In short, they will provide you with a quotation.
Okay, now that you have gone through the list, here is some basic information that you might find useful:
Benefits of Using Order FulfillmentServices
1.

Grow Your Business Smartly
A 3PL firm can handle your logistics and storage. This enables you to concentrate on more pressing business responsibilities. Plus, you'll have all the tools you need as your company grows.
2.

International Expansion
As 3PL logistics delivers goods quicker, you may rapidly expand your company internationally. Logistics companies also assist businesses access local markets in different nations.
3.

Lowered Warehousing Expenses
3PL businesses eliminate the need to invest in warehouses and their administration. A 3PL company will always include warehouse and employees. You don't have to worry.
Types of Third-Party Logistics
Type 1:

Finance and Information Based Companies
3PL firms in this category perform financial and information responsibilities such as inventory management, freight audits, accounting, tracking, booking, etc.
Type 2:

Warehousing and Distribution Based Companies
3PL companies in this category handle product storage, shipping, and product returns. Smart freight services like Rakuten Super Logistics handle everything from pickup to delivery.
Type 3:

Transportation Based Companies
Transportation-based 3PL firms manage all product shipping procedures. 3PL transport firms also manage export taxes.
What to Look for While Selecting an Order Fulfillment Service?
You should look for the following things while selecting any order fulfillment service:
1. Services offered: The majority of third-party logistics providers who work with small businesses are primarily focused on order fulfillment or freight. If you need both, FedEx Fulfillment is a service that you will love to work with. The golden rule here is to go for a company that fulfills all or most of your needs.
2. Scalability and low minimum order: Small and new enterprises need low order minimums from 3PL logistics providers. To guarantee appropriate scalability, 3PL firms must also satisfy all corporate demands.
3. Pricing transparency: Cost transparency is an important aspect in assessing 3PL services since costs vary greatly depending on business size, shipping, and other roles and procedures. There should be no hidden costs in any procedure or service.
4. Integrations: Accuracy and punctuality are critical in any company. However, 3PL firms should also provide integration with order management systems, website, accounting, and major ecommerce platforms such as Amazon, Shopify, WooCommerce, and others.
5. Free setup and easy onboarding: Small companies want a suitable and well-planned onboarding procedure, as well as free account setup. If your selected 3PL service is not offering easy onboarding, or it is charging for setting up your account, you must consider other options.
6. Customer service: In the logistics industry, timely delivery and job management are critical. The top businesses provide immediate assistance to their clients by giving them a personal account manager. Make sure that you are selecting a service accordingly.
Conclusion
Finding the right order fulfillment company for your eCommerce business is important as it will help you to focus your attention and resources on more pressing business needs while the fulfillment company uses its resources for storing, packaging, and shipping your products to end customers. Also, certain fulfillment companies can handle the return shipments and provide you with appropriate updates in form of images and videos.
ShipBob is by far one of the finest order fulfillment companies you can find in the United States. You can try it. However, do not think that options like FedEx Fulfillment, Deliverr, FreightPros, etc. are any less. The options mentioned in this list have established themselves as the finest in business.