What is the commonest content type you find on the Internet?
It is the written content!
Would you like to read a piece of content that is plagued with grammatical errors, typos, spelling errors, and poorly constructed sentences?
Not really!
Study suggests that people make 2.5x more grammatical errors as their peers fail to progress in their careers.
But what about those who are trying to build online businesses or are striving to become successful freelancers?
What will happen when you start your website or blog and push in content full of grammatical errors?
Your readers are not going to stick around for long.
Consequence?
You will lose your readers. So, the stupid grammatical errors that you make undermine the arduous work that you put in to build your blog.
Why would you want that to happen?
Now, not everyone will have perfect grammatical skills. This is where grammar checkers tools come in. They can help you to improve your English writing skills.
If you are wondering which tools you can use for improving your grammar and writing, here is a collection of the 8 best grammar checker tools that you should check out right now.
#1. Grammarly
Grammarly is a robust grammar analyzer with features to assist you in improving your writing skill. It's a writing helper that will accompany you virtually wherever you want to write. Be it on Microsoft Word processor or Gmail, Grammarly will help you to eliminate errors.
This proofreading software examines your work and offers ways to improve it. By explaining such adjustments, it enables you to learn from the errors you make.
The free version will correct spelling and basic grammatical problems and may be sufficient for casual writers.
Grammarly Premium identifies complex grammatical and punctuation problems, as well as contextual spelling errors. It makes recommendations for sentence structure, readability, choice of words enhancements.
It also enables you to define tone and intent objectives, thereby helping you to write depending on the situation.
Grammarly's robust integration capabilities let you to utilize it inside a wide variety of applications, from Gmail and WordPress to Google Docs and Microsoft Word. Additionally, it is accessible as a Chrome, Edge, and Firefox browser extension.
Core Features of Grammarly
Grammarly's Tone Detector analyzes your phrasing, choice of words, capitalization, and punctuation to determine if your message sounds worried, confident, or friendly.
It has a competent free version that assists casual writers in correcting simple grammatical and spelling problems.
Mobile Synonym — When you input anything on your smartphone, it offers more suitable synonyms in real time.
Grammarly also helps with sentence construction and helps to write more precise sentences by eliminating fluff.
Pros and Cons of Grammarly
Pros of Grammarly
It has an intuitive, clean, and straightforward user interface.
Grammarly is accessible in a variety of formats, including a web-based application, a desktop app, several browser extensions, an add-on for Microsoft, and a smartphone keyboard.
Grammarly premium has a plagiarism detector as well.
Additionally, it assists you in correcting contextual problems and sentence construction.
Plus, Grammarly enables you to determine the tone of the writing.
Their grammar checker is available for download on iOS and Android.
Cons of Grammarly
Grammarly premium is quite expensive and Grammarly free version quite limited.
Grammarly can become quite aggressive, especially when it comes to comma usage. Grammarly happens to love commas and suggest using one even when it may disrupt the sentence flow.
The Microsoft addon tends to slow down the writing experience.
Grammarly Pricing
Grammarly costs $30 a month for a monthly payment scheme. For a quarterly billing cycle, the price comes down to $20 a month, and for a yearly billing cycle, the asking price is $12 a month.
#2. Ginger
The next best grammar checker tool is Ginger. Everyone who has used both Grammarly and Ginger can vouch for this.
Ginger is designed for fixing a wide variety of textual problems, including typographical errors, stylistic flaws, punctuation errors, and sentence structure faults. Additionally, it also comes with a translation feature that allows translating into 40 different languages. The free edition, on the other hand, is restricted to 350 characters only.
Upon registration, you will get access to the free extension for Google Chrome browser. Registration will give you access to the Ginger writer program, which allows you to quickly paste the text and check for mistakes.
Additionally, it includes a mobile application for detecting and correcting mistakes in text messages, social media postings, and emails. Additionally, Ginger works well with Microsoft Word, but is incompatible with Google Docs.
Core Features of Ginger
Ginger allows translation in 40+ languages.
There is a text to speech feature that allows students to learn correct pronunciation and meaning.
Ginger allows changing the interface as per user preferences. Background color, font style, etc. can be changed.
It comes with a sentence rephraser tool that allows you to quickly rewrite sentences.
Pros and Cons of Ginger
Pros of Ginger
The free version comes with a sentence rephraser, synonyms generator, and grammar checker with limited use. It also gives unlimited access to definitions.
The premium version adds everything plus a translator that can translate in 40+ languages.
The premium version has a personal trainer offering personalized practice sessions depending on the writing style to help people in improving their English skills.
The tool highlights the errors and offers contextual solutions.
It can find errors in emails.
Cons of Ginger
Lacks a sidebar listing all grammatical errors. To fix errors, it requires hovering the mouse pointer over marked errors to learn what is wrong and then clicking on textbox for accepting or rejecting the errors.
Ginger does not work with Google Docs and MacOS.
The free version gives very limited feedback.
Ginger Pricing
The premium version of Ginger is available for $20.97 per month if you select a monthly billing cycle. For the annual billing cycle, the price comes down to $7.49 a month. If you go for a two-year prepaid plan, the price comes down to $.6.99 a month.
#3. Hemingway Editor
A powerful tool designed for writers, Hemingway Editor is all about improving and refining your writing skills. It does have a grammar checker tool, but the primary focus is on checking the writing style and simplifying complex sentences, making them easier for the readers to understand.
The Hemingway Editor will mark the sentences as "hard to read," or as "very hard to read."
Core Features of Hemingway Editor
The tool discourages the use of complex phrases and passive voice.
It also discourages excessive adverb usage.
It uses the Automated Readability Index for grading your content and helps you to improve your writing.
There is a desktop version available for both Windows and Mac users. It can work offline.
Pros & Cons of Hemingway Editor
Pros of Hemingway Editor
It has a free online version available.
The editor layout is user-friendly and straightforward.
There is a distraction-free desktop version available.
It is designed for giving automatic alerts on difficult-to-read and complex sentences.
Punctuation and spell checker tools are included.
The tool does not limit the number of words you can use.
Cons of Hemingway Editor
Requires pasting the work into the editor to check. It will destroy your formatting.
It will only highlight the complex and difficult-to-read sentences. No suggestion will be given to you. Fixing it is up to you.
Hemingway Editor Pricing
The online version of Hemingway Editor is free to use. If you want to use the desktop version, you must pay a one-time fee of $19.99.
#4. Linguix
Linguix is a powerful AI-powered writing assistant that helps you to avoid grammatical errors, spelling errors, and typos. It also provides style guides. There is a paraphrasing tool that allows you to write like a native speaker.
The application boasts 700+ advanced checks, 3,000+ AI-based corrections, and 9 million+ typos in their database that helps you to write in English like a pro. The style guide helps to make the sentences clearer and easy to read.
The program also throws in a secret mode in their web app that allows you to edit and work on sensitive documents. The documents are never stored.
Depending on the paid plan you select, you get to create and save snippets that you can use for quick writing during repetitive tasks such as sending intros or scheduling meetings.
Core Features of Linguix
Their top-of-the-line AI-based editor helps in fixing punctuation, spelling, and grammar errors.
Business users can create reusable content templates or snippets for automating repeated tasks.
The application tracks performance and offers detailed reports to help you understand your writing needs and improvements you make.
Includes a powerful paraphrasing tool for improving sentences.
Pros and Cons of Linguix
Pros of Linguix
They offer a free Chrome extension and a free Microsoft Word add-in.
They offer a teamwork setting that allows sharing documents.
They offer creating a custom integration in case your business has a unique technology stack.
Offers a white-labeling program.
The browser extension works with all websites, emails, and even Google Docs.
They have a Linguix keyword that works on both Android and iOS devices.
The desktop app is available for both Windows and Mac users. The web app is platform independent.
Cons of Linguix
They do not offer a plagiarism checker.
The free version does not come with a paraphrasing tool and advanced suggestions.
Linguix Pricing
While the Chrome extension and the Microsoft Word add-in are free to use with limited features, the paid upgrade is available for $8 a month with a yearly billing cycle. There is a team plan available for $10 per member per month, but that too is available for a yearly billing cycle. For monthly billing, the pricing increases significantly.
#5. WhiteSmoke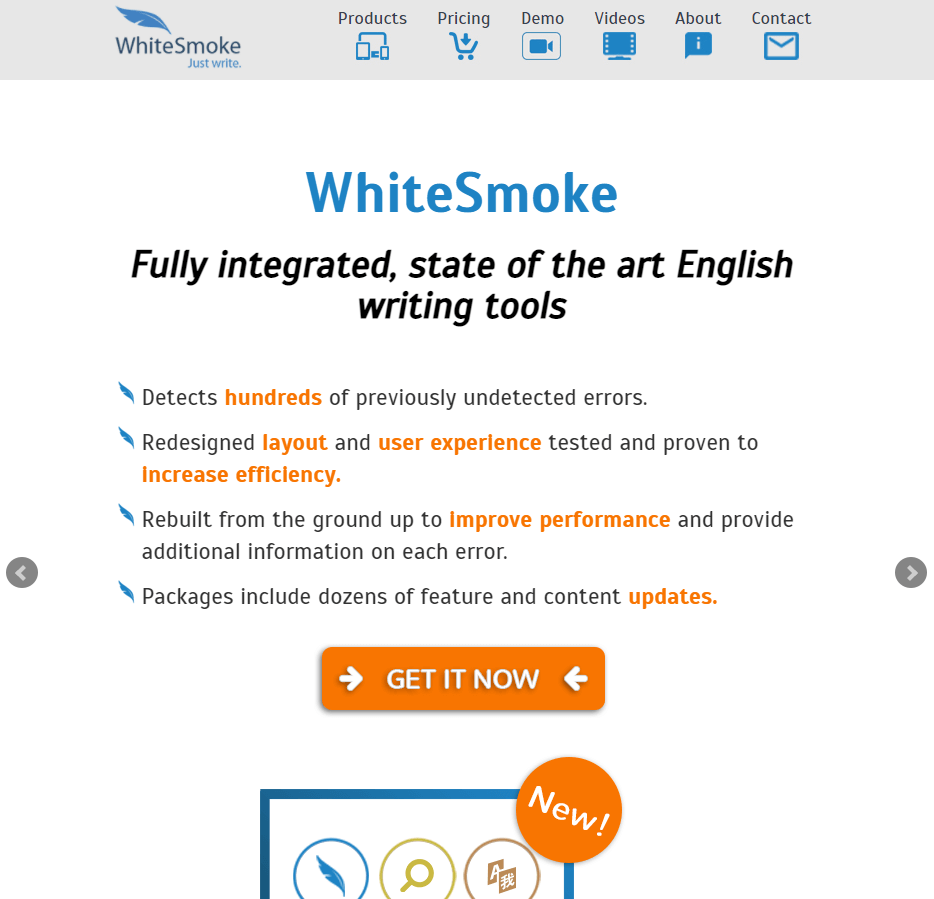 Yet another powerful AI-based writing assistance, WhiteSmoke offers a lot of features including grammar, punctuation, and spelling error checks and rectifications.
Using Natural Language Processing technology, WhiteSmoke not only detects mistakes, but at the same time, provides explanations about the corrections so that they do not repeat the same mistake time and again.
WhiteSmoke can help you with word choice and even help you improve your writing style, and thereby, help in improving sentence construction. They also have a plagiarism checker that can help you to ensure that you are not infringing into someone's copyright. This is an excellent feature, especially for academics.
Core Features of WhiteSmoke
The program offers video tutorials on grammar rules so that you can improve your grammar over time.
It comes with a style checker that helps you to improve your content based on your writing style.
There are over a 100 pre-built templates that you can use for writing documents and letters in correct format.
Offers a powerful plagiarism checker tool that you can use to prevent copyright issues.
Pros and Cons of WhiteSmoke
Pros of WhiteSmoke
The application offers automated translation support in 50+ languages.
The paid plans come with an efficient plagiarism checker.
The program supports both Android and iOS devices offering suggestions and corrections.
It comes with support for multiple browsers including Chrome, Opera, Firefox, and Safari.
It is compatible with both Windows and Mac platforms.
Cons of WhiteSmoke
The free version will allow checking only up to 250 characters. That is just good for checking small texts meant for Tweets, text messages, etc.
There are no monthly subscription plans available. You must commit to their services for a minimum of one year.
WhiteSmoke Pricing
WhiteSmoke is available for Web-only version at a price of $5 a month billed yearly. The Premium version allows Mac and Windows integration and costs $6.66 a month billed yearly. Then there is a Business plan that costs $11.50 a month billed yearly. As I said, there is no monthly billing cycle available. You can get lower prices if you commit for 3 years. Yes, they have 3-year plans available!
#6. ProWritingAid
ProWritingAid is an outstanding grammar checker application that was created to assist you in becoming a better and more refined writer. Grammarly and ProWritingAid are almost at the same level when it comes to capabilities. It is capable of detecting and fixing errors in punctuation, spelling, style, and grammar to assist you in writing more effectively.
It provides twenty distinct writing reports that you may access one by one. This feature enables you to modify at your leisure. For instance, you may begin by proofreading the text for spelling, grammatical, and style problems. Additionally, you may examine the text for repetitive phrases or words later on.
What's great is that it also includes a report that identifies sentence patterns and clichés within the material. The recommendations in the reports the tool generates will assist you in gaining a better understanding of the subtleties of writing and in producing more interesting sentences.
Core Features of ProWritingAid
The program offers a detailed readability analysis to help you assist in writing content that is easy to read and understand.
Depending on the writing style, the program will generate detailed reports so that you can use the reports to improve your writing quality.
The program is GDPR compliant, and it will not use your writing unless you give permission.
It can be used as a web app, or you can decide to use its browser extensions to make it work with Safari, Edge, and Firefox.
It works seamlessly with Google Docs and Microsoft Office.
Its desktop application also integrates with Scrivener.
Pros and Cons of ProWritingAid
Pros of ProWritingAid
You will get various reports to improve your writing.
It comes with a smooth integration with Scrivener – a word processing program and an outliner.
It comes with a brilliant WordExplorer feature that allows you to enter the right words in your sentences.
It is GDPR compliant.
Cons of ProWritingAid
Does not offer a plagiarism checker.
Mobile apps are not available.
ProWritingAid Pricing
ProWritingAid costs $20 a month. You can opt for a yearly billing that will cost you $70. If you want, you can get a lifetime license by paying $299. This lifetime license makes ProWritingAid one of the most cost-efficient programs available on the market.
#7. LanguageTool
LanguageTool is a grammar checker for writers, proofreaders, and editors that deal with foreign languages such as Russian, German, Spanish, Polish, and French. Additionally, it has a customized lexicon in which users can simply add the most often used terms from a conventional dictionary.
Additionally, the web tool provides Firefox and Chrome browser extensions. Additionally, the plugin is compatible with Microsoft Word, LibreOffice, and Google Docs. It enables users to rapidly examine documents by using keyboard shortcuts.
LanguageTool has a sophisticated algorithm that is capable of identifying comparable language variants. With its premium plan, you can write with enhanced accuracy and clarity. For example, the premium version can find out gender inaccuracies with ease.
Core Features of LanguageTool
It offers a personal dictionary for finding words that cannot be easily found in a traditional dictionary.
It allows using keyboard shortcuts.
The free version is quite capable and allows checking up to 10,000 characters in a single check.
Uses a proofreading engine with 1700+ patterns for detecting errors.
Pros and Cons of LanguageTool
Pros of LanguageTool
The program supports 20+ languages.
It offers a customizable personal dictionary where you can add frequently used uncommon words so that the tool doesn't flag them during spelling and grammar checks.
The user interface is clean and easy to use.
It offers a developer API for publishing houses and software companies.
It has an active forum where users of the program are readily available for helping others.
There are add ons available for Gmail and Thunderbird.
Cons of LanguageTool
Even the premium version puts a limit on the number of characters you can check at once. That is certainly not a great feature, especially when you are checking very long documents.
Desktop app is available only for MacOS.
LanguageTool Pricing
They have a free version available with severe limitations. However, the premium version starts at $19 a month with monthly billing, $13 a month with quarterly billing, $4.92 a month with yearly billing.
#8. After the Deadline
After the Deadline is one of the most powerful grammar checker tools available for free. It is a great alternative to options like Grammarly and Ginger but doesn't require you to pay a dime.
Just like its paid counterparts, After the Deadline can help you improve your sentence construction, eliminate spelling errors, and fix grammatical errors. To help you in improving your writing style, After the Deadline also offers style suggestions.
However, After the Deadline as a hosted service has stopped working. If you want to use it, you must host it on your server. The source code and the installation methodology are provided on the website.
Core Features of After the Deadline
It offers error explanations so that you understand everything.
Allows easy installation on the server.
Integrates nicely with OpenOffice.org.
Pros and Cons of After the Deadline
Pros of After the Deadline
It can be installed on the server of your choice. It is web-based making it platform independent.
It supports Windows Live Writer, BuddyPress and various other platforms.
It can easily detect misused words.
The spell checker is available in multiple languages including Spanish, Portuguese, German, French, and English.
It can perform contextual spelling checks and helps with advanced styling.
It is open source and doesn't cost a dime.
Cons of After the Deadline
To use it, you must install it on a server. It is no longer available as a hosted service.
The tool is no longer in active development. However, if you have coding skills, you can keep it up to date. The source code is available through GitHub.
The free WordPress plugin is no longer available for download. It has been removed permanently.
After the Deadline Pricing
It is open source and free. However, you must invest in a server to install it and use it.
Okay, now that we have reached the end of this list, let us quickly go through the basic FAQ. Essentially, I will be answering only two questions – the most important questions.
General FAQ
What features should you look for while selecting a grammar checker tool?
There are seven features that you should be looking for:
Spelling & Punctuation: The tool should automatically check for spelling and punctuation errors so that you can fix them.
Grammar Issues: The tool should look for grammatical errors in your writing and suggest the right or correct options.
Word Choices: The tool should give you better alternative words to make your writing more powerful.
Readability: The tool should be able to check the readability of your writing and help you to improve it. It should help you in optimizing sentence length and give recommendations on formal and informal writing.
Plagiarism Checker: This is not a required characteristic, but if the option is present, it will be great! This will ensure that you are not infringing on someone else's copyright.
Browser Extensions: There should be browser extensions available so that you can use the tool on a wide range of websites.
Integrations: It should integrate nicely with Microsoft Word, Google Docs, Gmail, etc. to ensure that you can improve your writing everywhere.
What are the benefits of using a grammar checker tool?
There are at least 5 benefits of using a grammar checker tool. They are:
Increases Professionalism: A grammar checker can help you to improve your professionalism by helping you to write flawlessly in emails, blog posts, important documents, and more.
Prevents Plagiarism: Plagiarism is a horrible thing. You should avoid it at all costs to prevent troubles like lawsuits, rejections, and more. This is especially important in academic fields. Having unique content ensures that no one will point fingers towards your work and your intention.
Enhanced Learning: These tools help you to understand grammatical rules and help you become a better writer by helping you understand your writing style.
SEO Benefits: If you are a blogger, you will know the importance of SEO. Higher readability scores help in earning better search engine rankings.
Increase Functionality of Other Tools: Tools like email clients, word processors, etc. become better with the integration of grammar checker tools. You can check your writing right within those tools without juggling between windows.