There are more than 330 million registered domain names. This number is increasing by 3.7% every year which means finding a domain name that suits your niche is a herculean task.
Unfortunately, you cannot take it lightly. Your domain name should be brandable, unique, and sound trustworthy. It should make your site and business easy to remember and memorize.
Now, that looks like an uphill task, isn't it? It is difficult to find a good domain name but not impossible. There are domain name generators to help you out of this. Today, I'm going to list down best domain name generators that you can use with ease.
10 Best Domain Name Generators
If you are short on time, here is our pick of the top ten best domain name generators.
1. NameStall
2. LeanDomainSearch
3. Nameboy
4. Domain Maker
5. Impossibility!
6. Business Name Generator
7. Domain Wheel
8. NameMesh
9. Domainsbot
10. Domaintyper
Because these are my favorites, I will speak of them in some details and provide the pros and cons of each. For the remaining nine, all you will get is a short description.
So, without further ado, let's begin…
NameStall
NameStall is a suite of domain name generators. It has domain name generator, instant domain search, domain name hack, brand name generator, rhyming domain name generator, three words name generator, and many more.
Usage of NameStall:
Type a word in domain name generator. Pick whether you want this word to come at the beginning or at the end. You can enable/disable hyphens, and finally select a word group that will give the domain meaningful.
You will get several suggestions and you can pick any one of them or you can fine tune your search and try again.
Pricing:
The tool is not completely free! You need to pay $10 a month or $100 a year to enjoy their services.
The Pros
It gives few TLDs that you can register directly.
You can pick where your keyword should come in domain name.
Great options and flexibility.
The Cons
Only five searches are allowed for free.
LeanDomainSearch
The company, Automattic owns LeanDomainSearch. This is the same company which owns WordPress.com, Jetpack, and WooCommerce. The core team of the company work for WordPress.org as well.
This information is vital because it shows that LeanDomainSearch know what they are doing and what they are suggesting. You can trust this tool to give you a good domain name.
Usage of LeanDomainSearch:
It is extremely easy to use. Just type in a word or main keyword that you want to have in your domain name. The tool provides you hundreds of suggestions and you can register them as .com.
Pricing:
It is 100% free.
The Pros
It allows you to save (favorite) few domain name suggestions so that you can review them later.
It checks Twitter usernames also.
You can register the domain name from the tool itself.
You can see your search history.
The Cons
It shows the availability of .com domain names. You don't get other TLDs.
Nameboy
If you want to register more TLDs than only one .com, then Nameboy is for you. You need to have a basic idea of the nature of your website to use this tool.
Usage of Nameboy:
Type in the main keyword and a secondary keyword that you want to have in your domain name. You can allow or disallow hyphens or ask the tool to suggest names that rhyme with each other.
You can even directly search, check and register the domain name from Bluehost.
Pricing:
It is free.
The Pros
You can see the availability for some TLDs.
You can provide two main keywords.
You can see domain names that are up for resale.
You can disallow or allow hyphens.
The Cons
Google tags the checkout process page as unsafe when you try to register the domain directly from Nameboy.
Domain Maker
Domain Maker is created by BustAName. You need to give a lot of input to get suggestions which means that you have to have an idea of what you are looking for in a domain name.
You can limit your domain name to a maximum of 15 characters. You can make your domain name look natural or not that natural.
Usage of Domain Maker:
Give a main keyword and choose whether you want the keyword to come at the beginning or at the end. You pick whether you want your domain name to appear natural or not. You can choose to have five TLDs in total. You can pick how many characters you want your domain name to have.
Pricing:
It is completely free.
The Pros
Domain names are genuine, original, and sound captivating.
You can save domains for later.
You can compare prices from different registrars.
You can us 'Make Random Domains' option, if you don't have any idea of domain name.
The Cons
You can't place your keyword in the middle.
Impossibility!
Impossibility! is creative and simple-to-use tool. You can add 4/5/6 letter words to your domain name. It gives a decent number of suggestions and compares the prices of two hosting services – GoDaddy and iPage.
Usage of Impossibility!:
Type in a main keyword and select how many letter word you want to add to your domain. You can choose verbs, adjectives, etc. You can choose your keyword to appear at the end or at the beginning.
You get few suggestions compared to the other tools but most of the suggestions are good.
Pricing:
It is free.
The Pros
It generates creative domain names.
It gives you great control over the customization of domain name.
The Cons
You can give only one main or seed keyword.
It gives suggestions only for .com domains.
Business Name Generator
Business Name Generator is developed by Shopify. It is pretty much similar to LeanDomainSearch in its operation.
It is a free tool and you can register the domain from the tool itself.
Usage of Business Name Generator:
Enter a main or seed keyword and see what suggestions it gives you. The domain names are seen only as .com. As said earlier, you can register them in a jiffy.
Pricing:
It is one of the many free tools provided by Shopify.
The Pros
Suggestions of domain names are more creative than LeanDomainSearch.
You can build a Shopify store after you register the domain name.
The Cons
It only shows .com domains.
You can't register a domain name without building a Shopify store.
Domain Wheel
Domain Wheel is very simple and has appealing design. There are 14 TLDs excluding .com domain. The suggestions are pretty decent and it provides details of Bluehost hosting provider for the particular domain name.
If you think that specific names are not really sounding great, then you can go for random suggestions and keyword' lists.
Usage of the Domain Wheel:
Type in the seed keywords that you would use in your domain name. Select the extension you want to have. It provides you with several domain name ideas. You can choose whichever suits you best.
Pricing:
It is free.
The Pros
It gives a list of keywords that are related to your niche.
The user interface of the tool is fast and attractive.
You can streamline the search by filtering the extensions.
It gives creative name alternatives.
The Cons
Fewer options to filter the results.
No social media availability.
NameMesh
If you have multiple keywords then you can go for NameMesh. It produces numerous domain name suggestions. It cleanly divides the suggestions into
New, Short, Fun, SEO, and Common.
Usage of NameMesh:
Type in two or three keywords. You can choose the extension from .com, .io, .co, and .net. You can even choose the domain registrar. If you want you can provide the maximum length of your domain name.
NameMesh will suggest hundreds of names for your given keywords. It indicates which domain names are up for registration and which ones are not.
Pricing:
It is absolutely free.
The Pros
The number of domain names generated are huge.
The category 'Fun' is worth giving a look and serious thought.
The Cons
Some domain names are shown available are not really available.
DomainsBot
DomainsBot does an amazing job not only at finding cool domain names but also at allowing you to pick up the synonyms that you want to use with the main keyword. This leads to cool customizations.
Usage of DomainsBot:
Type in one or more seed keywords. After the initial search, you can customize TLDs, add/remove/change the synonyms, and you can add prefixes and even suffixes.
DomainsBot gives you a list of suggestions that are simple at first and creative at the end.
Pricing:
DomainsBot is completely free.
The Pros
There are various TLDs.
Great customization with prefixes, suffixes, and synonyms.
You can register the domain name from the DomainsBot directly.
The Cons
The domain names are not that creative as compared to the names of the other tools.
DomainTyper
DomainTyper allows you to fine tune your search for your domain name. You can save the domains in favorites so that you can review them later. It provides a lot of domain names.
Usage of DomainTyper:
Just type the main keyword and DomainTyper will give suggestions in real time. You can add/remove TLDs. It compares three domain registrars – GoDaddy, Netim, and Domains.com.
You can even check the social media usernames that are available. Some of the social networks that are available on DomainTyper are Facebook, Yelp, Instagram, Reddit, Basecamp, Twitter, YouTube, etc.
Pricing:
It is free.
The Pros
It works in real time.
It allows you to add custom TLDs.
It also checks usernames of social media.
It shows all the TLDs at one glance.
The Cons
It is not a domain name generator by itself.
These are the ten best domain name generators. But there are other domain name generators that decent and you can use them anytime.
10 More Domain Name Generators You Can Use
Here is a list of nine honorable mentions.
1. IsItWP
2. Name Station
3. Blog Tyrant
4. Dot-o-Mator
5. Panabee
6. NameSmith
7. Domainr
8. Instant Domain Search
9. Domain Puzzler
10. Nominus
As I mentioned earlier, I will be giving you a short description of each the ones in this list. So, buckle up!
IsItWP
IsItWP is a basic domain name generator and you get a lot of suggestions for the keywords you provide. It also lets you check the domain name availability with Bluehost.
If you are not happy with the names it provides, you can click on show more results. It is free and hence you can search for different keywords multiple times.
Name Station
Namestation is a community and a domain name generator. You can type in keywords and get domain names or you can hold a contest and get name suggestions from the community. This means that you get automated results and you get creative inputs from people as well. You also have the option of directly registering the domain name.
Blog Tyrant
Blog Tyrant is powered by Nameboy. It started out in 1999. Just like Nameboy, Blog Tyrant gives you a tons of domain names once you type one or two keywords. You have an option of registering your preferred domain name with Bluehost.
Dot-o-Mator
Dot-o-Mator is a basic domain name generator. It has a set of beginning words and ending words. You need to select one word from both the lists and click on combine to get results.
There is limited flexibility and you don't get to tweak the words and will be forced to select from the given words. You can register your selected domain name with either Namecheap or GoDaddy.
Panabee
Panabee is not just a domain name generator, it helps you in naming your apps, websites, businesses, etc. It gives several suggestions derived from abbreviations, suffixes, prefixes, popular trends of domain names, etc. It also checks social media usernames on Twitter, Facebook, and Tumblr.
NameSmith
It contains different name suggestion algorithms. NameSmith constructs cool and catchy domain name suggestions by using your keywords and adding suffixes, prefixes, creating even fantasy names, sometimes even misspelling the names!
Domainr
Domainr is a simple and effective tool. You just need to type in a keyword and you will get the availability of the keyword in different TLDs. It doesn't give domain name suggestions per se.
Instant Domain Search
Instant Domain Search stands up to its name. It gives a list of extensions, suggestions, and the domain names that are on sale with its pricing. You can even buy the domain name right from its site. So, Instant Domain Search is an all in one tool that will cover all your domain name worries for you.
Domain Puzzler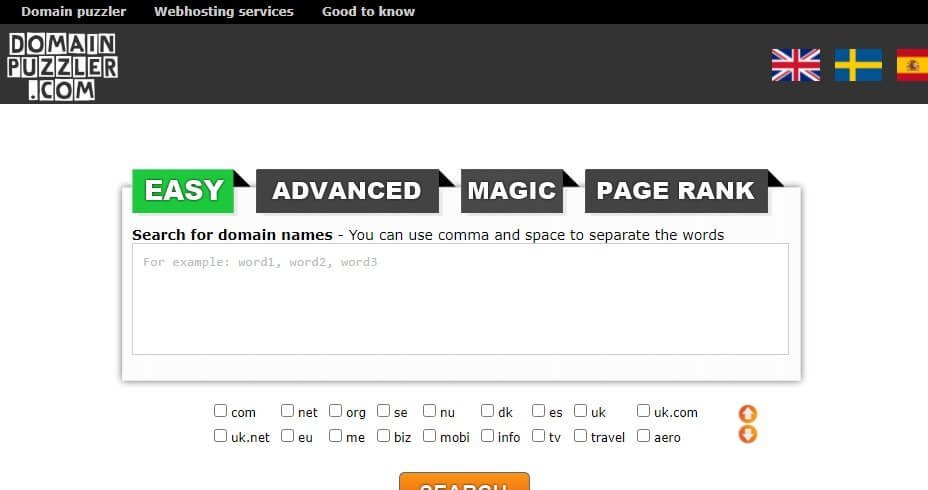 Domain Puzzler is yet another simple tool which provides domain names in various TLDs. You can give multiple keywords, and then set your TLD that you prefer and click on search. You can't really do much with this. It is very basic. You can buy the domain name from variety of domain registrars like GreenGeeks, HostGator, GoDaddy, Crystone, etc.
Nominus
Nominus.com is a leading global brand protection company specializing in international trademark registration and domain registration services.