We live in a digital era. Data surrounds us and we depend thoroughly on data for making vital decisions. We also use the digital world for storing our memories in the form of images and videos. Not just that, we also store most of our work-related files in digital formats.
It is needless to say that if we lose the data for some reason like a ransomware attack or a system failure, the situation will be nothing less than a disaster of epic proportions. That is the reason why we should consider migrating and backing up our data to safer alternative locations so that in the case of a debacle, we can get it all back without breaking a sweat.
Data migration and backup can be a painful task, but there are options that allow us for automation. There are software programs designed for doing specifically that. Yes, they can help you to backup and migrate data from your personal computer, or they can even help in moving and backing up data on a massive scale (usually for companies). Irrespective of what your needs are, there is always a solution that you can use.
Some of them are extremely powerful with a lot of features while others have limited features and focus on a few specific tasks. Go through the list below to find out the best in business data migration software.
Before I start with the list, let me quickly walk you through two very vital questions.
Let us begin.
What Exactly is Data Migration?
The process of migrating data between various computer storage sites is referred to as data migration. This happens mostly during the installation of a system update or during the maintenance of a system. The process is usually automated so that human resources can be freed up. To handle this procedure, you'll need data migration software.
Numerous businesses now rely on data migration procedures and software for a variety of reasons, including replacement of storage devices, security concerns, and protection against system failure.
Due to the fact that the majority of them now utilize cloud storage rather than conventional on-premises deployments, data migration solutions have become critical in the modern day.
Traditionally, data migration solutions support three distinct kinds of movement:
Storage Migration – The process of transferring data from an older storage facility to a more sophisticated storage facility.
Cloud Migration — The process of migrating data from the on-premises environment to the cloud.
Application Migration – The process of relocating an application. This may involve cloud-to-cloud or on-premises-to-cloud migration.
What Features Should a Data Migration Software Include?
Selecting the appropriate data transfer software may be challenging. Numerous variables must be considered, including price, budget, and migration procedure.
Consider the following typical features:
1. Usability
Always select a data migration program with a robust feature set. Numerous unexpected issues may occur throughout the procedure, therefore it's prudent to pick software that has additional features.
Keep an eye out for the following essential features:
Planning and scheduling
Profiling and analysis of data prior to migration
Designing Extraction, Transformation, and Load (ETL) Migration
Testing
Assurance of quality and validity
2. Flexibility
Software for data migration may be very expensive. As a result, it's prudent to opt for a scalable data transfer solution capable of meeting the demands of a developing company.
3. Security
Cyber-attacks on digital data are always a possibility. As a result, look for programs that come with anti-malware solutions, AI-enhanced behavior detection, on-demand virus-scanner, and web filtering.
4. Convenience of Use
The tool you select should be simple to use for your IT staff. Adoption at the corporate level results in increased success. You'll want to ensure that your data migration simplifies the process of data transfer.
5. Support for Customers
Customer service is almost certainly the most critical aspect to consider. Employees may lack the knowledge necessary to resolve software-related problems. These problems may result in a delay in job completion.
Unexpected obstacles may occur at any moment. That is why it is critical to choose a data transfer solution that offers responsive and customer-centric assistance.
Additionally, examine aspects such as data governance, debugging, backups, recovery, performance, and data sources & destinations.
Okay, now that I have answered the important questions, let me walk you through the list. In case you have a time crunch, and you just want to get the list instead of going through the entire article, here is the list in order of preference:
EaseUS Todo PCTrans
Acronis True Image
Paragon Drive Copy Professional
MiniTool Partition Wizard
DriveImage XML
NovaBACKUP PC
Laplink PCmover
DAEMON Tools Pro 8
Macrium Reflect 7
O&O DiskImage
IBM InfoSphere Data Replication
Clonezilla
Okay, now if you have the quick list, I will request you to go through the detailed list to get some vital information about each tool that will help you in decision making. Let's begin!
#1. EaseUS Todo PCTrans
EaseUS Todo PCTrans is a popular data migration utility that enables you to easily transfer data, programs, and user credentials across PCs. The program enables you to transfer files from one Windows machine to another.
After using the software, when you restart your new system, all apps will be pre-installed, and you can start using them instantly. The program functions flawlessly the very first time you use it, and there is no need for reinstallation.
Free 24/7 transfer assistance along with Automatic file transfer are other useful features to have while transferring your files. Plus, its solid integration with Adobe Software, Microsoft Office, AutoCAD, and Dropbox enables you to take use of a variety of extra capabilities.
EaseUS Todo PCTrans supports file transfer modes. They are:
LAN-based connection of two systems and transfer of programs and files over the network.
Data transfer to the local drives of your computer.
Move your programs and data from the old PC to a new one by creating images.
Another function, Data Rescue-Recover, enables you to move all of your data and applications to a new one from a dead PC. It's useful if you're transferring data from a damaged PC or a PC that refuses to boot.
EaseUS Todo PCTrans Pricing Plans:
The Pro version costs $59.95 per year and includes a license for two PCs. This license will allow you to transfer an infinite number of programs. Windows XP, Vista, 7, 8, 8.1, & 10 are all supported by the software.
Additionally, they also have a more sophisticated Technician Edition for $399/year. This includes a technician license, the ability to move data between different servers, and compatibility with Windows XP, Vista, 7, 8, 8.1, & 10, as well as Windows Server 2003, 2008, 2012, 2016, and 2019.
#2. Acronis True Image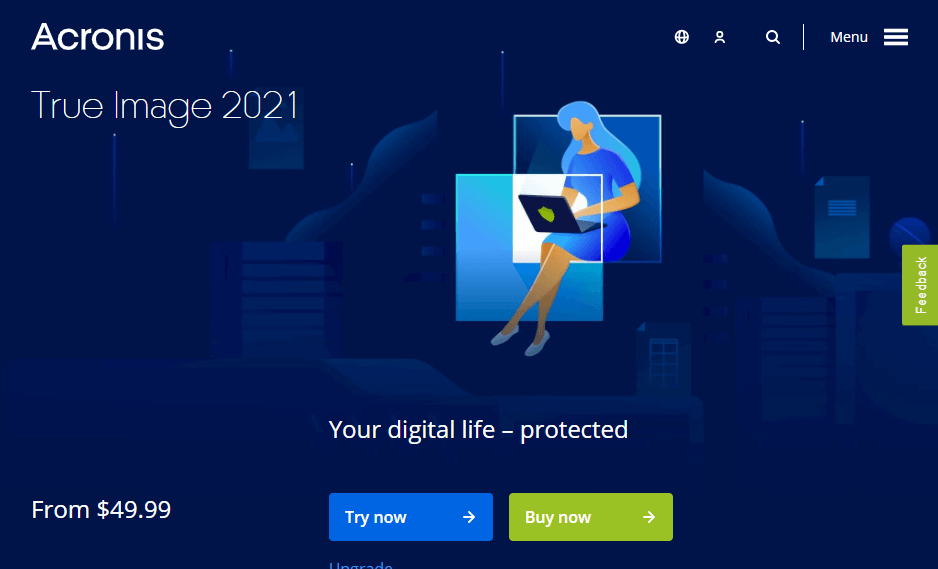 Acronis True Image is another powerful data backup and recovery solution that enables you to protect your OS, clone it, and transfer your operating system, files, and data. It allows backing up a variety of different kinds of files and data, including the operating system and its boot information, images, videos, applications and more.
The program is compatible with Windows, Android, iOS, and macOS and securely stores all your data on a cloud infrastructure for more security and convenience. With Acronis True Image complete backup program, you receive anti-malware protection out-of-the-box, which eliminates the need to install and maintain several applications.
It can convert your machine's drive to an SSD from an HDD. You may use the program to migrate from one HDD to another, or from one SSD to another, or between HDDs and SSDs. It even enables data transfer between iOS and Android devices. If you wish, you can use the program for data replication to a fresh disk. It even allows partition resizing & disk cloning and offers data protection with end-to-end encryption.
Acronis True Image safeguards your device against a variety of risks, including theft, disc failure, and cyberattacks.
Active Disk Learning is a key aspect of Acronis True Image. It enables you to make a copy of your system while it is in use. This removes the need to shut down and restart the system during data migration.
Additionally, Acronis True Image simplifies backup chores by retaining up to 20 versions of data for up to six months. Moreover, it creates a backup of a complete disc image and enables the copying, formatting, partitioning, and even deletion of a hard drive image.
Furthermore, it includes features such as Active Protection, which examines suspicious activity on all your files apart from backing up your data. Additionally, the newest version includes defense against crypto mining risks.
Plus, event-based backups, automated mobile backups, resumable replications, anti-ransomware, backup validation, and crypto-jacking security are included in the program.
Acronis True Image Pricing Plans:
There are three pricing plans available, all of which include ransomware protection, universal restore, quick recovery, file backups, full image backups, and disk cloning. The three plans are:
Essential – It costs $39.99 a year
Advanced – It costs $64.99 a year
Premium – It costs $94.99 a year
#3. Paragon Drive Copy Professional
Paragon Drive Copy Professional is yet another data migration tool that enables data migration or even the whole operating system migration from any source drive to any destination drive. Additionally, it assists you in organizing your drive to facilitate data migration.
Further, it offers capabilities for backup creation, partition management, data migration, and operating system cloning to a flash drive.
The program has a variety of copy functions that enable you to rapidly copy a whole hard drive or just a partition. Within a few simple steps, you may copy or recover the data stored on a 512-byte hard drive to any 4k hard disk. Additionally, it assists you in migrating any Windows operating system (Windows 7 onwards) and HDD to any SSD or the other way round.
It enables hard disc cloning to a larger drive alongside transferring your entire laptop data to a new hard disk. You can also maintain a clean and organized disc using partitioning operations such as dividing and merging partitions. The utility enables redistribution of available space alongside duplicating or recovering data from a hard drive having a different sector size. Backup images can be easily restored using a few clicks.
Additionally, it assists you in opening an existing backup, safeguarding data, and resolving booting problems if your OS fails to launch.
Although Paragon Drive Copy Professional is an organized disk imaging software, it lacks advanced capabilities such as data recovery and disk repair. To do so, you'll need a separate utility known as Hard Disk Manager Advanced that is targeted towards home users. Commercial users can use Hard Disk Manager for Business.
Paragon Drive Copy Professional Pricing Plans:
The cost of a license for Paragon Drive Copy Professional is $79.95. Each license allows the holder to use the software on up to three PCs.
#4. MiniTool Partition Wizard
MiniTool Partition Wizard is a state-of-the-art data migration tool that assists you with disc partitioning and operating system migration from HDD to SSD and vice versa. Disk cloning and disc partitioning allows data backups and migration with relative ease.
Moreover, the MiniTool Partition Wizard enables performing data backups and hard disc upgrades without the need for reinstalling OS and other programs, thereby saving an enormous amount of time.
MiniTool is compatible with all Windows versions, beginning with Windows XP. FAT 12, FAT 16, FAT 32, exFAT, NTFS, and even Ext2/3/4 file systems are supported by the program.
Several of its distinguishing characteristics include cloning a disk, management of drives and partitions, data recovery from Desktop and Recycle Bin, or any specific folder of your choice. It allows disk conversion between GTP and MBR. It also allows dynamic to basic disc conversion without sacrificing data. Plus, you can convert FAT32 partitions to NTFS partitions with absolute ease. The tool can also perform disk-related operations such as moving or transferring, creating and/or deleting, resizing, and also, formatting.
MiniTool Partition Wizard is also capable of performing disc diagnosis and data recovery alongside disc cloning. It includes two data recovery tools that include Data Recovery and Partition Recovery Wizard.
The Partition Recovery Wizard is capable of recovering lost or deleted partitions. The data recovery tool is capable of recovering lost or deleted data from inaccessible, formatted, or damaged.
Additionally, the data transfer tool assists you in diagnosing each component of your drive. You can check your computer's disc usage, check your disk's read/write speed, verify your computer's file system, and even detect errors.
MiniTool Partition Wizard Pricing Plans:
MiniTool Partition Wizard is available in both free and paid editions, making the program an ideal solution for personal and business use. The Pro plan begins at $129 per license.
The Free edition enables performing a wide range of partitioning operations, inspection of the file system, and conversion of FAT file system to NTFS file system. The Pro edition includes sophisticated capabilities such as dynamic disk to basic disk conversion, disk copying, and bootable disk creation ability.
#5. DriveImage XML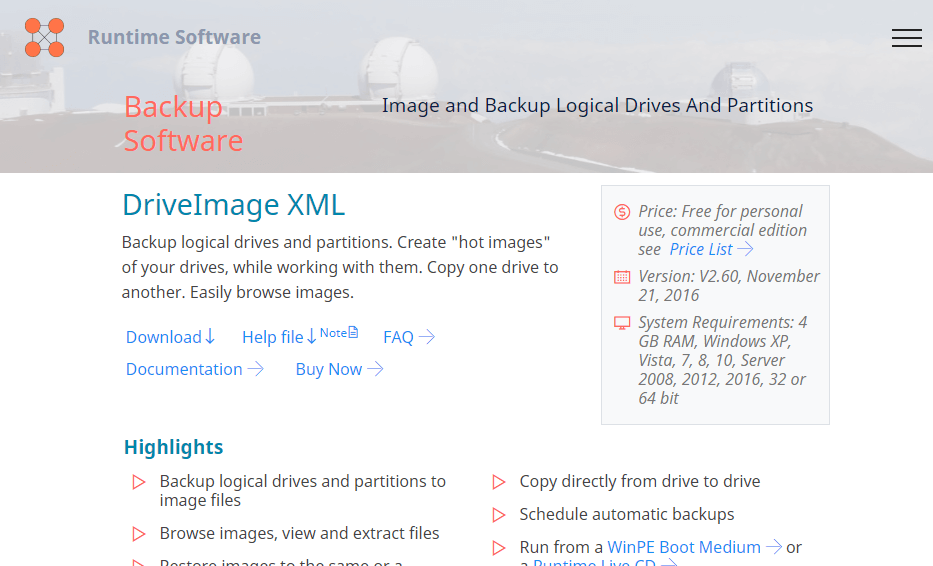 DriveImage XML is a data migration application that enables you to image and backup logical drives, partitions, and photos. It supports Windows XP and higher versions of Windows and enables cloning of data, its restoration and migration, and even data backups.
The utility creates images using Microsoft's Volume Shadow Services (VSS), assisting you in creating secure backups. It enables image restoration without the need to reboot the machine, and all backups are saved as XML documents.
You may then work with those files using another third-party application. More significantly, DriveImage XML enables direct disc cloning.
Several noteworthy characteristics include image-based backup of partitions and logical disks, ability to browse through pictures, examine files, and extract them; create an automatic backup system; creating clones straight from one drive to another; image restoration to the same disc or another disc of your choice; and creating backups and recovering discs formatted with FAT 12, FAT 16, FAT 32 and NTFS file systems.
DriveImage XML is limited to creation and restoration of backups in XML files. It does not support disc partitioning.
DriveImage XML is available in two editions: Private and Commercial editions.
The Private Edition is completely free for private and personal usage. Of course, you can install the free version on your personal computer, but you are not allowed to use it commercially.
The Business version, on the other hand, is intended for commercial usage and includes licenses for 5, 10, 20, 50, and 100 users. With the premium version, you may install DriveImage XML on an unlimited number of PCs in your company.
DriveImage XML Pricing Plans:
The following table summarizes the price options Commercial edition of DriveImage XML:
DriveImage XML license for five users – $100
DriveImage XML license for ten users – $150
DriveImage XML license for 20 users – $200
License for 50 users using DriveImage XML – $400
DriveImage XML license for 100 users – $500
Commercial users get one year of customer support and free updates.
#6. NovaBACKUP PC
NovaBACKUP PC is a solid backup and migration tool for computers powered by Windows OS. The program enables you to backup and even migrate your drive, operating system, and files. Local and online backup storage are included with the tool. It's ideal for small businesses and IT professionals that don't want to bother with backups and yet require a mechanism for safeguarding their data.
One of the most helpful features is the Backup and Disaster Recovery Plan. It safeguards your PC against data loss and performs automatic backup and recovery. Additionally, it assists you in complying with various industry-specific data protection regulations such as FERPA, HIPAA, GLBA, and others.
There are certain great features that NovaBACKUP PC has to offer. For starters, here is a quick list:
Numerous backup choices: You may select between file backup or image backup, which allows backing up individual files or the whole hard disc of your machine. Additionally, you may backup and transfer photos, movies, and data to a local device of your choice or online storage services such as Dropbox.
Caters to deaf and blind: The NovaBACKUP PC interface is accessible to deaf and blind users through screen readers.
Options for encryption: It supports four different kinds of encryption, including Blowfish and AES 256-bit. Having a range of encryption levels available is critical, since encrypting a file at the highest level impacts the backup performance.
Rapid Disaster Recovery: The Disaster Recovery function enables you to create an image backup of your entire PC, including the operating system, preferences, and even the email settings.
Additional important capabilities include the ability to create complete backups or differential backups, the ability to centrally monitor backups, and the ability to restore data from any location.
NovaBACKUP PC Pricing Plans:
NovaBACKUP PC offers three different price options depending on the number of computers.
$49.95 per year for a single Windows PC
3 PCs with Windows: $79.95 per year
$59.95 per year for five Windows PCs
Each plan includes free upgrades and of course, a 30-day money-back guarantee.
#7. Laplink PCmover
Laplink PCmover is yet another data migration program that enables transferring any folder, file, application, or also the system settings to a new computer of your choice. Because the majority of applications are pre-installed, and since they are compatible with the new system, no old CDs and/or licensing codes are required.
Additionally, it transfers and recovers with no data loss, even if the destination system runs a different version of the operating system.
The migration procedure is straightforward and consists of three stages, including the following:
Stage 1: PCmover Professional should be installed on both the old and the new computers.
Stage 2: From the dashboard, choose the transfer option.
Stage 3: And it's completed! will have all the programs and settings that you had in your old computer.
Among Laplink PCmover's main features are fast file movement, user profile selectivity, USB 3.0 compatibility, an undo function, and Free Transfer Assistance.
PCmover is an all-in-one migration tool. You may choose which files and programs to transfer, or from which hard disc for data recovery. It does not, however, transmit any antivirus products. You'll need to disable the program on your previous machine so that you can reactivate it on your new computer.
It enables you to revert to a previous state if something goes wrong during the transfer process.
Additionally, Laplink provides 24/7 transfer assistance through live chat and phone. You may reach out to their staff at any point during the transfer procedure, and they will gladly help you with the issues you are facing.
Laplink PCmover Pricing Plans:
Laplink PCmover is available in a variety of price plans:
$59.95 – Download
Physical (Inclusive of Cable) – $59.95
$230 for a 5-pack
$420 for a ten-pack
$900 for a 25-pack
Each plan comes with a handy 30-day money-back guarantee.
#8. DAEMON Tools Pro 8
DAEMON Tools Pro 8 is a disc image and virtual drive emulation and imaging tool. Additionally, the software is capable of cloning and migrating all major security systems, including Protect CD, StarForce, Safedisc, and Securom.
During migration and emulation, it maintains a precise sequence of the media to ensure that the game or application runs properly.
The utility enables you to mount a variety of image formats from inside the program or Explorer, including .mdf, .mds, and .ape. Additionally, you may gather disc images, construct both dynamic virtual hard drives and fixed virtual hard drives, and securely store critical data.
Additionally, a traditional, simple-to-use UI is included. You may access all of its capabilities through Windows Explorer and completely configure the Image Editor and the main window as per your taste.
DAEMON Tools Pro 8 has enhanced imaging, cloning, and USB writing capabilities.
Several of these characteristics include the capability of editing and creating audio CDs and data images; transferring, compressing, and password-protecting your data; restoring a USB stick to its factory settings; using RMPs for copying discs, burning files, and creating audio CDs; manually changing the copying method or mounting with just one double-click; and Virtual Burner for simulating the process of disc burning. Moreover, you can use DAEMON Tools Pro 8 for cloning up to 32 DT, SCSI, or HD discs using four IDE devices.
Additionally, you get access to a comprehensive media information panel that provides insight into the game images you save and mount. Plus, the information screen keeps you informed on the newest game reviews and gaming industry news.
DAEMON Tools Pro 8 Pricing Plans:
DAEMON Tools Pro 8 offers four different plans for subscription. They are:
Plan for one month: $6
$30 for six months, that is, $5.00 each month, but paid upfront.
Plan for 12 months: $48, that is, $4.00 each month, but paid upfront.
Plan for life: $20.21.
Each package includes a 14-day free trial period.
#9. Macrium Reflect 8
Macrium Reflect 8 is an image-based software for data transfer. It includes solutions for disc imaging, backup. The program creates an identical copy of the hard drive or partitions you choose for use during disc restoration. If your system fails for whatever reason, you may simply recover your folders and files.
The program is ideal for both commercial and home usage, since it supports USB drives, and local network.
Several of its distinguishing characteristics include pre-installed viBoot 2, which assists in the virtualization images backed up using Macrium; varied settings for image compression, Macrium Reflect Changed Block Tracker that significantly reduces the time needed for incremental or differential image compression; and it monitors changes to an NTFS-organized volume in real time.
The Macrium Reflect 7's newest feature is the new Macrium Image Guardian, or MIG. This feature enables you to safeguard your backup data from ransomware. Additionally, it gives writing access to present files and transfers data across locations.
Any other procedure that attempts to update the current files is refused. This is advantageous when a system includes big files, and the incremental backup time must be reduced to seconds from hours.
Moreover, Macrium viBoot enables the creation, startup, and management of Microsoft Hyper-V virtual machines based on Macrium Reflect image files.
Macrium Reflect 8 Pricing Plans:
Macrium Reflect 8 has four flavors that include Home Edition, Workstation Edition, Server Edition, and Server Plus Edition (meant for Exchange and SQL).
Pricing information may be obtained from a third-party vendor or a Macrium reseller. There is a 30-day free trial available that you can use for testing the program before paying for it.
#10. O&O DiskImage
O&O DiskImage is yet another powerful tool for data migration that enables file-specific backup or entire computer backup – even while the system is running and thoroughly used. Additionally, it enables cloning, safeguarding, restoring, and saving all critical data that you have. The program allows recovering data even when the Windows PC fails to start.
Cloning your data using the O&O DiskImage program enables data access from any location, any time. Additionally, it adds an additional layer of protection and portability choices for data access in the event of system failure.
The migration utility of the program enables directly building VHDs, offers support for automated backups, and allows recovering previously saved backups.
Additionally, O&O DiskImage comes with various critical features including constantly monitoring and verifying security threats; backing up a whole computer or even a single file; supporting different Windows versions including Windows 10, 8.1, and 8; direct creation of VHDs; and plug-and-play feature for automatically backing up selected folders and files.
It enables you to build a boot media straight from the program's interface. The newest version of O&O DiskImage automatically saves data to the specified place.
While O&O DiskImage has all of the common data transfer and cloning capabilities, it does have certain restrictions. The program does not provide scheduling for backups. If you need scheduling commands, you may choose to consider another cloning program.
O&O Pricing Plans:
O&O DiskImage offers 3 different pricing plans that include:
Professional Edition (for use on a single computer) – 49.95 USD.
Professional Edition at 69.95 USD for 5 PCs.
O&O PowerPack for 59 USD.
Each premium plan has a 30-day money-back guarantee. Additionally, you may contact the seller to get a customized quotation.
#11. IBM InfoSphere Data Replication
IBM InfoSphere Data Replication is a platform designed for data integration and data replication for migrating, cleansing, regulating, and transforming data across any platform of your choice. The on-premises solution enables you to access data and integrate the same across many platforms, enhancing your company.
It has MPP or massively parallel processing features that make it capable of processing any data volume.
Apart from migrating data, it aids in data quality maintenance, data governance, and the delivery of information to key business activities, among other things. Additionally, there are services such as master data management or MDM, dynamic warehousing, application consolidation, and SOA or service-oriented architecture.
Additionally, it functions as a centralized data monitoring platform that automates data integration and deployment procedures through a simple graphical user interface.
IBM InfoSphere's major features include gathering, combining, and distributing massive amounts of data in real time; supporting data transfers and upgrades with no downtime; creating a cloud environment for information technology users in a company; log-based capturing of Db2 z/OS remotely; replicating databases at distant places; providing access to defunct, ephemeral databases; connecting to a variety of data sources, including SQL Server, Oracle, and others; and managing, organizing, and updating an unlimited amount of data.
IBM InfoSphere also provides a high-performance framework that is accessible from the cloud to on-premises.
Additionally, it constantly transfers tiny quantities of changing data, lowering costs and network traffic.
Plus, you may connect to the InfoSphere Information Server for Data Quality for performing data cleansing and monitoring the data. This enables you to convert unstructured data into actionable, trustworthy information.
IBM InfoSphere Pricing Plans:
Contact the seller for pricing information.
#12. Clonezilla
Clonezilla is an open-source and free utility. This partition and disc imaging and cloning utility is designed for transferring data and even recovering data. It even aids with bare metal backup and system deployment. Furthermore, it is compatible with all three major operating systems – Linux, macOS, and Windows.
Clonezilla comes in three flavors: Clonezilla Lite server, Clonezilla Live, and Clonezilla SE. While Clonezilla Live is ideal for backing up and restoring a single system, both Clonezilla Lite Server and Clonezilla SE are ideal for large-scale implementations. Both Clonezilla Lite Server and Clonezilla SE are capable of cloning up to 40 computers concurrently.
Several of Clonezilla's most notable features include saving and restoring only the hard disk blocks that are utilized; compatibility with all major file systems, including NTFS, FAT 32, ext2, HFS+, and f2fs; reinstalling syslinux and boot loader when necessary; support for hard disk partitioning format s such as GPT and MBR; image encryption using encrypts, which is a cryptographic packed file system, and more.
Clonezilla has support for LVM2 version 2 under Linux, and it even uses multicast for performing a large clone. Additionally, Clonezilla has certain restrictions. It lacks differential backup, imaging capabilities, and online cloning. Plus, the destination partition must be greater than or equal to the source partition.
Clonezilla requires an X86-64 CPU or X86 CPU, CD/DVD drive; a USB port, a hard drive, or a PXE; and 196MB RAM.
Clonezilla Pricing Plans:
Clonezilla is an open-source application that is available for free use. You need not pay a single dime for using it.
Conclusion
Okay, that concludes this list of best data migration software. In my opinion, EaseUS Todo PCTrans and Acronis True Image are the best options you will have. However, the rest on this list are also great options to work with. In case you are looking for a free option, Clonezilla is by far the best free option.
If you think that there should be some other program listed here in this article, feel free to drop a message and I will evaluate its efficacy. If it is worthy enough to be on this list, I will add it.