It is fascinating how quickly the world is adopting cloud services as the preferred choice of storing data. Just a few years ago, the idea of cloud storage appeared frivolous and unachievable; however, over a short period of time, plethora of tech users have shifted to cloud databases for storing large swaths of personal and business data.
With hundreds and millions of gigabytes of content stored on global servers, online cloud storage solutions have come to truly replace conventional on-premise storage hardware. It not only allows remote access to your data but also augments efficiency and productivity in terms of backing up and securing that data.
The advent of this technology has also been accompanied by the emergence of countless cloud storage providers. Selecting one becomes a tedious task considering how each provider has its own unique offerings.
We have, therefore, shortlisted 10 Best Cloud Storage Services that top the list with their unparalleled features.
1. iCloud Drive
Amongst the existing tech giants, Apple offers one of the best cloud storage solutions with its iCloud Drive. Apple users who want to enjoy a completely immersive experience can avail this opportunity through their respective devices.
It is integrated well with the MacOS and iOS systems, allowing the users to store and access data from all types of Apple devices. However, iCloud is also operation through Windows OS.
Besides the increased convenience for Apple users, iCloud also stands as one of the most affordable cloud services in the market.
It initially gives you with 5GB of free storage, which is on par with the free storage options being offered by some of its main rivals. On top of that, iCloud's storage upgrade plans come at quite reasonable prices which can be accessed through credit card payments.
5GB free
50GB for $0.99 per month
200GB for $2.99
2TB for $9.99
Aside the reasonable storage packages, iCloud is pretty responsive and user-friendly because of its smooth and familiar interface. However, much like other apple services, iCloud is a closed storage system and can only be used as a storage facility through apple systems.
It's important to note that Apple does not offer any specific option to share files outside of Apple's Family Sharing.
2. Google Drive
Google Drive is perhaps one of the most frequently and expansively used cloud service in the world. Ensuring flawless integration and immersion with other Google services and platforms such as G Suite and Android OS.
Google Drive also strives to connect all forms of google users.
Due to the openness of the system, one can use Google's office suite to form and store documents, spreadsheets, presentations, and more, and also store one's mobile or android-based, high-quality photos via Google Photos.
Initially Google Drive was being offered just as a cloud service. However, recently Google amalgamated this plane cloud service with its Google online office suite and Google Docs, offering a comprehensive user experience.
Furthermore, Google Drive stands out as a clouding service because of the whooping, out-of-the-package 15 GB free storage that it offers in the beginning. Moreover, unlike iCloud, Google Storage is assessable through multiple platforms and, therefore, helps everyone stay connected. Besides the 15GB free storage, Google also offers affordable data plans for increasing storage capacity.
Google Drive price plans, now called Google One:
15GB free
100GB for $1.99 per month
200GB for $2.99 per month
2TB for $9.99 per month
10TB for $99.99 per month
20TB for $199.99 per month
30TB for $299.99 per month
With 15 GB free storage, versatile range of packages, and an integrated google experience, Google Drive is hands down one of the most appropriate service on this list. However, the only drawback is its lackluster interface that makes navigating through the service a tedious task.
3. Dropbox
Dropbox is one of the oldest cloud services in the market. In fact, over the years, it has significantly improved it storage platform and support system. Being an independent third-party service, Dropbox is assessable through almost all the available platforms.
One can store or assess files on Dropbox's website, desktop applications for Mac, Windows, Linux, the native file systems, iOS, Android, Kindle Fire mobile application, and even the older Blackberry phones which are rarely supported by other providers.
Besides its versatile support capabilities, Dropbox holds some crafty features up its sleeves. Through Dropbox paper allows the cloud users to smoothly share files with each other. Similarly, it allows users to synch their files or photos with the cloud automatically through the Dropbox desktop application.
The Files Requests feature can be used to request other users to upload files directly to your Dropbox account; this contributes towards presenting Dropbox as a holistic and integrated file-sharing experience. Moreover, the web version of Dropbox allows cloud users to access and edit uploaded files without having to download them first.
While Dropbox is one of the few services that also offers unlimited storage capacity, especially under its business plans, it only gives 2 GB of free storage initially. This is perhaps the lowest storage space given to users for free. However, additional space can be created through completion of starting guide and referrals.
The storage can further be expanded through the following packages:
2 TB for $9.99 per month
3 TB for $16.58 a month
3 TB for $16.58 a month under the Dropbox Business Plan
Unlimited storage starting at $20 per month
4. BOX
Box is also one of the first cloud storage providers in the market. Its focus has primarily been on providing business solutions pertaining to data storage rather than catering to individual users. To begin with, all Box plans offer unlimited cloud storage, with its starter pack being an exception. Such packages are not offered by other competitors in the market.
Furthermore, it becomes more attractive for business users because of the robust security, privacy, and data loss protections that it offers.
Like Dropbox, Box is also supported by a myriad of other platforms such as Office 365 and Google Docs, G-suite and Auto-CAD. Mac, Windows, and android are integrated through the Box sync client. Furthermore, the lucid navigation experience and smooth UI experience make Box ideal for any sort of business setting.
Access to its various features and facets is regulated through the initial user dashboard which is also visible to the admins of the Box account.
Box offers the following payment and storage plans:
Starter plan is priced at $5 per user per month with a maximum of 10 users. The storage amounts to 100 GB.
Business plan starts at $15 per user per month. The storage amount is unlimited with 5 GB maximum upload size.
Business Plus plan is priced at $25 per user per month and offers unlimited storage, 5 GB maximum upload size, advanced controls, and unlimited external collaborators.
The top tier custom plan titled 'Enterprise' requires users to contact Drop for custom-tailored quotes.
Box offers a full 14-day trial for all its packages. The downsides of Box are its maximum 5 GB upload size and the dearth of personal plans for individual usage.
5. Amazon Drive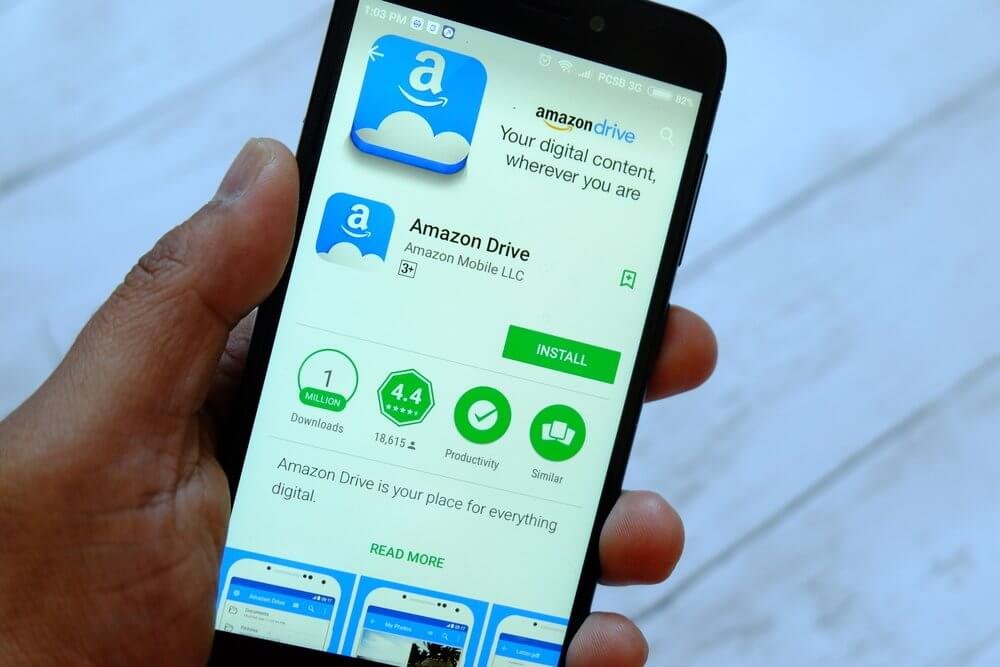 Amazon Drive has improved its storage service substantially over the years; however, some its features are still in need of more upgrades. It makes more sense as a preferred storage option if one is an Amazon-savvy individual. On its own, Amazon Drive is focused primarily on photos and videos, though other files can be uploaded through its relatively complex push functionality.
In terms of bare-bone features, its Photos feature is a considerably innovative service, doing an incredible job at backing up one's media files from one's smart devices, mainly phones, tablets and computers, and automatically organizing them online.
In case of an Amazon Prime subscriber, Amazon Drive provides an unlimited amount of storage space for photos, and a few extra features such as face recognition, smarter search, comprehensive photo editing, etc. Besides that, Amazon Prime members also get 5 GB of storage for storing other forms of files ranging from e-books to audio files.
On top of that, Amazon Drive offers following annual storage plans:
100GB for $19.99
1TB for $59.99
Other plans go up to 30TB for $1,799.70
Apart from the limited storage plans, Amazon Drive can be synced with Android, iOS, MacOS, and Windows. Furthermore, it has a minimalist interface that is easy to navigate; however, it lacks the functionality that is provided by the interface of other cloud storage providers.
6. OneDrive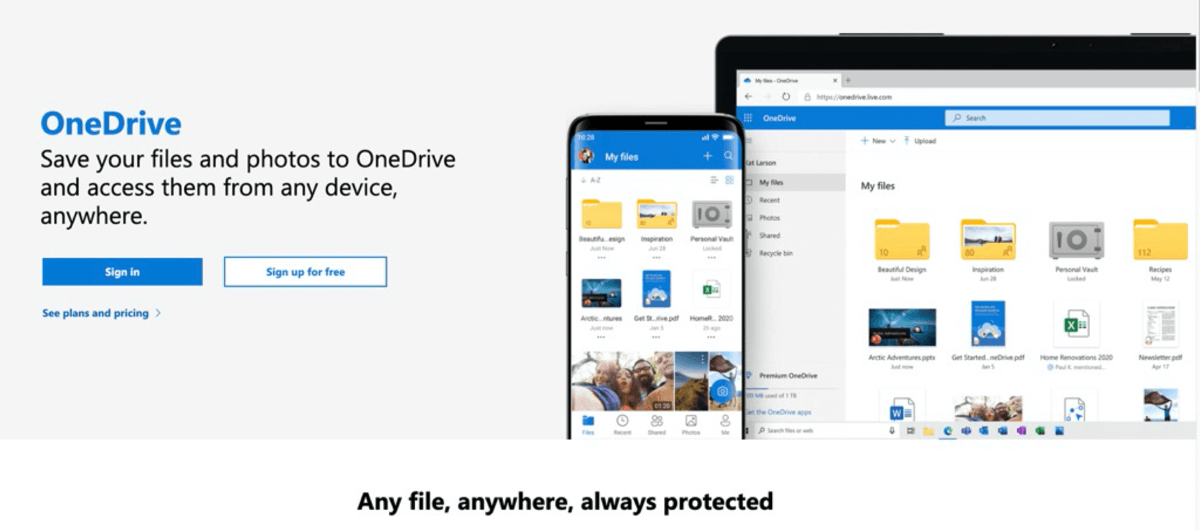 OneDrive comes embedded with Microsoft Windows and Office 365. It, therefore, acts as a one-stop cloud storage solution for all Windows and Office 365 users. Being directly integrated into the file explorer, OneDrive allows Windows users an immediate access to online data and backups. It extends to other platforms through fully functional applications for Android, iOS and Mac users.
Incorporation of Office 365 features ensures that OneDrive is ideal for professional as well as individual use. In fact, it has been regarded as the second most sought-out cloud service in the business world.
OneDrive's wide range of features include a dedicated Photos app that is capable of syncing images across all devices that are using OneDrive. OneDrive's smartphone application has a myriad of other intricate features such as multi-page scanning, which allows users to scan pages and save them in a single document. OneDrive is currently offering 5 GB of initial free storage to all users.
Additional storage options come at the following prices:
OneDrive 100 GB -100GB for $3 per month
Office 365 Personal – 1TB for $8 per month
Office 365 Home – 5TB for $11 per month
OneDrive presents itself as one of the most commonly used cloud storage service because of the large number of users associated with Microsoft's other offerings such as Windows 10 and Office 365.
7. NextCloud
NextCloud is one of the most unique, innovative, and empowering cloud service in this category. Primarily, it is more of a DIY service with a self-hosted file sync and content collaboration platform that provides a free software to install and administer cloud storage service on one's own server.
While it seems a daunting task for those who are not tech-savvy or don't have sufficient level of server knowledge, NextCloud does offer complete control over the storage platform to users through this self-hosted product. Moreover, for those not familiar with the realm of IT, NextCloud also provides preconfigured hardware that runs the service right out of the box.
Since it is an open-source service, the NextCloud storage can be upgraded through one's own hard drives and servers. Through Do-It-Yourself type of service, NextCloud brings unparalleled privacy and security to the data. Moreover, there are no visible limits on the extent of storage that NextCloud offers.
Every aspect can be expanded through personal hardware. While there are no fixed packages, mainly because of the freedom that it allows users to set their own boundaries, the NextCloud initial service comes in either a free edition or a business addition. The business version offers a basic support for up to 50 users per 1,900 Euros per year.
8. pCloud Cloud Storage
pCloud is one of the few cloud storage services that put no limits on the size of the files that can be uploaded, transferred, or downloaded through the service. Subsequently, it is an idea storage for holding large media files. While it originated in Switzerland, it can be accessed from all parts of the world and now covers all forms of desktops and mobile platforms.
Apart from easy access through all platforms and unique upload traffic features, pCloud provides an expandable storage of up to 2 Terabytes. Similarly, it gives a whopping 10 GB of free storage to the users of its basic account. Moreover, pictures stored on the cloud can also be edited and resized from within the interface.
pCloud also comes equipped with some slick encryption and archive features. For example, one can archive files or encrypt them so that they are not assessable until one logs in to the device. Lastly, it also offers a 30 days trash history for the users.
pCloud stands apart with its lifetime packages which are not frequently seen in other cloud services.
Lifetime Premium – $175 one time payment, 500GB storage
Lifetime Premium Plus – $350 one time payment, 2TB storage
Premium – $3.99 per month with 500GB storage (1-year contract, $47.88)
Premium Plus – $7.99 per month with 2TB storage (1-year contract, $95.88)
9. IDrive Cloud Storage
IDrive is hands down one of the most proficient and reliable cloud storage services in the market right now. Due to its countless features and affordable rates, it is often hailed as the best cloud option in many user reviews. IDrive covers all servers and platforms ensuring a completely integrated storage experience. Currently, it is available on Windows, macOS, Linux-based computers, and smartphones and tablets running Android or iOS.
Its diverse range of features allow users to share and upload files through social platforms such as emails, Facebook, and Twitter as well. In addition to this, IDrive comes equipped with a facial recognition features that automatically recognizes faces and organizes entailing photos on all synched devices. Other features include continuous file syncing, drag-and-drop restore, the ability to pause and resume uploads, etc.
IDrive Express option, which is a unique backup feature of the cloud service, provides users with physical hard disks in case someone loses their data. Moreover, it does not automatically remove cloud data if a user accidentally deletes files from their hard drive.
Currently, IDrive offers separate plans for its personal and business users. It gives 5 GB of free initial storage to its users. While personal plans are limited to single users, the business plans extend to team collaborations and are compliant with regulations such as with regulations like HIPAA, SOX, GLBA, and SEC/FINRA.
IDrive Personal – $4.33 a month, 2TB per month on 1-year contract, save 25%, only $52.12
IDrive Personal – $6.22 a month, 5TB per month on 1-year contract, save 25%, only $74.62
IDrive Business Plans range from $99.50 for 250GB up to $2999.50 for 12.5TB per Year
IDrive's only shortcoming is its User Interface which is a little difficult to navigate for first time users.

10. Zoolz Cloud Backup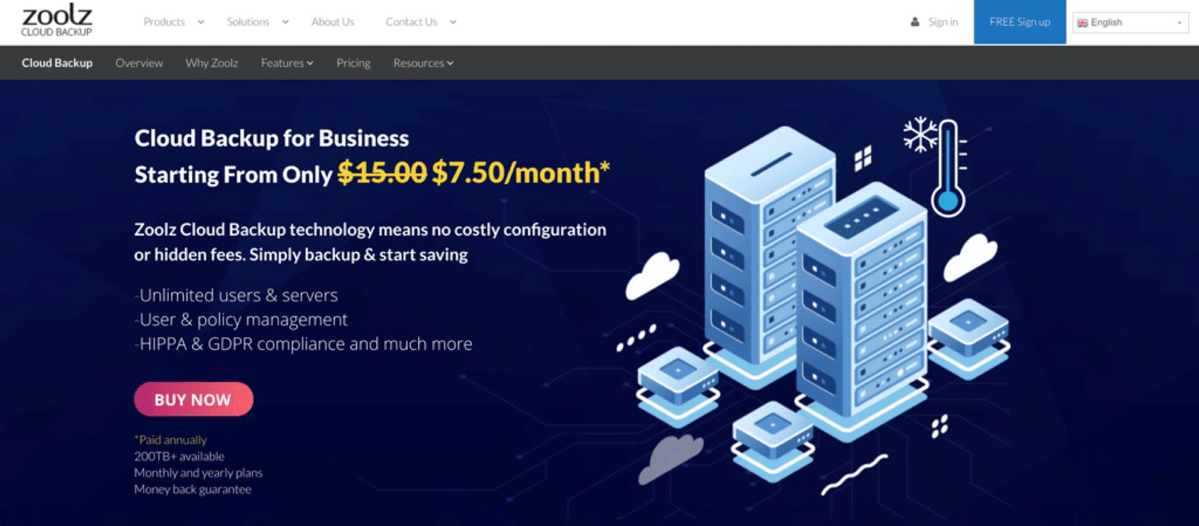 Zoolz is one of the most well-known Cloud Backup solutions in the market. It offers easy-to-use and affordable cloud storage options to all forms of users. Since the UK-based cloud service is built on top of Amazon Web Services, the files uploaded on Zoolz find their way to the Amazon's top-notch servers which carry 256-bit AES encryption and Glacier technology; in simpler terms, Zoolz servers provide unparalleled security and cheaper storage alternatives.
Zoolz has a really clean and yet functional UI that makes it easier for the users to navigate through its countless features. When it comes to the service's features, Zoolz BigMind provides the cloud storage with a dash of artificial intelligence that can make organization and recognition of data hassle-free. It comes equipped with additional features like image discovery and facial recognition to sort through backed up files quicker. Moreover, there are no limits on the file size that can be shared through the service.
Zoolz caters to its users with a diverse range of affordable, convenient and feature-rich subscription plans. Initially, it provides a free trial of 30 days with 50 GB of free storage. Once the trial is over, the users are allowed the following options:
1 TB storage for $39.95 (for up to 5 users on single subscription)
2 TB storage for $99.95 (for up to 5 users on single subscription)
Business plans range from 1 TB to 5 TB with prices ranging from $150 to $750 per year (for unlimited users, servers, and network drives)
The need for cloud storage platforms has increased countless times over the years. This unprecedented change in recent years has occurred mainly because of how data-driven the world has become.
From individual actions to the collective behaviours being anticipated in the business community, our entire worlds are running on data. Now keeping in view the needs of modern users, the aforementioned list of best cloud services has been prepared for 2020. All the cloud services mentioned carry their own sets of pros and cons and are catering to different segments of the market.