If you are an Instagram creator, or you use Instagram for marketing, you must know by now how frustrating is the bio link feature.
Instagram bio will allow only one link!
So, there was a time when everytime you wanted to start a new campaign, you had to keep swapping links.
Times have changed now.
You no longer need to keep swapping the link. You can use that one link for so much more!
There are several bio link tools that can now help you to optimize the link.
The tools can now help you to optimize and improve the marketing strategy for Instagram. Including Insta Captions tools.
The tools are so powerful that they can even drive traffic to your site, drive sales, and even help you measure clicks.
These bio link tools or link in bio tools, whatever you prefer calling, will allow you to promote multiple links.
Excited already?
That's fine!
Let's quickly go through 10 best bio link tools for Instagram.
I will end this blurb with a few frequently asked questions. Sounds good?
Let's get started.
If you are short on time, here is the quick list of the 10 best bio link tools for Instagram:
#1. Feedlink
#2. Shorby
#3. Linktree
#4. Lnk.Bio
#5. Sked Link
#6. Campsite
#7. Link in Profile
#8. Milkshake App
#9. Tap Bio
#10. ContactInBio
Let me clarify something right at the beginning. The order in which I have grouped the tools is my personal preference. You may disagree.
But hey, at the end of the day, the sole purpose of this blurb is to give you the list of the tools instead of fighting over which one is the best, and which one is the worst. You can later decide that by yourself.
Now, if you have more time to spare, let's get into the details.
The 10 Best Bio Link Tools for Instagram
#1. Feedlink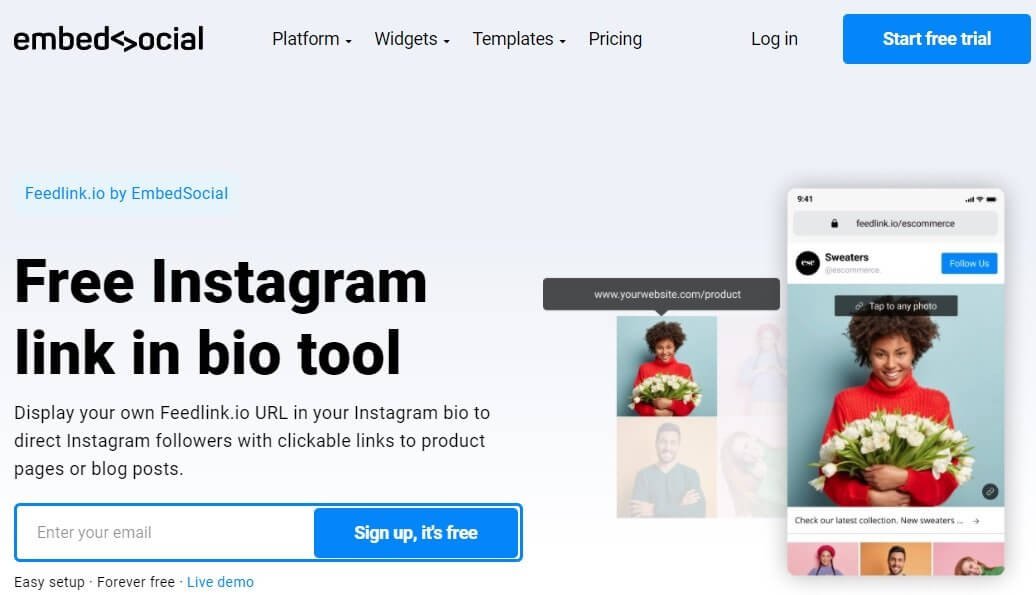 Feedlink is a product by EmbedSocial. Feedlink is essentially a landing page for web and mobile. This landing page will assemble a feed from Instagram in a single place.
The uniqueness of the tool lies in its ability to add a unique link to every photo in the feed. This increases the potential of your Instagram account when it comes to sales and distribution.
Here is a quick list of features you will get when you use Feedlink:
A landing page that is optimized for mobile usage. However, it is responsive and works perfectly on different screen sizes.
The bio link page for Instagram that Feedlink offers is superfast because of the AMP version.
It offers a landing page that can direct the visitors to a products page where people and buy.
Feedlink also offers a reusable link that you can apply in other social media profiles that you maintain.
It will allow you to transform the feed page without the need for changing the bio link.
It will allow you to use your Instagram profile to increase your traffic, and boost your conversion and revenue.
To use Feedlink, you will need to use the EmbedAlbum platform. Feedlink is a part of the platform. You don't have to pay anything for using EmbedAlbum if you are using photos from only one source. However, are other limitations when you use the free plan. It is better to purchase their Pro plan subscription that will cost $19 a month.
They also have Pro Plus and Professional plans available that cost $49 and $99 a month, respectively. You can always switch to a yearly plan to reduce your cost.
#2. Shorby
Shorby isn't a single tool. It combines three tools into one, making it a powerful option with some unique features that you are going to love.
Though each tool in Shorby is primarily geared towards usage with Instagram, you can always use them with other social media networks with ease.
The main tool that Shorby has to offer is known as SmartPages. It is a custom page that shows your priority content with link to each content piece.
SmartPages will allow you to do the following:
You can add your brand name and logo to the page.
You can provide links to your messenger services like WhatsApp, Facebook Messenger, etc. You can even add your phone number if you want.
You can add links to pages and posts in various styles. You can add pop animation, and even videos and GIFs.
SmartPages will automatically generate a feed from your latest blog posts, or Apple podcasts, YouTube videos, Esty/Shopify products, SoundCloud, and much more. The dynamic contents feed works with just about any platform that generates an RSS feed.
You can schedule the appearance of certain links on the SmartPages at specific times. This is a great feature if you are working with something like flash sales.
You can add stickers to the links. This is great if you want to display price tags on your products.
You can even add links to your social media channels, making SmartPages a great way to cross-promote your other social profiles.
SmartPages will allow you to perform retargeting using ad tracking pixels.
SmartPages will also allow you to customize the theme of the page you create.
Once you set up a SmartPage, you will get a shortlink that you can add to your Instagram profile or just about anywhere you want.
What's interesting is that you will get to see through analytics which links on the SmartPage are being clicked more by your visitors.
Shorby gives you other features as well. For instance, you can use Shorby as a URL shortener. Also, they have a 'click to call' messenger function that can be extremely helpful if you want to generate leads through customer service.
You can use a custom domain with Shorby and use your own branding.
Shorby isn't a free service though. You have to pay $15 a month. There is a free trial that you can use to test the waters.
#3. Linktree
A direct competitor of Shorby, Linktree has some unique features. What's interesting is that unlike Shorby, Linktree has a completely free plan. However, if you want to use the free plan, you must agree to have their branding.
Once you settle for Linktree, here are the things you can get:
Unlimited links
Scheduled links
Link tracking
White label (paid plans)
Email integration
Great analytics with location data and referral data
SMS signup links
Leap links (that will send all traffic to a specific destination for a time you specify).
Embedded videos
Retargeting
The page that Linktree will allow you to create will have your Instagram handle and profile picture on the top.
In case you settle for the pro version of Linktree, you will get the opportunity of adding contact, email, WhatsApp, and other social media icons (linking to your social media profiles) in your profile.
The pro version will also allow you to add an SMS subscription option, and an email opt-in form to the page.
Other pro features include button styling, fonts, avatar, etc. that you can use for customizing your page to reflect your business idea in a better way.
The pro version will give you access to more themes, and you can even create a custom theme if you want. Of course, you will get the opportunity for ditching the logo of Linktree and set your custom branding.
Linktree will even allow you to schedule links that will show up on your landing page only on the date and time you set.
The premium plan of Linktree starts from $6 a month.
#4. Lnk.Bio
Not as feature-rich as the previous three options, Lnk.Bio is designed to be a much simpler bio link tool for Instagram users.
While the overall design is very elegant, allowing seamless integration with the Instagram UI, Lnk.Bio doesn't allow customization currently. May be, the people behind Lnk.Bio will allow for such customizations later.
While Lnk.Bio, you can enjoy the following features:
You can use a custom URL for your landing page.
You can cross-link your different social media profiles.
You can insert unlimited links to your landing page.
You can use your own branding.
The tool will also allow you to perform link tracking.
Of course, there aren't too many features, but what you get with Lnk.Bio is just enough for optimizing your Instagram traffic.
The simple and effective analytics will allow you to track all the links that you add to your bio landing page. Analytics will give you all the necessary stats and information you will need for making informed decisions.
The layout for the landing page is simple. The page will feature your Instagram handle, your profile picture, and the links you want to place on the page. The tool will also allow inserting heading right above the links.
Lnk.Bio has a free plan. However, if you want to go premium, you can do so for only 0.99 USD a month. If you want, you can settle for their lifetime plan that will cost $9.99.
For white labelling, you need to go for their other lifetime plan that will cost you $24.99.
#5. Sked Link
With Sked Link you can send your followers to your website, email newsletter signups, products page, blog posts, and more.
As with every other tool you have learned about previously, Sked Link also provides different tiers of plans. They offer Basic, Pro, and Enterprise plans to select from.
Some of the features you can find with the Basic and Pro plans include:
Theme customization for the landing page. Alternatively, you can choose for various themes already available for use.
You can integrate with Google Analytics and Facebook Pixels.
You can easily change the links.
You can add UTM parameters to the links.
You get complete access to link analytics.
As far as the Enterprise plan is concerned, you will get a custom pricing for it depending on your needs. With the Enterprise plan, you can host the Sked Links on your custom domain. Also, there are various advanced integrations that the Basic and Pro plans will not allow.
#6. Campsite
This tool comes with a fascinating set of features that will allow optimizing Instagram traffic with ease. Of course, you can circumnavigate the one-link-in-bio problem using Campsite.
Some of the core features of Campsite include:
The ability to add multiple links. There is no limit to the number of links you can add.
You can change the title if you want, and even add a brief description.
It will allow you to change the color and fonts of the landing page.
It will allow you to add different social accounts to your landing page including LinkedIn, Facebook, etc.
If you have multiple Campsite accounts, you can switch easily between them.
You can archine and restore all links.
You can schedule links, and even stop them from appearing on the landing page whenever you want.
Campsite can integrate with Mailchimp and Google Sheets.
It will allow retargeting visitors using Facebook Pixels, and Google Ads (previously known as AdWords).
You can complete access to analytics.
Yes, you can use Campsite for free, but there are severe limitations. However, if you are will go pro, you need to pay $7 a year.
#7. Link in Profile
Of all the tools you have learned about so far, Link in Profile is slightly different in the sense that you can links to your Instagram images. That's the only way you can add links.
Once you add links to images, your followers can click on those images to land on a different page that can include your website, your online shop, or anywhere else.
The landing page you create will pull the content from your Instagram to create the feed.
With Link in Profile, you get the following core features:
A dedicated landing page.
Ability to add multiple links.
You can brand your landing page. The page will contain your Instagram profile pic and your Instagram handle.
You can add links for affiliates, shop pages, Etsy, etc.
You can manage your landing page with zero effort.
You will get complete access to statistics and analytics.
Link in Profile will cost you $9.99 a month. There is no free trial. However, you do get a 30-day money-back guarantee.
#8. Milkshake App
With the Milkshake app you can create a simple website known as Insta Website. You got it right, buddy!
The Insta Website is for mobile Instagram browser. The link in bio becomes an Insta Website that you followers can browse just the way they swipe through Instagram Stories.
Your bio will have the Milkshake link. Once people click on it, your followers can see your products and contents.
The core features of the Milkshake app include:
Allows sharing the Insta Website on Instagram Stories.
Allows customizing pages of Insta Website (pages are known as Cards) and the overall theme.
Allows adding an email link. If your followers click on the link, they will get the option of writing you emails.
Allows inviting followers to either message you or call you by using a link.
Allows adding a Buy button that will redirect people to a PayPal purchase page. You can add the Buy button for individual products and services.
Good news! Milkshake is free.
#9. Tap Bio
Just like Milkshake, Tap Bio will also allow you to create, personalize, and bran mini websites. These mini websites can have all the links that you want to add and share on your Instagram account.
Just like the Milkshake app, you can add pages or cards that become the extension of the landing page. Every card you add can have separate function.
On each card, you can highlight multiple links. But still retain the single call-to-action advantage. The single call-to-action will significantly increase the chances of people clicking on the link.
The mini websites that you create are meant only for mobile followers.
The basic account that Tap Bio will allow you to create is free. You can use only one profile and one card where you can add only one unique link.
However, if you want to get more cards, you need to upgrade to the Silver plan for $5 a month. This plan will give you three additional cards. So, there will be total four cards where you can add four unique links.
For more, you need to settle for there Gold plan that will cost you $12 a month where you can add as many cards as you want, and add as many links as you want. Even better, the Gold plan will allow you to use up to 3 different Instagram accounts.
#10. ContactInBio
ContactInBio is yet another bio link tool that you can use to optimize your Instagram traffic. This tool will allow you to add links to texts, images, contact forms, videos, and more.
The tool allows customizing the user name and adding a link in the bio. There are both free and paid plans available.
The free plan is quite limited compared to the paid plan, but it still gives quite a few interesting features like:
A drag-and-drop editor.
Ability to add social media buttons and a contact form option.
Ability to add a custom profile URL.
Ability to customize color, text, and links.
Access to link analytics.
Ability to add multiple Instagram accounts, and easy switching between the accounts.
Various themes.
If you want to use their paid plans, you will have two options to select from. The first option is for businesses, and it costs $7 a month. The other option is for agencies and it costs $28 a month.
The are additional features with the paid plans that include options like Mailchimp integration, email signup, email collection, Facebook pixel integration, custom branding, and ability to upload images and videos.
Conclusion
Instagram is a very powerful tool for marketers. When used properly, it can help to drive conversions and sales. The bio link tools mentioned above are a great way to boost the marketing efforts.
Almost all tools are quite cheap, making all of them an ideal choice. You should try out all of them and decide on which one is the best solution for your specific requirements.
There is no point following someone blindly. It is always in the best interest of your business to get hands-on experience to find out whether something will work for your business or not!