What is AnyDesk?
AnyDesk is a remote access program that you can use for free if you are an individual or if you want to evaluate it. It also caters to businesses of different sizes. However, if you want to use it for business purposes, you will need to buy a subscription.
It is capable of file transfers without forwarding ports on a router. More importantly, you can use it without installing it. AnyDesk also provides a tabbed browsing experience. Its menus are quite condensed and hidden, but that is what gives a great user experience.
Key Features of AnyDesk
AnyDesk is loaded with some interesting features that make using the application a pleasant experience. Here is a quick list of the most important features that AnyDesk has to offer:
Compatibility
It is compatible with multiple platforms. It works with Linux, Windows (XP to 10), macOS, Windows Server, iOS, Android, Raspberry Pi, and FreeBSD.
Portable
You can choose to install AnyDesk on your computer, but by default, it runs in a portable mode without installation. Once you download the file, you can double-click on it, and it will start running.
File Transfer
One of the finest features of AnyDesk is its ability to transfer files. All you have to do is copy the files to the clipboard and then paste them to the remote desktop. The application also throws in a separate file manager apart from the remote access tool.
Customization
You can customize the application with different actions like:
Showing remote cursor.
Sound transmission.
Capture screenshot.
Turn on view-only mode.
Blocking inputs from other users.
Turn off clipboard syncing.
Other Features
It allows syncing clipboard contents across the client and the host computer.
During an active connection, you can access various settings from the menu bar.
It can alter the connection for the best video quality or speed or a balance between the two.
Even when working in the portable mode, you can turn off a remote computer using it.
During an active connection, the control can be switched between the two connected devices.
You can save connection shortcuts on the desktop for quick access.
Every keyboard shortcut can be sent to the remote computer. You can send even the Alt+Ctrl+Del shortcut!
It allows recording a session as a video file.
It allows remote printing. You can print a local file on the remote site or print a file from the remote site on your local machine.
You can see the information about the remote computer on the system information tab.
The application will also display a list of past connections at the bottom of the application screen so that you can quickly reconnect.
If you are the host, you can set up AnyDesk to disallow remote users from performing several tasks like requesting system information, using file manager, restarting the computer, locking mouse and keyboard, and hearing your computer's sound, etc.
AnyDesk Pros and Cons
As the story goes, every software application or any physical product will have a set of advantages and disadvantages. AnyDesk is not an exception in any way. Yes, it has a lot of advantages, but it is also plagued by a few disadvantages. Let's take a quick look at the pros and cons of AnyDesk.
The Pros
The application installer is small in download size.
It can run in portable mode.
It has a clean and uncluttered interface design.
It gets automatic updates.
It has support for unattended access.
It has support for file transfers.
It allows identifying computers using custom aliases.
You can run it in full-screen mode.
It has the capability of text chat.
It will automatically discover clients on local networks.
Its mobile apps can connect to computers.
It allows sending keyboard shortcuts.
The Cons
It can be slightly intimidating for first-time users.
It cannot work without an active internet connection.
The free version doesn't have the address book feature.
How to Work with AnyDesk?
Working with AnyDesk is quite simple, but getting started will have some learning curve, which is not that difficult. To start, you need to download the application. Once you download it, clicking on it will start the application in a portable mode. There is no problem with that. However, if you want to use custom aliases, you will need to install the application.
The custom alias will be something like yourname@ad. It is way better than using a string of numbers as an identifier because it is difficult to remember such numbers.
The first tab on the AnyDesk application is where you can connect with other devices. You can also see the list of all devices on the network that have AnyDesk installed on them. Here is what it looks like: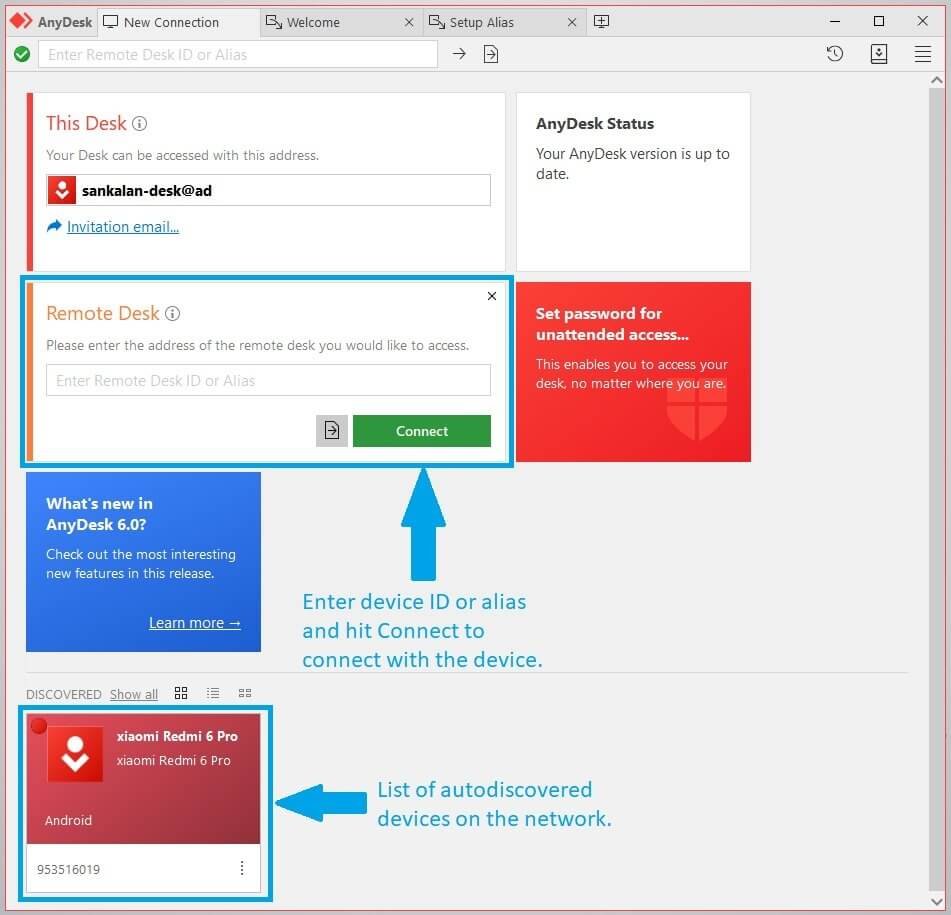 To connect with a device, you need to enter the remote desk or device's address or ID. The address is usually a string of numbers like 953516019. Switching to the alias is always good because that allows easy remembering.
Once you establish a connection, you can see the screen of the remote desktop or device. In this example, I connected with my Xiaomi phone. Here is what I see on my desktop:
Once you are connected, you can access several menu items from the top row. You can also see the ID of the connected device.
You can open text chat from the top menu and send messages as well. You can even transfer files between the two connected devices using the file manager:
For the chat to work, there has to be a two-way connection. This means that you should allow the remote desktop to access your computer or device. Because the chat option is not really a messenger-style chat system, you will need an active two-way connection.
You can allow the remote desktop or device to gain access to your computer by clicking on the listed devices first tab of the AnyDesk application.
Once you click on the listed device, you can see the permission screen. You have to grant connection permission to allow the remote device to access your screen.
Once you hit the Accept button, the connection will be established, and the remote device can see your screen. You can set granular controls before accepting the request.
Once you accept the connection request, you can see this screen:
Things to remember:
If you are sharing your address, the other computer will be controlling your computer.
You can switch control by first sending an access request. Once it is accepted, you can switch control.
You can set up a password if you want to enable unattended access. This means that even if there is no one attending the remote computer, you can still access it provided you have the password for accessing it.
Conclusion
AnyDesk is a wonderful remote access program. I prefer it over any other similar program because it will allow you to establish a connection out-of-the-box. There is no need to perform actions like port forwarding on routers.
There are two more features that I love, in particular. The first one is the nifty file manager that allows transferring files easily. Other similar programs will allow only copy and paste functions through the clipboard, which can be quite frustrating.
The other feature is the ability to access any remote device even if it is not physically attended by someone. It allows for on-demand access, and often, it is an important thing. You may not have the time to wait for someone to come and grant access to you.
Overall, AnyDesk is a great tool – way better than many others I have seen and used over the years. I love it despite some of its drawbacks. Most likely, you are going to love it too!