Having a versatile SEO tool can be game-changing for your business.
And that's why, today, I am going to review Ahrefs.
It is one of the most popular search engine optimization tools and I also placed it at the top of my Best SEO Tools list.
For business, it is vital to stay at the top of their SEO game. After all, if they lapse in their approach, they are going to lose tons of search engine traffic to rivals.
That's why it is crucial to get the best tool out there.
Before I go forward and look at what Ahrefs has to offer, I can already recommend it to you.
Yes, it is that good.
But is it the right pick for you?
Well, you will be able to answer it by the end of the review. If you know my rating, then you can check it below.
Table 1.0: Ahrefs Rating
| | | |
| --- | --- | --- |
| Features | It has plenty to offer. You get access to the rank tracker, website research, content explorer and much more! | 4.9 |
| Ease of Use | The UX team at Ahrefs has done a great job as it shows in its ease-of-use. You can easily move between different Ahrefs features and make out how they work in most cases(without the need to contact support or reach documentation) | 4.7 |
| Price | Ahrefs is not cheap. It can be costly and you need to pay it monthly. However, it offers features that constantly help you improve your business and hence is worth the investment. So, if you can use it to impact your business, then it's worth the price. | 4.5 |
| Documentation | I think documentation plays a key role in enabling users to make the most out of the tool. Ahrefs does that by providing excellent documentation. | 4.9 |
| Support | I found the Ahrefs support system to be responsive. | 4.6 |
However, if you are impatient, just like me, check out the Ahrefs Quick Glance table.
Table 1.1 Ahrefs Quick Glance Table
Ahrefs in NutShell
A complete SEO toolset
Starting Price
$99 per month per user
Competitors
Moz

SemRush

Spyfu

Features

Keywords explorer
Content explorer
Organic and paid search
Site Explorer
Link intersect feature
Site Audit
Rank Tracker

Best For
Agencies, marketers, small and medium businesses, enterprises
Ahrefs: Humble Beginnings and A Sneak Peek To the Past
Ahrefs had a humble beginning. If you look into its history, you will find that it was a link building tool way back in 2012. At that time, it was famous to the extent for the features that it offered.
It quickly became the best backlink analysis tool that fuelled its growth.
However, the Ahrefs journey started in 2010 when they released their backlinks index in 2010. It was technically, the first version of the Site Explorer that Ahrefs has to offer.
And now, Ahrefs is one of the biggest SEO services providers that updates their backlinks every 15 minutes. Their crawler is one of the best as it crawls over 8 billion pages per day! That's impressive considering the internet's diversity and reach.
The Power of Data
Have you ever thought about what makes Ahrefs so special? Well, it is their data. They collect petabytes of data that you use to optimize your site for search engines.
Their crawler is what makes it all possible. Like search engines, the Ahrefs crawler also crawls the web 24/7, updating rankings, links, and other important data needed.
They are using 2000 servers, 64K CPU Cores, 400 TB RAM, 40 PB+ HDD and 10PB of SSD, and that's all in-house to power all the infrastructure.
When it comes to content and keyword index, the numbers are amazing as well!
They constantly crawl new content at 40 million new pages per 24 hours whereas their keyword index has access to 10.2 billion keywords.
Big data plays a crucial role in your success, and you can check more about their data and reach on their big-data page.
Ahrefs Review & User Guide
Ahrefs offers a great SEO toolset. Yes, it is a collection of tools.
It gives you what you need when it comes to SEO. It is true to its features and it is up to how to utilize it in its best possible way.
But, how do you know that Ahrefs is for you?
You can get your hands dirty by trying out their $7 free trial. It is a seven-day trial where you only need to pay $1 per day to access all the tools that it has to offer.
You can activate their free trial for two of their plans: Lite and Standard. You can toggle between them as per your liking within the trial period and make use of it to learn about the product.
Before you ask me, no, $7 is non-refundable. You can ask for cancellation within 48 hours of the transaction, but then again the right to provide a refund remains with them.
If you are still not interested in investing $7, then you have one more option.
The Ahrefs Academy.
It is a place where you can learn about the tool without the need to invest in anything.
All you need to do is move to Ahrefs Academy. There you will find two interesting courses.
Marketing with Ahrefs
Blogging for business
Both courses are in-depth and walk you through the key elements with Ahrefs. Infact, the second course, "Blogging for business," is my favorite as it gave me insight not only on Ahrefs but how to grow my business and get more customers. Yes, it's that good. And, all of these are for free!
So, you have two ways to get to know Ahrefs yourself. Once is their trial and other their amazing courses. This makes them extremely accessible to new audiences/users and that's what I am trying to showcase here.
Not interested in complete courses? Then, you can also check out their video tutorials and SEO guides.
Getting Started with Ahrefs
Ahrefs has a great onboarding process. Once you login to the backend with your plan or a free trial, you are treated with more resources!

That's great onboarding practice and helps new users to get started easily.
Below the section, you will be able to add your first project.
Let's add my own personal site, Techaltair.com, for reference purposes only.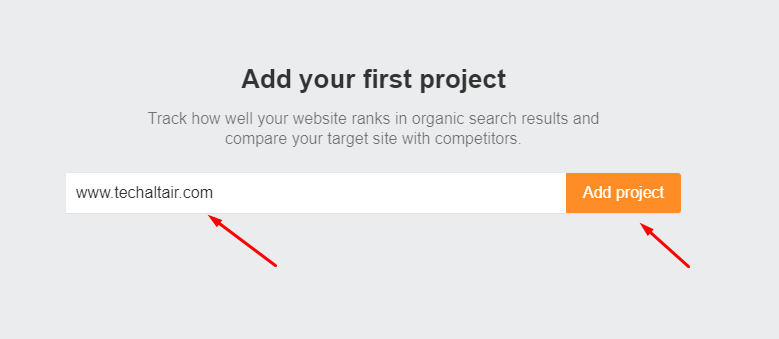 After you click on "Add project," you now have to select the scope of your project.
The scope determines if you want all your webpages to be crawled including HTTP and HTTPS. You also get the choice of including sub-domains, exact URL, path or domain.
Once, everything is selected according to your preference, you can click on continue.
Next, you need to verify ownership by using a DNS record, HTML file or HTML tag. I used the HTML file as it is easy to simply copy-paste the file for verification.
In the last step, "Site Audit," you need to set the schedule site audits. It regularly checks your site for 100+ SEO issues and notifies you when it finds any issues.
You may also want to check the crawl settings to customize how Ahrefs bot crawls your site.
If your site is not completely new, you will be able to see instant statistics about it on the dashboard. You can add multiple projects and are only limited by your plan.
And, yes, they will contact you through email once the site audit is complete!
Well, you are now set to make full use of Ahrefs. To learn what it has to offer, let's go through its key features/tools one by one.
Core Feature: Site Explorer
Site Explorer is a way to look deeply into a website or a URL. Yes, with this handy tool, you can go through any website on the internet and learn about its search traffic and backlink profile.
This makes it a great tool to learn about your competitors or one of their specific pages.
So, if you are curious about how your competitor is ranking their page, you can simply type the exact URL and see everything uncovered in front of your eyes.
Last week, I wrote about the best antivirus software for 2020. To learn about the competition, I used the site explorer feature. There, I typed the Tomsguide.com article on the same topic.
As you can see, I founded some key information about the page including the referring domains, organic keywords, organic traffic and backlinks! I also got access to the UR(URL Rating) and DR(Domain rating). All of these statistics enabled me to learn about the competition and how strong they are when it comes to ranking for the same keyword.
On the same page, I also checked its backlink profile.
Clearly, it is gaining good backlinks for the past three months which is enabling it to rank higher.
You can also learn about the organic search and as well as the
If you want to go further into the URL, you can also check out the new, lost and broken backlinks including referring domains. These options are available on the left menu as shown below.
But, the main fun starts when you start exploring whole domains with the site explorer tool as you can use it to explore your competitors. For example, you can learn about your competitor and how they go ahead with their search engine optimization strategy.
Core Tool: Keyword Explorer
Ahrefs also lets you do a proper keyword research. Their keyword explorer tool is a complete solution to your keyword research and with it you can search different search engines including Google, Bing, Amazon, YouTube and even Yandex.
To get started, you need to select the search engine for which you want to do keyword research and then type in the keywords either by comma or newline.

Before you go and search for the keyword(s), you can also choose to change the location where you want the data from. As you can see from the above screenshot, we have selected the United States. This is really helpful as it lets you do local targeting and learn how the keyword is performing in a particular area.
The tool will return key aspects about the keyword(s), including keyword difficulty, volume, clicks, and CPC. You can further expand the keyword details by clicking on it.
If you click the "PS5" keyword, you will get the following information with decent graphs to visualize them.
This way you can find out the best keyword to target for your business by finding out keywords that are easier to rank. You can also compare keywords and make decisions accordingly. It also generates new keyword suggestions which is better than other keyword research tools.
But, one thing that I also noticed is that the keyword suggestions are not always related to your query. This means you need to go through some unrelated keywords and then create a customized keyword research report.
If you do not want to go through the process of refining keyword suggestions, then I would suggest checking out SEMRush which provides better and more in-depth keyword suggestions.
Core Tool: Site Audit
Site Audit is the next core tool that I am going to cover. The tool lets you complete site audits and learns about the technical problems with your site.
To get started, you need to click on Site audit at the top menu. From there, click on "new project" and then add the domain name. You can run site audits on any site of your choice, including competitors. If you own a site, it will help you customize the crawl and get better results out of it. So, if you add a site that is not yours, the crawl speed will be limited to one request per two seconds.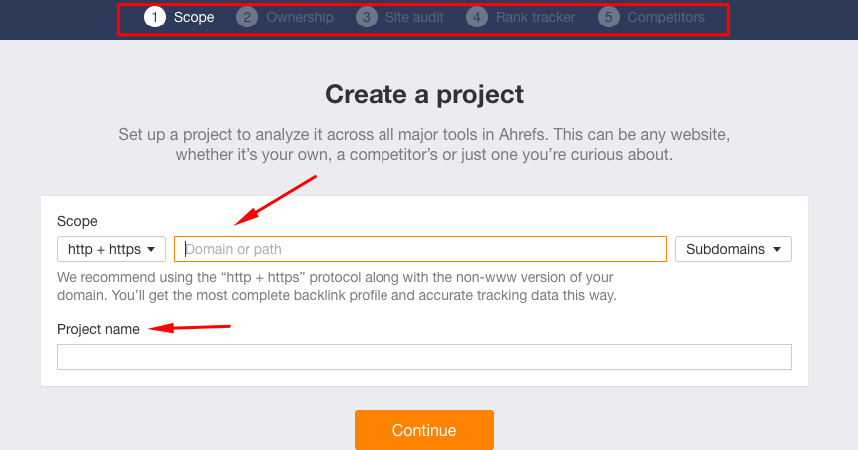 However, not all of your competitors will be crawlable. To test this, I tried to crawl a popular WordPress based site, www.codeinwp.com. The tool straight away gave me a 403 error, which means that the site is configured to block crawl requests like these, but are open to Google search engine crawlers. This is done to protect the site information from competitors or malicious actors looking to find vulnerabilities.
So, what I did is run the crawler on my own site. At the time of writing, the crawling is still going on, and it already found tons of issues on my site.
Overall, the site audit tool is excellent for figuring out your own site's technical problems and looking at competitor sites, only if they are crawlable.
Core Tool: Rank tracker
The rank tracker is one of my favorite tools in Ahrefs. With it, you can track keywords and their rankings. To make it useful, you need to put in at least one keyword to track. The keyword will be tracked by the tool and how it changes over time.
Sounds cool, right? However, the rank tracker is limited when it comes to updating ranks daily. If you choose the Lite plan, the update frequency is set to seven days. In comparison, the standard is set to update every five days. The advanced and agency plan updates the keyword position every three days.
If you are in a highly competitive market, the update frequency is just not good to meet your needs. Also, the SEO world is changing rapidly and if you are serious about protecting your business from the competition, then you need to always stay up with the change. Also, not all clients are ready to wait seven days to see an update.
Core Tool: Content Explorer
Content Explorer is an excellent way to explore and learn about your top-performing content. By doing so, you can create prospects that help you further grow or learn about your competitor's content marketing strategy, tweaking it to meet your requirements.
All you need to do is enter the topic and search for it in either title, content, or URL. You can also search for it everywhere to get the best result.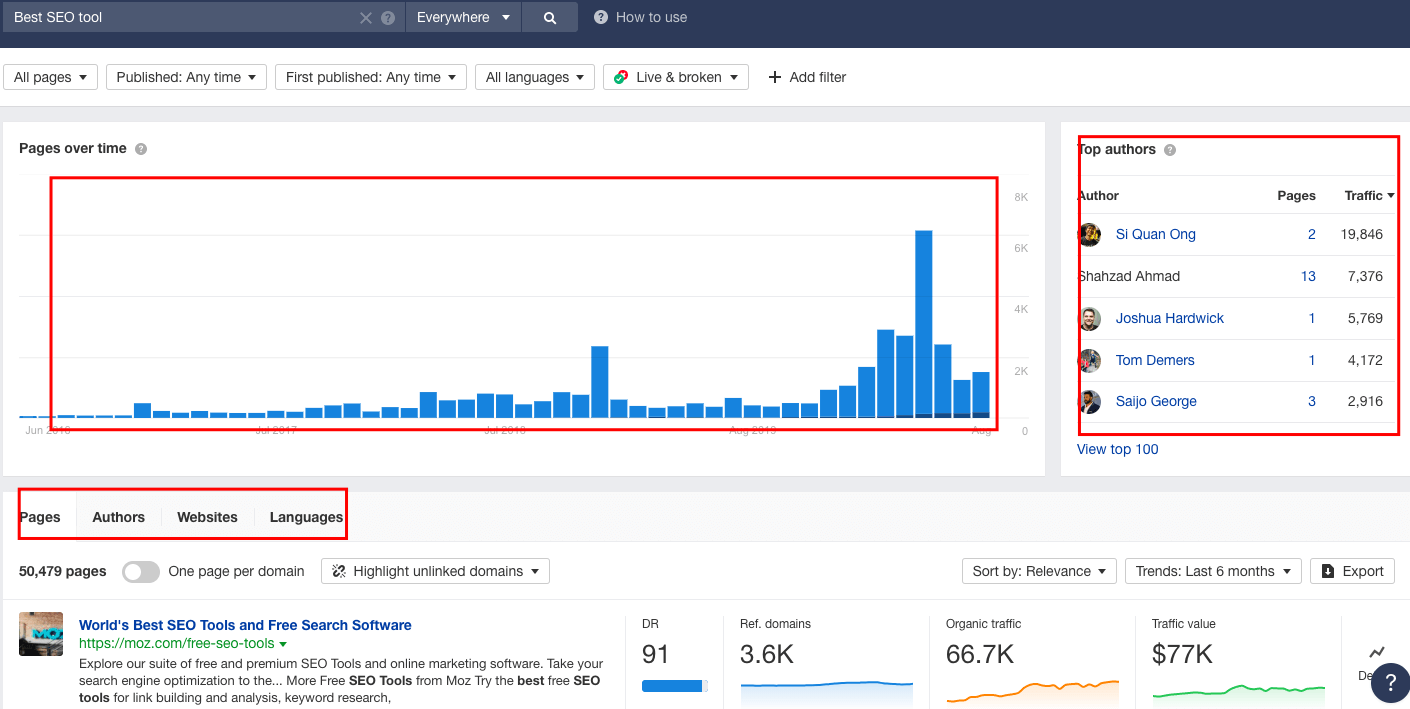 Here, I tried to find out about the best SEO tools. As you can see, you can search by pages, authors, websites and languages
Ahrefs Other Tools
Ahrefs comes with tons of other tools that help you in your SEO campaign. Some of the notable tools include the following.
Link Intersect: It is a handy tool that lets you learn about websites that are not linking to you but your competitors. This way you can pitch them and create a backlink profile.
SEO toolbar: Get access to most of the Ahrefs through the SEO toolbar available for Chrome and Firefox.
Domain comparison: Let you check backlinks profiles of five different domains side by side. This gives you insight on how your competitors are doing and make changes based on it.
Batch analysis: Let you create a single report where you can put up to 200 URLs. You can create it directly from the browser or even export it.
Ahrefs rank: Check the top sites ranked based on Ahrefs ratings.
Alerts: Set up alerts for your campaigns.
Ahrefs Support
Ahrefs provides support via email, phone and chat support. You can access support directly from the dashboard. All you need to click is the question mark arrow in the bottom right of the window.
Once clicked, it will open up a few options including access to Ahrefs Academy, Help Center, Suggest a feature and chat with us.
The help center is where you can learn about the essential stuff about Ahrefs. It is the gold mine where the Ahrefs team and experts answer most of the common questions. There you can get starting guides, tutorials and FAQs.
The "Chat with us" button lets you connect with their team and they generally reply under five minutes. Here, you can directly ask questions regarding your problem.
Ahrefs Pricing
Ahrefs plans start from $99 per month per user(lite plan). You can get it down to $82 per month per user if you opt for the yearly plan. That's a long commitment. Anyway, their lowest plan gives you access to the five campaigns, 175 domain crawls per week using the Site Explorer tool, 500 tracked keywords and 350 reports per week using content explorer. As you can see, there is a limitation on every single aspect of the tool.
In my testing, I found that you will hardly reach those limits if you are a business. However, if you are an agency, then you need to go for higher plans.
Their standard plan increases your limitation by 2-3x that of the Lite version with only an 80% increase in price. On the other hand, the advanced plan is a substantial increase in price, $399 with greater access to the Ahrefs toolset.
Lastly, they offer the agency plan at $999 per month. To learn more about their pricing, I suggest you check their pricing page.
What I liked and What I disliked?
There are a lot of things to like about Ahrefs. It is definitely a good toolset which offers excellent user interface and user experience. Almost everything is intuitive and if it is not, you can click on the question mark symbol against the feature to learn more about it.
To summarize, I liked the following things about Ahrefs:
Great data pool
Great user experience and user design
7$ seven day trial
Good documentation and courses
Amazing site audit features
Great keyword tool
Link intersect
And, what about the dislikes? Well, I think Ahrefs can better their game in the following aspects:
Provide better keyword suggestion
Daily update keyword tracking
Limited PPC features
SEO Tips and Tricks for Using Ahrefs
Alright, now that you have already read about Ahrefs in quite some detail, it is time to learn a few tips and tricks that you can use. Honestly, using these tips push you in the room of pros who use these tricks on a daily basis to outperform their competitors.
So, let's not waste time any further and get to business.
Trick 1: Finding low difficulty but high-volume keywords
If the keyword difficulty is high, you will have a hard time to ranking unless you create very high-quality content and grab a significant number of backlinks.
Trust me when I am saying, it is a game of backlinks. If someone asks me to tell what matters more – backlinks or killer content, I will vote for backlinks and I have proof. I will get there later.
But for now, let us focus on finding low difficulty but high-volume keywords. High volume simply refers to keywords that key a lot of traffic. Low difficulty means that top blogs are not competing for those keywords, making it much easier to rank for those keywords.
Those keywords are usually long tail keywords.
Here are the steps you follow:
Step 1: Search the target keywords in Ahrefs
Fire up Ahrefs and go to keywords explorer and key in your keywords. You can keep the search engine set to Google for the time being. If you wish, you can repeat all these steps with different search engines.
Set your target country from the dropdown and then hit the search button. This is what I mean:
Step 2: Check for Related Terms
Once the search is complete, you will see the results that looks like this:
Don't worry if you don't see much here. Look at the menu on the left and click on Related terms. Click on it.
This is what you will get:
Step 3: Set filters
On the top you will see several dropdowns allowing you to set filters.
In the dropdown called KD (keyword difficulty) set minimum to 20 and maximum to 60 and in the volume, set minimum to 1000. Do not set a maximum for volume.
This is what it should look like:
Now, you will get the list of keywords with difficulty between 20 and 60 along with volume (search volume).
Of course, there will be some non-related or far-related keywords. You can further filter them using Include and Exclude dropdowns on the top.
The result you get will show you the list of keywords that have a search volume of at least 1000 but have low difficult, that is you can rank quickly for those keywords and attract significant traffic to your blog.
Trick 2: Get you competitors' keywords and traffic volumes
Will you not want to know who your competitors are and what keywords they rank for? Will you not want to know the keyword gap between you and your competitor and want to improve on that?
If yes, this is the trick you need to use.
Step 1: Visit Site Explorer and enter your domain
In the Site Explorer of Ahref, enter your site and hit enter. This will give you the details of your site. While you can take your time to study the data on the dashboard, the main aim here is to find your competing domains and their keywords and the traffic they get for each keyword.
This is how the Site Explorer looks like:
Enter your site and hit the search button. In case you have a separate blog (something like this: Cloudzat.com/blog), you can enter the URL accordingly. No need to add https or WWW.
Once you hit the search button, you will see something like this:
Notice the red highlighted box on the left. It reads Competing domains. That is what you need.
Step 2: Check your competing domains
Click on the competing domains menu on the left and you will see something like this:
Notice the two highlighted boxes. The red box and the corresponding number in that column shows the number of keywords unique to your site. The green box and the numbers in the column show the keywords unique to your competing sites. You will also see the common number of keywords.
Now click on any number corresponding to the green highlighted box and you will see the keywords unique to the competitor you are exploring.
You will see this:
Notice how it says that there are 4558 keywords for which Cloudzat doesn't rank for. Those keywords are not present in Cloudzat, and hence, Cloudzat needs to include them. Also look at the Volume column.
It shows the number of searches for the corresponding keywords in United States. You can change the country to see the search volume in different countries. You can also see the keyword difficulty score.
Once you have your competitor's keywords, you can create content on the same.
Trick 3: Find top performing pages of your competitor
No matter which competitor you have, you will notice that they will have some top performing pages. Those pages are the primary traffic source for them. What if you could identify those pages and create better content on those topics?
What if you could actually find top performing pages of your competitor that have low number of referring domains?
Low referring domains (RD) means that there are few backlinks and yet, your competitor gets tons of traffic.
What does that mean? It means that if you can create better content, you will get tons of traffic without having to work for building backlinks. And if you can build backlinks, that will be the cherry on the top.
Let's find out how to do that.
Step 1: Visit Site Explorer and enter your competitor's domain
Notice how I entered the domain of Cloudzat's competitor in the site explorer. Hit the enter button and you will see the details of your competitor's site. That is not what you are interested in at this moment. You want to find their top performing pages with low RD.
Once you hit the enter key, you will notice this:
Notice that red highlighted box that reads Top pages. That's where you want to go.
Step 2: Visit Top Pages menu
Click on the Top Pages menu item on the left and you will see this:
You will notice that the default country is set to United States. Change that to All Countries. You must target all countries because you should consider grabbing the traffic from all countries, and not just United States.
Once you change the country selection to All Countries, this is how the page looks like:
Notice the three highlighted columns.
There is another column called Top Keyword. For each top keyword you can see the following data:
Green Column: It shows the total traffic that the website is getting from all countries taken together for the top keyword. Next to that is the percentage column which shows the share of the traffic to that page compared to the whole website traffic.
Orange Column: It shows the number of referring domains it has. In other words, it shows the number of backlinks that the page has for the top keyword.
Blue Column: It shows the estimated monthly search volume for the top keyword.
Note that these are all estimated values and hence, you may notice some unexplained discrepancies. But you get the whole idea here. The higher the traffic your competitor's page receives for a top keyword and lower the referring domains count (RD) for that page, the easier it will be for you to create content for that keyword and rank for it without having to build a lot of backlinks.
Trick 4: Identify shady practices [BLACKHAT CASE STUDY]
I am not saying that if you are identifying shady practices of your competitors, you can do something about it. There is no place where you can complain. Google will not care.
Do not forget that Google's algorithms are nothing other than AI and machine learning. It is easy to trick AI and machine learning. That allows some people to take advantage, use shady practices and grow bigger compared to the most authentic sites.
Here I will show you an example of a Blackhat SEO technique used by one site (I will not name it) to increase its domain authority and organic traffic.
If you identify something like that, you will have either of the two things to do:
Engage in similar practices and try to beat your competitor in his/her game while intelligently tricking Google's AI.
Go for natural and powerful links that can outweigh your competitor's shady practices.
Let's start!
Practice 1: Look for shady 301 redirects.
Go to Site Explorer of Ahrefs and enter your competitor's domain. Once you do that, click on the Backlinks on the left menu. To pull out the competitor's backlink profile. It will show you the backlinks of that domain.
Look for 301 redirects. Many sites will have that because people perform http to https redirections. But you can come across shady stuff too!
Look at this:
In the image above you can see that the domain under investigation created 301 redirects from a domain called Seed Magazine.
Seed Magazine no longer exists. Performing a quick search of the domain shows that the actual domain is redirecting to the site under investigation. Checking the WayBack Machine (Internet Archives) revealed that the redirection was created somewhere late 2019 while the actual domain (which was an online scientific journal and magazine with very high authority) expired in 2018.
Such was the authority of the magazine that there was a separate Wikipedia page for that site and many of the articles on Wikipedia used that site's content as reference material or bibliography and citations.
The domain under investigation in this case study identified the expired domain, purchased it, and created a redirect. So, traffic from Wikipedia now diverts to this domain with shady practices.
There are many other sites that cited Seed Magazine at one point. All those links now direct to this new shady domain that is nowhere even close to being scientific!
Practice 2: Look for PBNs (Private Blog Networks)
Google loathes PBNs or Private Blog Networks, and at least in theory, punishes the sites that use PBNs to inflate their domain authority.
In reality, Google's AI is underdeveloped (Google will never tell you that) and it cannot properly identify PBNs when intelligently implemented.
So, what is a PBN?
A PBN is a network of blogs that a company can create or use any third-party service. These blogs will have one or two good quality content but no more than a 400 to 600 words long.
These blogs will be interconnected to each other and form a layer between the main site (called the money site) and low-quality blogs and sites. The PBN network is called Tier 1 site.
The Tier 1 sites will use keywords in the blog URL and have spun content (majorly) and one or two authentic articles pointing to the money site and some other high-quality sites.
These Tier 1 sites will then start receiving backlinks from thousands of low-quality or low domain-authority sites, specially to the pages that are linking to the money site.
This inflates the page authority of the PBN network. The increased page authorities of the PBN network will then pass link juice to the money site, thereby increasing its page authority or domain authority.
Note that domain authority increases when the PBN network connects to the seed or root domain of the money site. Page authority refers to the authority of a particular page in the root domain.
So, if the PBN network links to the root domain, domain authority increases. If the PBN network links to a particular page, the page authority increases.
This is BLACKHAT technique. Someone can manually implement it by creating a network of sites (PBN) or just use the services of a third-party provider.
To build a PBN, you don't have to purchase domains and hosting and create a network. You can use Web 2.0 sites. Basically, these are blogs built on Blogger, WordPress.com, Wix, Weebly, etc. These platforms already have super-high domain authority. All it takes in inflating the page authority and that happens with automation.
Now, how do you identify a PBN using Ahrefs?
Easy-peasy!
Check the backlink profile of the competitor. If you see very similar domains (especially Web 2.0 domains), investigate them.
Here is a quick example of the same site that I investigated above for 301 redirects:
There are steps to follow.
Step 1: Search for links with specific terms.
For instance, I will use "blogspot."
The backlinks page will give you a search bar where you can use a word or a phrase to search the links. I used blogspot.
Ahrefs will immediately filter all URLs (backlinks – referring domains and URLs) that has the search term.
Step 2: Check for same keywords in URLs or very similar looking URLs
This is what I received:
Notice the 301 redirect for the expired domain called Seed Magazine. So, it is the same shady site in question.
In the backlinks, you can see number of backlinks coming from blogspot.com subdomains and all of them have one word in common: PLAKAT [All highlighted using green boxes]
Look at their domain authority and page authority. The number 78 (third column in the image above) shows the page authority.
It is not hard to understand that these are blogs from a Private Blog Network using Web 2.0 platform.
The purple colors you see on the right side of the image are the anchor texts used for that site. I hid them because they are the URLs of the root domain. However, you can see the anchor texts for other domains, which are facebok.com, facultyfocus.com, fai.org.
Now, when I went to one of the PBN blogs, this is what I saw:
Do you notice the same anchor texts? The root domain is used as anchor text just as Ahrefs showed me earlier.
I checked another site from the PBN, and this is what I found:
Yes, the sites look identical, but check out the URL on the top! The two are different URLs and they are:
bikinplakatfiber.blogspot.com
membuatplakat-blokm.blogspot.com
Also look how the site main text are in two different languages!
There should not be any iota of doubt that the site under investigation used PBN to inflate the domain authority and grab more organic traffic.
Yes, it sucks when your competitor uses such shady practices. It sucks even more if the same competitor starts performing negative SEO on your site and other competing sites.
What can you do?
Nothing! Really, nothing!
This is the stark failure of Google's algorithm and AI. There is nothing you can do about it. The next step you choose will depend on your sanity of thoughts (or insanity, perhaps).
Bottom Line?
Well, Ahrefs is an immensely powerful tool. There are too many features that can overwhelm a noob. But when you start digging, you can find surprising data and truth. How you use the data in hand is up to you.
I am not saying that you should engage in BLACKHAT SEO. That kills the competition and creates an unhealthy environment. But some people do and there are tools and services available at large for such activities.
My suggestion to you is to start healthy and behave sanely. Everyone is working hard. Give them fair chance and compete. If you are really good, you will outperform your competition using the data Ahrefs gives you.