A2 Hosting is one of the old players in the hosting market. They have been providing their hosting service since 2001. With almost two decades of know-how, they offer one of the best hosting services to their customers.
They are known for their SSD-powered servers, which are capable of providing lighting-fast hosting services. Moreover, they are green hosting as they have been using green energy since 2007!
All of these put A2 Hosting in the spotlight.
So, Is A2 Hosting good? Let's explore in our review of A2 Hosting.
If you are in a hurry, then check out the table for A2 Hosting Review.
Table 1: A2 Hosting Review
| | |
| --- | --- |
| A2 Hosting in a nutshell | Great for small and medium scale businesses |
| Founded In | 2001 |
| Hosting Plans | Shared, VPS, WordPress, Dedicated and Reseller servers |
| Uptime Guarantee | 99.99% uptime |
| Root Access | Only on managed VPS servers |
| Distribution For VPS Hosting | Ubuntu, Debian, Fedora, CentOS |
| Custom Images Supported | Yes, only on VPS plans |
| Marketplace/Apps | Access to popular apps including Joomla, Drupal, Magneto, and WordPress |
| Refund Policy | Get a full refund if you cancel your account in your first 30-days. They also offer partial refund after 30-days period. |
| Customer Support | 24/7 live chat. |
| Knowledge Base | Covers everything about A2 Hosting |
A2 Hosting Overview
In this section, we will take a look at A2 Hosting features. By going through these features, you will learn what A2 Hosting has to offer, and if it fits your requirement.
Origins and Key Features
A2 Hosting is a popular web hosting provider that began its journey almost two decades ago in 2001. Bryan Muthig started his company with the Iniquinet name. During its initial years, it's aim was to serve small clients. However, they quickly garnered a lot of attention from the clients and grew exponentially.
Later on, Bryan Muthig changed the name to match its origin town, Ann Arbor, Michigan.
A2 Hosting is known to provide an easy-to-use web hosting platform. Their main selling point is their turbo servers that provide 20x better page load times than other standard hosting providers.
To achieve the performance level, they started offering free solid-state drives(SSD) to all their customers. They also started adding more features with time, enabling them to serve their customers better. The constant push to become better also helped them to grow their user base.
As a user, you can get started with A2 Hosting by getting their cheapest A2 Hosting service at just $2.99 per month. All of their plans come with a 30-day full refund policy. They also offer a prorated refund for customers who have used their plans for more than 30-days.
Green Powerhouse
There are a lot of things to say about A2 Hosting. However, the most important thing that differentiates them from other hosting providers is their green energy practices. They are committed to make the world a better place by following these green energy practices, hence reducing the overall carbon footprint.
Since 2007, they have gone green. So, suppose you are someone who values their ideas and approach. In that case, you should give A2 Hosting a consideration before making the final hosting service choice.
A2 Hosting Features
Uptime and Speed
A2 Hosting offers excellent performance. In our tests, we found out that A2 Hosting provides better loading speed than similar hosting providers. As they are using SSD-powered servers, the page load times are better.
Their uptime is also excellent, which hovers around 99.99%. For most businesses, this should suffice as there would rarely be any downtime.
To ensure excellent services, A2 Hosting provides a 99.99% uptime commitment that meets the standards of web hosting services. Almost all the popular hosting service providers follow the 99.99% uptime rule.
To ensure that their servers can match the uptime commitment and speed, they use state-of-the-art data centers and follow the industry's best practices when it comes to managing their servers.
However, as users, you should know that their hosting can be down during routine maintenance and upgrades.
These routine tasks will be notified to the customer beforehand. Also, these routine tasks don't fall under their uptime commitment. Any downtime beyond the control of A2 hosting also doesn't fall under their 99.99% uptime commitment.
So, what happens if A2 Hosting fails to manage the uptime commitment? For those scenarios, they have compensations. If the downtime counts more than 0.1%, you will be eligible for a refund, which is calculated based on the number of hours the service was down. The compensation is paid in-service credit and calculated with the formula of monthly fees 5%.
The maximum service credit will never cross the amount you initially paid for the hosting. Also, the compensation is not automated, and you need to connect with their customer support to avail it.
Backups
They have a decent offering when it comes to backups. You can easily backup your site(partial or full) using the Plesk or cPanel control panel.
However, if you want to restore your website from a backup copy, you need to copy it to their support team. The restore process should take some time, and you also do not have to pay additional fees for the service.
SSL Certificates
A2 Hosting supports SSL certificates out of the box. The SSL certificates are essential to ensure secure communication between the computer and the server. Without it, visitors may not find the site trusty.
You can enable an SSL certificate on your site by either using the free Let's Encrypt SSL certificate or by using an advanced SSL certificate offering by A2 Hosting.
The Let's Encrypt SSL certificate is ideal for any website out there. However, if you are looking for paid options, then you can choose any of the following SSL offerings by A2 Hosting:
Single Site SSL → $49.95 per year, provides basic protection
Premium SSL → $99.95 per year, provides enhanced SSL features, good for business sites
Wildcard SSL → $149.95 per year, for all subdomains
Advanced SSL → $999 per year, for eCommerce sites
Security
Apart from the SSL certificates, A2 Hosting provides excellent security. They use their Perpetual Security Initiative, which offers a lot of features to protect the websites from third-party malicious actors.
In the initiative, they are providing two services, HackScan and KernelCare. The HackScan feature is aimed to protect customers from malware. The KernelCare, on the other hand, is a software extension that provides an extension to improve protection for the Linux kernel security.
Apart from that, all the host services also get the following:
Limited Server Access: A2 Hosting ensures that even their own staff has limited access to the server. Their staff members utilize keys instead of passwords as keys are more secure.
Dual Hosting Firewall: Apart from the network firewall, they also utilize an additional server firewall, which provides dual protection to the customers.
Reinforced DDoS Protection: Their servers are also protected from distributed denial of service attacks. These attacks happen when a web server is bombarded with tons of fake requests, overloading the server to make it either shut down or slow down considerably.
Server Hardening: They ensure that their servers are protected with additional security measures and proper access control.
A2 Hosting is also serious when it comes to the physical security of the server. That's why they protect their data centers with two different security cards. Apart from that, each server is further safely stored in closed cages.
CloudFlare CDN
A content delivery system(CDN) is vital for the optimal performance of any site. A CDN is a place where a website copy is stored, and the copy served to the nearby locations. This way, multiple servers act to provide faster copies of websites to local requests, improve website loading speed, and reduce bounce rate.
A2 Hosting comes with proper Cloudflare CDN, free of cost. To use the Cloudflare CDN, you need to activate it either by using the CloudFlare cPanel plugin or going to CloudFlare's site. Yes, it is not pre-activated for your site, and you need to enable it by yourself or ask support to do it for you.
Migration Policy
If you want to migrate your site to A2 Hosting, they can manage migration. However, they will only do it if the other web hosting service uses cPanel.
Once you submit the migration request, it can take anywhere 72 hours to complete the migration. Also, you can migrate for managed VPS, shared, and dedicated managed accounts only.
Green Hosting
We already mentioned that A2 Hosting is green hosting. They are a green company and have been following green energy practices since 2007. They are also partnered with Carbonfund.org. It is an organization that is currently at the forefront of global climate change.
Website Builder
If you are someone who relies on website builders, you will not be disappointed with A2 Hosting's website builder. With it, you can create and publish pages easily. The website builder is available in all of the plans.
Hosting Backend
Once you buy a hosting plan with A2 Hosting, you will be given access to the hosting backend, i.e., the dashboard. The dashboard offers a complete overview of your account, including your active products, open support tickets, cPanel quick login, etc. From there, you can also access the billing area and plan your expenses.
The hosting backend comes with all the necessary account management solutions. You can upgrade/downgrade or even buy new domains if you want.
Suppose you are a business and want a developer to have access to your hosting. You can create a new access code to the back end without the need to share the username and password. By doing so, you are protected from phishing attacks as the user can not access the billing area.
The last two things that you will get from the backend are the domain names and support management.
cPanel
The A2 Hosting comes with cPanel, which is a standard dashboard panel for hosting. You get all the basic features that cPanel has to offer, including managing your files, installing scripts, controlling email accounts, securing your site, and much more!
A2 Hosting Services and Plans
A2 Hosting offers a variety of services to their customers. You can get yourself shared hosting, VPS hosting, WordPress hosting, Reseller hosting and dedicated hosting. Apart from that, you can also buy domains from them.
Shared Web Hosting
The most basic type of hosting that you can get is shared web hosting. This type of hosting is mainly aimed at entry-level sites. The hosting plans use shared server space to run multiple sites at once. But that doesn't mean that they are not viable options. With the right implementation, they offer good flexibility and speed.
A2 Hosting good plans when it comes to shared web hosting. As they are using SSD-based setups, their shared hosting is fast!
The plans are also attractive, and their base plan, "startup" starts from just $2.99 per month. It offers one website and 100 GB SSD storage.
All of their plans offer free migration service and an Anytime Money Back Guarantee. All of their shared plans are as below.
Startup: $2.99 per month, 1 website, 100 GB SSD storage
Drive: $4.99 per month, ultimate website, unlimited SSD storage, and free automatic backups
Turbo Boost: $9.99 per month, unlimited websites, up to 20x faster thanks to NVMe storage
Turbo Max: $14.99 per month, everything that Turbo Boost offers plus 5X more resources.
WordPress Hosting
WordPress is the leading content management system out there. If you are looking for WordPress hosting from A2 Hosting, you will not be disappointed. The WordPress hosting plans are tailored for websites that utilize WordPress.
With them, you can get two types of WordPress hosting plans, shared and managed. For shared WordPress hosting, the pricing is similar to that of shared plans that we discussed above. However, managed WordPress hosting is costlier compared to the shared ones.
In managed WordPress hosting, you get a managed hosting environment that is custom-tailored for WordPress. The hosting provider also manages the hosting for best security, speed, and support. In the case of managed WordPress hosting, you get three plans.
1-site: starts at $11.99 per month, 1 website, 10 GB storage
3-site: starts at $18.99 per month, 3 websites, 25 GB storage
Unlimited: starts at $36.98 per month, unlimited websites, 40 GB storage
All of the managed WordPress hosting plans come with free SSL certificates, have turbo mode and uses the Plesk control panel. They also offer 1-click site staging, easy automated backups, free migration, and free jetpack personal license.
VPS Hosting
VPS hosting is ideal for businesses that require speed and reliability. A2 Hosting offers excellent VPS hosting plans where it provides root access to the VPS solutions.
Right now, they are offering three kinds of VPS plans:
Unmanaged: starts at $5 per month, ideal for system administrators or developers trying out their projects
Managed: starts at $25 per month, ideal for businesses that want VPS performance with user-friendly features such as cPanel.
Core: starts from $25 per month, ideal for companies who want complete control of their hosting environment
Dedicated Hosting
Dedicated hosting is an ideal solution for high-traffic websites. A2 Hosting offers managed, unmanaged, and core hosting providers.
The unmanaged dedicated server starts from $99.95 per month, whereas the managed dedicated server starts from $141.09 per month. The core hosting offers root access and has similar pricing to that of a dedicated hosting provider.
Reseller Hosting
Lastly, you can also get reseller hosting from them. The plans are good for those who want to get started with hosting business themselves. You can choose between Linux or Windows hosting operations. For now, they offer four reseller hosting plans.
Bronze: starts at $13.19 per month, 30 GB SSD Storage, 400 GB Transfer
Silver: starts at $18.47 per month, 75 GB SSD Storage, 600 GB Transfer
Gold: starts at $24.41 per month, 15 GB SSD Storage, 1000 GB Transfer
Platinum: starts at $40.91 per month, 200 GB SSD Storage, 2000 GB Transfer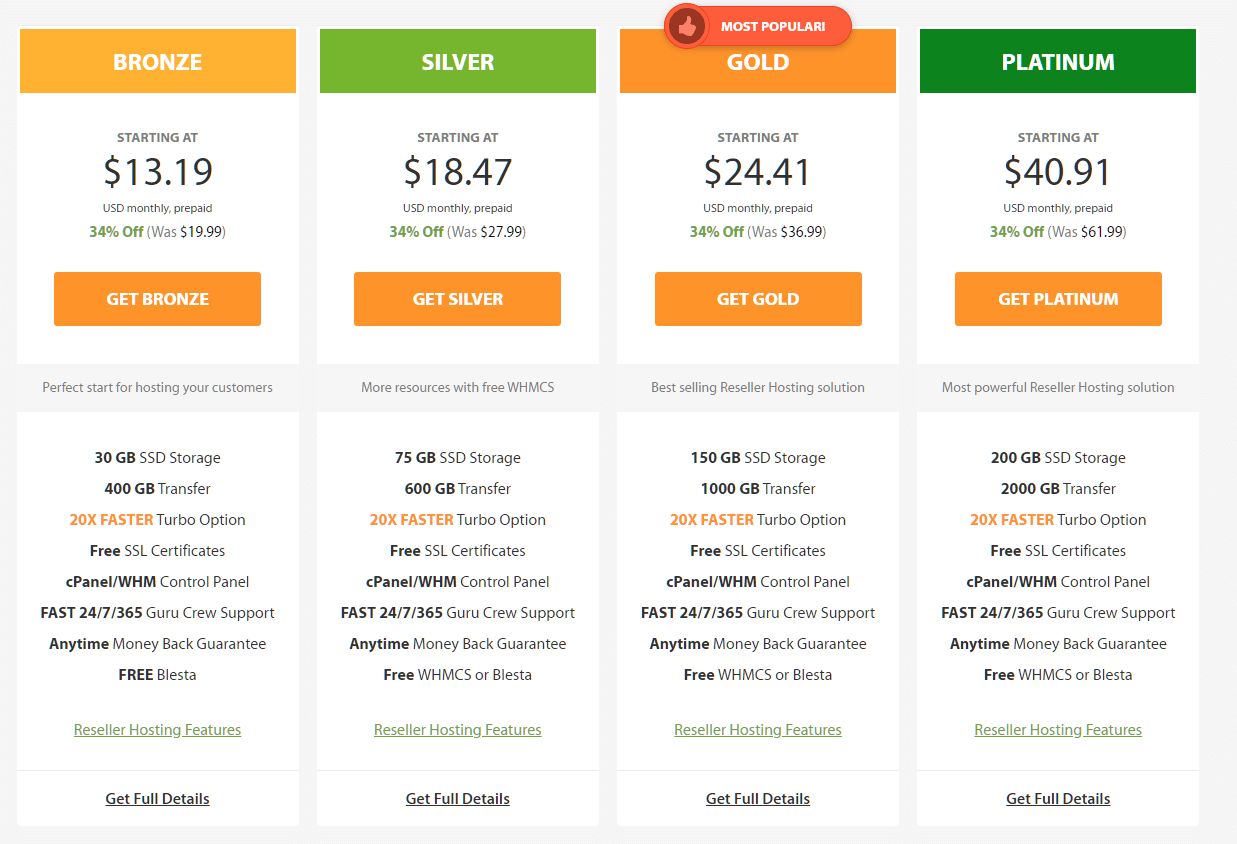 A2 Hosting Pros and Cons
A2 Hosting is not perfect, and just like other hosting providers, it also comes with its pros and cons.
Pros
A2 Hosting is one of the fastest shared hosting providers out there. If you have a limited budget and want speed, then A2 shared hosting is an excellent place to get started.
Their customer support is friendly and provides solutions within a few minutes. You can get hold of them through their live chat.
A2 Hosting offers an excellent 99.99% uptime guarantee.
They offer free migration for sites.
Their security policies are excellent. Their HackScan monitoring service provides value to customers as it is free and effective at protecting your site against malware.
They support popular content management systems(CMS) and access popular website builders and developer tools.
They are green web hosting providers and hence add value to the efforts required to make the world a better place.
Cons
They have high renewal rates. Also, you need to cancel your renewal 15 days before the renewal date. If you fail to do so, then you will be automatically charged.
The cheapest plans are lucrative, but they do come with some restrictions.
Pricing
We have discussed most of the pricing while covering the A2 Hosting services and plans.
If you still want to know about them, then you can check the pricing page for each of their plans below.
All the plans come with an Anytime Money Back Guarantee, and that's amazing for any business out there!
You will get a complete refund within 30 days. As they offer Anytime Money Back Guarantee, you can also ask for a refund after the 30 days. In this case, you are not going to get a full refund. They will use a pro-rated refund method where you are refunded for the unused services for your plan. Both the refund policies do not include domain registration fees.
However, there is one thing you should know before you commit to them. They have high renewal rates. This means for the first year; you pay a certain amount per month. But, from the second year onwards, they will charge more per month. This means you pay more in the long-term. You can easily see that while signing up for them. The longer-term you use, the better the pricing becomes.
If you are not happy with their renewal prices, you need to take action and move your hosting to another provider. Also, make sure that you do so 15 days before the renewal term starts. If you fail to do so, then you have to pay their renewal fees. To make sure you do not fall under the renewal trap, you need to connect with them by emailing them to biling@a2hosting.com or through their customer portal.
Customer Support
A2 Hosting offers excellent customer support! On their site, you can access their 24/7 Guru Crew, which can help you solve your problem almost instantly. The good thing is that they offer a wide range of customer support options.
They provide support via live chat, ticketing system, phone line, and knowledge base.
Their ticket system is neat, and you can access it from the dashboard. You can submit tickets based on sales, hosting questions, or billing. The proper categories help you get faster replies.
You can take full advantage of their knowledge base as well. It is a collection of in-depth tutorials and topics that covers their hosting platform. So, if you get stuck, then it is wise first to take a look at the knowledge base and later try to connect with them.
Conclusion
A2 Hosting is undoubtedly an excellent hosting provider. As A2 Hosting offers a plethora of services, it can be used by a wide range of audiences. We recommend hosting for startups, businesses, developers, system administrators, and freelancers. However, if you are an enterprise, we recommend checking more powerful cloud hosting providers out there.
So, what are your thoughts on A2 Hosting after reading its review? Comment below and let us know.