Are you starting a blog for your business or just as a hobby? You may have lot of content ready but the foremost thing that you need to have is a blogging platform. You may not be surprised to know that there are multiple blogging platforms and builders out in the market.
Some of them are free and others are paid but they claim that they are the best. How do you know which one is the best blogging platform? In this article, I will help you to choose the best of the lot.
Best Blogging Platforms 2022
If you are short on time, here is a quick list of the 10 best blogging platforms:
1. WordPress.org
2. Wix
3. Constant Contact Website Builder
4. Blogger
5. Tumblr
6. Gator
7. Squarespace
8. WordPress.com
9. Medium
10. Ghost
11. Strikingly
12. Write.as
13. LinkedIn
14. Facebook
15. Instagram
If you can spare some time, continue reading this blurb to find out more about each of this platform in some details include their pros and cons. Trust me, if you are seriously thinking about blogging, the time you spend reading this article will eventually be worth it!
Let's begin…
WordPress.org
The world's most popular blogging platform is WordPress.org. It started out in 2003 and serves as a blogging platform for over 30% of websites present on the net.
It is a free and open source blogging platform which allows you to build a website within minutes to few hours.
If you want to want a self-hosted website, then you need to sign up with a WordPress hosting provider.
It is amazing if you want to control your blog.
Pricing:
The software is free. However, you need to buy a domain name (which starts at around $15 a year) and hosting (about $96 a year).
You can choose hosting providers like Bluehost, Digital Ocean, GreenGeeks, Vultr, etc. Bluehost is the official WordPress recommended hosting provider.
The Pros
You get to control every feature of your site.
It is search engine friendly. You get a lot of SEO plugins if you want to get more features. You can also create SEO friendly URLs, tags, categories for your posts.
WordPress.org provides hundreds of free themes from which you can choose the best for your website.
There are over 54,000 free plugins on WordPress. Plugins are like apps on your phones which add features like table of contents, galleries, etc.
WordPress is the best blogging platform if you want to earn from the website. You can also add features like paid memberships, online store, etc.
The Cons
You need to learn a lot! You need to learn how WordPress works, how to write your posts well, etc.
You will have to manage your website's security, and take your own backups.
Wix
It is a hosted blogging platform. Wix allows you to create a website with the help of drag and drop tools. With their Wix Blog app, you can add a blog in your website as well.
It was started in 2006. You don't have to know any coding or other technical knowledge to use Wix. It has over 110 million users over the globe.
The Wix app also has a live-chat feature. Just in case you want to have webinars or have a community, then you can use this feature.
It is the best choice for beginners. It is super-easy and you will take few minutes to create a stunning website.
Pricing:
Basic Wix website builder is completely free. With this, you will get a subdomain for example: https://username.wixsite.com/example.
If you want a custom domain, then you need to pay $4.5 a month. Premium plans start from $8.5 to $24.5 a month.
The Pros
Easy and quick setup.
No coding skills are required.
Drag and drop tools makes the creation of website easy.
You can customize your website using over 500 templates and third-party plugins.
The Cons
Once you select a template, you can't change it in future.
Free apps are limited.
Free account shows Wix ads and branding on your site.
Ecommerce features are limited even in paid plans.
Constant Contact Website Builder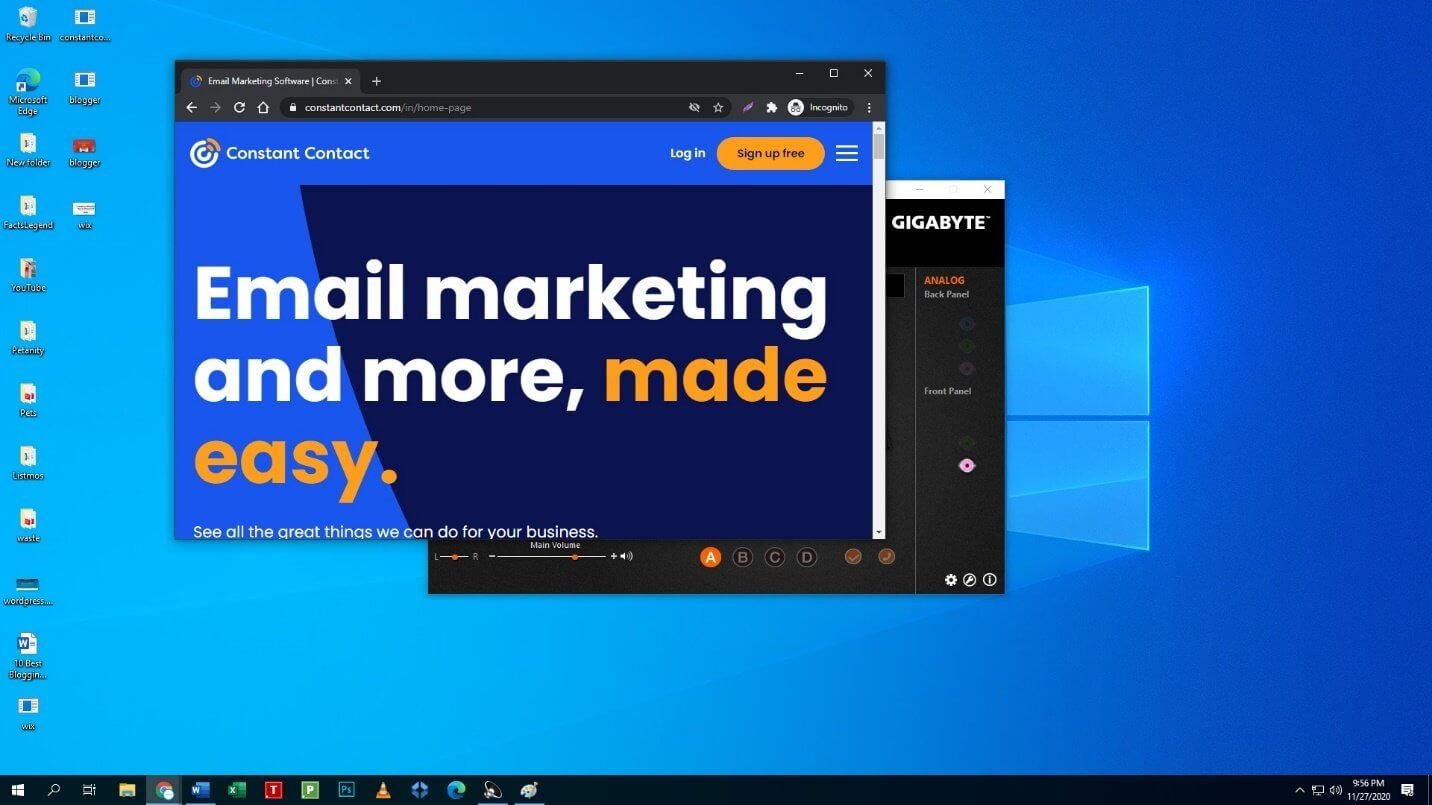 Constant Contact is a website builder powered by Artificial Intelligence. You can create a blog, online store, business website, etc. within few minutes.
Like Wix, it has drag and drop feature with which you can customize your website. It has huge template collection from which you can choose one which suits best for your website.
You also get some awesome tools like professional stock photo library which has over 5,50,000 images, custom logo maker, online store, etc.
Pricing:
Constant Contact Website Builder charges $10 a month. It provides free SSL certificate, custom domain name, 24/7 phone support, and the like.
The best thing about this website builder is that it provides a 60-day free trial.
The Pros
Drag and drop site builder.
Free SSL certificate.
Free 60-day trial which allows you to try every feature of the website builder before buying it.
Easy and quick setup as it will also host your website.
The Cons
It is difficult to export your website from Constant Contact Website Builder to other blogging platforms.
Very little integration with third-party plugins and platforms.
Developer ecosystem is very small.
Blogger
Big daddy Google provides Blogger, a free blogging service. It is one of the easiest and quickest way to create a website.
It is one of the earliest blogging platforms that came into existence. Pyra Labs founded Blogger in 1999. Google acquired and redesigned the platform in 2003 the way we see it today.
You need a Google account to start your free blog on Blogger. It is best for people who are not tech-savvy and want to create a blog just as a hobby.
Pricing:
Blogger is free. You get a subdomain like https://example.blogspot.com. If you want a custom domain, you can buy the domain from a domain registrar.
The Pros
It is completely free.
Since it belongs to Google, it is secure and reliable.
Easy to use.
You don't need any technical skills.
The Cons
It is very basic. You can't add any new features.
Very few templates are available.
No frequent updates or improvement in features.
Google can either suspend your blog or cancel the Blogger service at any given time.
Tumblr
Tumblr is actually a microblogging platform with features of social networking like reblogging, following other blogs, etc.
500+ million blogs use Tumblr. You can use GIFs, music, fashion, jokes, etc. in your post. It is completely free forever! There are pricing structures or trial period for this.
You can start microblogging by just signing up on Tumblr. Tumblr works great if you are starting your blog as a hobby.
Pricing:
It is absolutely free and you get a subdomain like https://example.tumblr.com. You can, however, choose to purchase a custom domain. You can also purchase themes and apps.
The Pros
Free.
Easy to setup and use.
Integrated social media feature.
You can blog videos, GIFs, images, etc.
The Cons
Limited features.
Additional features are not offered by themes on Tumblr.
Moving your blog from Tumblr to other blogging platforms like WordPress is difficult.
Gator
HostGator, a famous hosting provider, created Gator. It is a blogging platform and a website builder. You can build any type of website like business site, online store, blog, etc. using its drag and drop feature
If you are in search of a non-WordPress blogging platform that offers both a blogging platform and hosting service, then Gator is the one for you.
It is highly advanced and has features like free SSL certificate, free domain, and many more. There is no free trial but there is a 45-day money back guarantee.
Pricing:
Starter plan charges $3.46 a month. Premium plan starts at $5.39 per month and ecommerce plan charges $8.30 a month.
The Pros
Drag and drop builder to customize the website.
No technical knowledge required and easy setup.
HostGator handles performance, security, and backups.
You can add an online store without any difficulty.
The Cons
No free trial.
Only higher plans offer ecommerce site features.
Few apps and extensions.
Expensive.
Squarespace
Similar to HostGator, Squarespace is a website building platform which uses drag and drop tool. There are numerous templates and you can use any one of them to create a beautiful website.
It started in 2003 and millions of websites are on Squarespace as of today.
Squarespace is perfect for small business owners who want to create their presence online without working too hard on the website.
Pricing:
Squarespace offers different plans depending on the usage. Personal website plan charges $16 a month or $12 a month if you choose their annual plan.
For Business plan, the rate is $26 a month or $18 a month (billed annually), and for online stores, Squarespace charges from $26 to $40 a month.
The Pros
Simple and easy to use especially for beginners and non-tech-savvy people.
Beautiful templates.
It offers SSL/HTTPs, domain name, and online store separately.
The Cons
It has limited features.
Integrations are limited.
Expensive.
WordPress.com
Matt Mullenweg, the co-founder of WordPress.org, created the company Automattic. Automattic owns the blogging platform, WordPress.com.
It offers basic blogging features for free. Additional options like custom domain name, additional storage, custom domain, etc. can be purchased.
It was started in 2005. It is best for the ones who need a good and simple blogging site without any advanced features that WordPress.org provides.
Pricing:
The basic account is free but your website will run WordPress.com ads and branding. You can go for a Personal plan at $4 a month billed annually. Personal plan removes ads and branding and provides you with a custom domain as well.
You can even opt a higher plan at $8 per month billed annually if you want additional storage, other design features, etc.
The Pros
No setup is required.
Easy to manage and use.
Free if you satisfy yourself with a subdomain.
The Cons
Limited options regarding themes and plugins.
WordPress.com can suspend your blog if they think you are violating their terms of services.
You can't run ads on your website if you choose a free account.
Medium
Medium is a newbie that started in 2012. It grew into a community of journalists, bloggers, writers, experts, etc. It is very simple and easy blogging platform that has social networking features as well. It has more than 60 million users as of today.
Medium works pretty much like Tumblr. You can just create an account and start writing and publishing your pieces of content. You get a subdomain and you cannot choose a custom domain for your website.
Pricing:
It is absolutely free.
The Pros
Easy to use. No setup or coding skills needed.
Your focus stays on writing and not on designing your website.
You can reach to an already existing audience.
The Cons
Limited features.
You cannot use custom domain.
You cannot monetize your site.
Medium owns your blog and audience.
Ghost
Ghost is a blogging platform for entrepreneurs, publications, and developers. You can easily publish your content and earn money. It completely focuses on writing blogs.
It started in 2013. It is the second self-hosted platform (the first being WordPress.org). It gives both self-hosted and hosted versions.
Pricing:
Self-hosted version needs web hosting ($8 per month) and custom domain (15$ per month).
Hosted version charges $29/month for 2 users with a limit of 100K pageviews. If you choose hosted version, you have to get satisfied with a subdomain or you have to buy a custom domain from a third party.
The Pros
It completely focusses on blogging and writing.
User interference is clean, intuitive, and clutter-free.
No setup is required.
It is fast because it is written in JavaScript.
The Cons
Difficult to customize with the apps.
Options are very limited.
Very few themes
Complicated setup if you go for self-hosted version.
Strikingly
Strikingly is a blogging platform that helps you in building your website for free. You can build a website without any prior knowledge of coding and other technical details.
You will get a Strikingly.com subdomain if you opt for the free option. You need to upgrade to their paid plans to get a custom domain.
The content editor is not advanced. If you want a lot of customizations and extras for you posts, then Strikingly is not your option.
All the websites are managed and secured.
Pricing:
There are four paid plans. Limited plan charges $8 per month, Pro plan charges $16 a month, and VIP charges $49 per month.
The Pros
Free website.
Easy to use and manage.
No setup required.
The Cons
No advanced features and customizations.
Expensive.
Write.as
Write.as is a simple, minimalistic blogging platform that lets you focus on your content. You don't have to build a website like other platforms. You don't even have to limit to writings to mere 300 or 400 words like the social media networking sites.
You can pen short stories, long articles, etc. There is absolutely no customization or building to be done.
The best thing is that you can stay anonymous or write under a totally different identity. This platform is perfect to share your views on controversial topics without getting identified.
The feature of being anonymous is beneficial for teachers, students, employees, etc. who want to express their feelings openly.
Pricing:
There is no free account. There is, however, a 14-day free trial. After the trial, you need to go for paid plan.
Write.as charges $6 per month, or $60 if billed annually, or $180 if billed for five years.
The Pros
Anonymity feature
You can focus on blogging and writing.
The Cons
No free account.
Not advanced.
LinkedIn
If you are building a website for your business, then LinkedIn may be a perfect option for you. 45% of the article readers on LinkedIn are Directors, Managers, VPs, and the like.
The curated audience is already available and that will give you a head start. The more posts you publish, more connections you get, and more followers you will gain.
Pricing:
It is free.
The Pros
Pre-existing audience.
Easy to build followers.
Premium audience.
The Cons
Your content is dependent on LinkedIn's algorithm.
You don't own the blog or the audience.
Facebook
Facebook may not look like a blogging platform but trust us, it is working for a lot of people. Why will it not work? Facebook records 1.49 billion daily active users!
The simplest way in which you can create your blog is by creating a group or a page of your brand. Start posting your content and those pieces become Facebook posts.
You can use Facebook Creator Studio if you simplify your Facebook posting and integrating your interactions in one single spot. It has a single dashboard to publish and analyze your content. You will have to create notes if you are new to Facebook or if you just to want to use Facebook as a blogging platform.
You can post videos, GIFs, polls, etc.
Pricing:
It is free.
The Pros
Largest audience available.
Interaction is better on Facebook than traditional blogs.
The Cons
Privacy concerns.
You don't own your blog or audience.
Instagram
If your business is related to creativity, then Instagram may be a very good option for you. Lifestyle blogging, for example, has taken a hit from Instagram.
You can publish posts that has to be around 300 words, you can upload vlogs, videos, etc. You can even use Instagram Live to publish your vlogs.
Pricing:
It is absolutely free.
The Pros
Audience is already available.
Best suited for creative especially visually appealing businesses.
The Cons