There is no question that excellent customer service is the bedrock of every successful company. Customer loyalty is rapidly becoming the commercial equivalent of the Holy Grail. Customer expectations have shifted in today's society.
Previously, a considerate ear on the other end of the phone has developed into a fully managed system that offers customer care based on experiences of the customers. Customers want faster reaction times, less back and forth, and more transparency.
Because there are new expectations in place, small companies who are in need to outperform their rivals on the customer service front may face difficulties.
Companies who place a premium on customer service not only earn a lot of money, but it's also an excellent strategy to build a loyal client base.
Customers who are loyal are less likely to purchase from rivals.
One of the primary methods for enhancing customer service endeavors is via the use of well-managed customer service software. The appropriate software should assist in the following ways:
Increase the speed with which customer requests are processed.
Assist in communicating answers to client issues.
Create a framework that is optimal for shared knowledge and customer resources.
The best customer service solutions enable consumers to resolve issues without the continuous assistance of a customer care professional.
Small companies have less resources in terms of manpower, money, and time, and therefore it is critical that they locate the right customer service software to assist them. If you run a small business, continue reading to discover about the customer service software solutions that can catapult your enterprise to new heights!
In this article, I am going to list the best performing customer service software for small businesses. Continue reading and find out how each of the options listed below can help you.
However, the list is broken down into two segments. The first segment focuses on my top 5 preferred options that you can lay your hands on.
The second segment gives a list of 5 other popular options available in the market.
So, let us begin.
Top 5 Most Preferred Customer Service Software for Small Businesses
#1. Freshdesk
Freshdesk is a cloud-based support system that provides sophisticated customer support solutions. Freshdesk integrates interactions across chat, phone, email, online, and social media, enabling you to easily handle problems across platforms. Additionally, Freshdesk enables you to automate processes, create reports, monitor service level agreements, and provide easy self-help alternatives. Over 40,000 clients utilize Freshdesk, including HP, DHL, Harvard University, and Bridgestone.
Freshdesk Quick Snippets:
Deployment: Web-based or cloud SaaS.
Mobile support: Android & iOS.
Support system: Chat, 24×7 live rep, phone, knowledge base, forums, FAQ, and email.
Training: Videos, documentation, webinars, live online.
Pricing model: Per user.
Price: $18 per month.
Freshdesk Features at a Glance:
Agent Collision Detection
Agent Delegation and Management
Automation of Repeated Actions
Conversion of forum discussion to ticket
Custom SSL Certificates
Custom Ticket Creation
Custom Ticketing & URL
Customer Segmentation
Customized Reports
Email to Content in the Knowledge Base
Event-triggered Automation
Feedback Mechanism
Immediate Solutions Provider
Intelligent Ticket Management
Knowledge Base Monitoring
Linked Tickets
Moderation Creation and Management
Multichannel Support
Network & IP Restrictions
Portal Design as well as Customization
Pre-formatted Response Generation
Real-time customer analytics
Real-time Email Notification
Reports on helpdesk and customer satisfaction
Shared Ownership
SLA Management
Team Huddle
Team Inbox
Ticket Dispatch
Ticket Management and Ticket Monitoring
Ticket Splitting
Time-triggered Automation
Freshdesk, which offers 35+ integrations with third-party apps including Zapier, Salesforce, SurveyMonkey, Shopify, LogMeIn Rescue, and more, has several advantages and disadvantages, too. Let us take a quick look at them:
Advantages of Freshdesk:
It's simple to use – you can get started in a matter of minutes after setting it up.
Because the application is web-based, users are spared the bother of maintaining a server. There are periodic updates on new features and functionality.
In terms of integration and usefulness, it is very adaptable and configurable.
The company provides dependable technical assistance, and their skilled representatives respond quickly if you have issues with any function.
It contains a wealth of information, including FAQs frequently asked questions, which assists new users in resolving problems independently.
They offer a three-week free trial with all available features. You do not need a credit card for that.
Disadvantages of Freshdesk:
There is a scope for improvement in the reporting module.
Premium packages are quite expensive per user.
#2. Zendesk
Zendesk is the market-leading customer support platform. At any size, it improves customer satisfaction by 25 percent, while the agent productivity increases by 30 percent on average. All client contacts are centrally managed via a single dynamic interface that includes predefined ticket answers, web widgets, and a complete history of the customer. Get up and going quickly and anticipate seeing benefits even sooner.
Zendesk Quick Snippets:
Deployment: Web-based or cloud SaaS.
Mobile support: Android & iOS.
Support system: Chat, 24×7 live rep, phone, knowledge base, forums, FAQ, and email.
Training: Videos, documentation, webinars, live online.
Pricing model: Per user.
Price: $19 per month.
Zendesk Features at a Glance:
Ticket handling made simple with an automated process
Support through many channels: email, social media, phone, online, and chat
Support for mobile devices through native applications for Android, iPad, and iPhone
Detailed Reporting and analytics available
Readily customizable customer-facing web interface
Community forums and Knowledge base site.
Over 100 pre-configured integrations with third-party applications
APIs that are open and allow for easy integration with your company
Support for several brands through connected accounts
Numerous, unrestricted "light agents" – available only for the Enterprise plan
Rules and macros for groups
Screencasting
Both private and public forums available
Complete CSS rebranding
Numerous locales – languages and time zones
SSO with Google, Facebook, Twitter, and SAML
REST API available
Salesforce, SugarCRM are pre-built
Zendesk, which integrates with over 600 third-party applications like FreshBooks, Microsoft Dynamics, Zoho CRM, WordPress, LiveChat, HootSuite, 3Clogic, and more, has its fair share of advantages and disadvantages. Let us take a quick look at them.
Advantages of Zendesk:
The platform has strong routing and ticketing capabilities.
Offers robust options for ticket management options that even includes social media.
The new Explore tool enables the creation of customized reports and dashboards, as well as flexible querying.
It supports over 600 integrations of which 100 are preconfigured.
The platform offers omnichannel support.
Zendesk offers a free trial so that you can test the platform before making a purchase.
Disadvantages of Zendesk:
Enterprise features like asset and change management are not available.
Best features are made available only for more costly tiers.
#3. Salesforce Service Cloud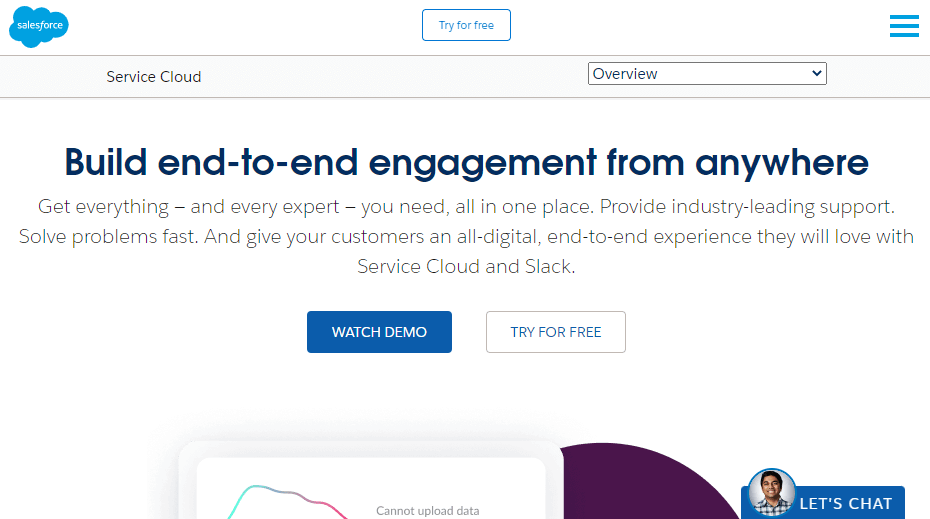 Salesforce Service Cloud is a platform designed for support and customer service. It assists you in resolving cases more quickly and reliably. By integrating your whole company, it enables you to provide better service by providing a 360-degree picture of each client, resolving problems across all channels, and increasing customer satisfaction.
Your service agents are equipped with full insight into each client contact and, via CTI or computer-telephony integration, they are able to expedite the processing of customer calls, thus increasing both customer satisfaction and agent productivity.
The cloud software platform includes everything you need to improve your bespoke service operations and client satisfaction. It enables you to customize every client interaction by providing your service team with complete insight into the goods and services your customers currently possess, allowing agents to discover more appropriate up-sell and cross-sell possibilities.
You'll be able to consistently provide the quality of service to which customers are supposed to get, as well as manage, monitor, and resolve problems more simply with a single view of each case. This also includes resolving issues with SLAs or Service Level Agreements.
Salesforce Service Cloud Quick Snippets:
Deployment: Web-based or cloud SaaS.
Mobile support: Android & iOS.
Support system: Chat, 24×7 live rep, phone, knowledge base, forums, FAQ, and email.
Training: Videos, documentation, webinars, live online.
Pricing model: Per user.
Price: Not provided by the vendor on its website. Price is quotation-based.
Salesforce Service Cloud Features at a Glance:
Activity feed
Advanced case management
Advanced reporting features
AppExchange app integration
Approval and workflow automation
Asset management
Case auto-assignment
Case email auto-response
Case escalation queues and rules
Case milestone tracker
Chatter
Community starter
Computer Telephony Integration
Custom page layouts
Custom profiles
Customer account portal
Customer community
Customizable dashboards and reports
Developer Pro Sandbox
Developer Sandbox
Email and web case capture
Email templates
Field service dispatch
File and data storage
Files
Google Apps integration
Knowledge
Lead-contact account management
Lightning App builder
Limitless custom applications
Limitless online training
Offline access
Omni-channel routing
Omni-channel supervisor
Opportunity tracking
Order management
Outlook integration
Permissions & roles
Product tracking
Recommendations & topics
Record types
Salesforce identity
Salesforce mobile app
Service analytics app
Service console
Service contracts and entitlements
Standard success Plan
Task management
Web services API
Work order management
Salesforce Service Cloud that offers a wide range of third-party applications including Zoho CRM, WordPress, Magento, Microsoft Dynamics GP, BigCommerce, Shopify, Constant Contact, Mailchimp, QuickBooks, FreshBooks, HubSpot CRM, Tipalti, Oracle Service Cloud, and so on, has its fair share of advantages and disadvantages. Let us take a quick look at them.
Advantages of Salesforce Service Cloud:
Comes with computer telephony integration giving call center features right within the console.
Computer telephony integration eliminates the need for notetaking as it automatically logs all calls.
It gives a unified view of all information from customer profile to case history, etc., allowing agents to deliver services quickly and efficiently.
It can listen to customers across various social media platforms, allowing agents to effectively respond to all queries and grievances.
The platform allows agents to smartly collaborate and share expertise.
It offers a mobile-first platform with an intuitive out-of-the-box mobile app.
Offers simple API integration with third-party apps.
Disadvantages of Salesforce Service Cloud:
Data model must be fully understood for making implementation simpler.
Report building can be complicated at times.
Omnichannel feature can be glitchy at times.
Comes with a steep learning curve.
#4. Vision Helpdesk
Vision Helpdesk is a comprehensive help desk solution designed for companies of all sizes. JPK Software Solutions Pvt. Ltd. Developed this award-winning software in 2007 with the goal of enhancing customer support services via the use of cutting-edge functionality. This platform can offer you with all the tools you need. Be it the delivery of efficient and reliable customer service or progress tracking and process optimization – Vision Helpdesk can help you achieve what you need.
Vision Helpdesk has an appealing but simple-to-navigate interface and a robust set of solutions designed to meet the requirements of both small and big businesses. Along with standard help desk functionality, it has a comprehensive incident and issue management tool that automates replies and organizes service requests. Additionally, the customer support solution includes a self-help community function that enables you to create customer forums and knowledge bases.
This product is well-known for its multi-channel support capabilities. This makes managing many channels such as chat, online forms, calls, email, Twitter, and Facebook simpler and quicker without switching between apps.
Additionally, this platform's noteworthy features include help desk gamification options, staff communication tool, and ITIL/ITSM modules. Finally, Vision Helpdesk may be implemented on-premises or as a Software-as-a-Service, depending on your business's requirements.
There are four tools that Vision Helpdesk offers, and they are:
Help Desk Software – It is a multi-channel ticket management software.
Service Desk – It is a PINKVerify Certified ITIL/ITSM compliant software offering features like problem management, incident management, asset management, CMDB, release management, and so on.
Satellite Help Desk – It is a multi-brand help desk allowing management of IT service desk or customer support functionality in a single place.
Live Chat – It is a multi-company live chat messaging platform for improving customer engagement.
Vision Helpdesk Quick Snippets:
Deployment: Web-based, cloud, SaaS, or on-premises for Windows and Linux
Mobile support: Android & iOS.
Support system: Chat, 24×7 live rep, phone, knowledge base, forums, FAQ, and email.
Training: Videos, documentation, webinars, live online, in-person.
Pricing model: Per user.
Price: $8 per month.
Vision Helpdesk Features at a Glance:
3rd party integrations and single login
Analytics and reporting
Calendar management
Client management
Creation of ticket queues, status, and department
Escalations, Workflow, SLA, and Automation
Manage support for multiple companies
Mobile apps
Multi-channel support for tickets, phone, chat, Facebook, and Twitter
Multi-language support
Online issue tracking
Private social hub called Blabby for staff members
Solutions, forums, knowledge base, predefined replies, Q & A
Task Management
Ticket billing
Ticket management
Ticket pinning and client pinning
Ticket views
Time tracking
Two-way email parsing
Various script integrations
Vision Helpdesk API
Vision Helpdesk that readily integrates with a slew of third-party applications like Google hosted emails, Twitter, Facebook, PayPal, Office365 hosted emails, HostBill, Active Directory, SugarCRM, 2SMS, etc., has its fair share of advantages and disadvantages. Learn about the pros and cons below.
Advantages of Vision Helpdesk:
Allows multi-channel customer support.
Offers support for multiple brands and products.
The SLA administration is great, allowing users to create tiered support levels.
Customer service is quick and dependable, and employees handle problems quickly and properly.
SaaS products are cheap due to the satellite price structure.
The tabs function is beneficial since it saves a great deal of time.
Numerous businesses benefit from the multi-brand support management solution.
Disadvantages of Vision Helpdesk:
Could have thrown in a live chat tool built into the suite. This could be a killer combination.
A few more default reports could have been far more beneficial for the administrators.
#5. Zoho Desk
Zoho Desk is a popular support desk platform that enables businesses to provide superior customer service to the customer by providing tools that increase agent productivity. The tools also provide reports and analytics that allow managers to identify critical issues with the performance of the agents in order to improve service and make informed decisions for their businesses. Additionally, customers benefit from Zoho Desk since the platform enables them to quickly and easily get timely and appropriate assistance.
Businesses use Zoho Desk to provide their support staff with the finest tools, numerous help channels, and job automation, enabling them to offer prompt and responsive assistance to their customers. This help desk platform unifies workers from many departments and enables them to provide a uniform and seamless customer care experience to their consumers.
Zoho Desk Quick Snippets:
Deployment: Web-based, cloud, SaaS, or on-premises for Windows and Mac.
Mobile support: Android & iOS.
Support system: Chat, 24×7 live rep, phone, knowledge base, forums, FAQ, and email.
Training: Videos, documentation, webinars, live online.
Pricing model: Per user.
Price: Starts from $14 per month.
Zoho Desk Features at a Glance:
Alerts and Escalation
Appointment Management
Call Center Management
Email Management
Knowledge Base Management
Live Chat
Performance Metrics
Queue Management
Self Service Portal
Social Media Integration
Surveys & Feedback
Virtual Assistant
Workflow Management
Zoho Desk, which integrates with several other applications like Zoho CRM, Zoho Creator, Zoho Projects, Zoho BugTracker, Zoho Reports, Zoho SalesIQ, RingCentral, Facebook, Gsuite, etc., has its fair share of advantages and disadvantages. Let us learn about the pros and cons of Zoho.
Advantages of Zoho Desk:
Offers a customer dashboard that gives a unified data about the customers, thereby allowing agents to give better customer service.
It allows creating different tickets for customer requests and delegating those tickets to agents.
It allows single sign on integration for customers.
It fully integrates with Google calendar and contacts.
It is user-friendly and allows customizations to meet specific company needs.
Zoho Desk also has an AI-powered voice assistant.
It is available in multiple languages and services in multiple countries and time zones.
Disadvantages of Zoho Desk:
For entry-level users, the UI can be a bit complicated.
Lower subscription tiers do not allow many customization options.
It has a steep learning curve, but once that is done, it becomes easy to handle.
Okay, now that you have learned about my top 5 choices of the customer service software, let me quickly walk you through some other popular options that you can try out.
The 5 Other Popular Customer Service Software for Small Businesses
#6. Freshservice
Freshservice is a widely used cloud-based customer support solution that was created with the aim of allowing businesses of all kinds to provide exceptional customer care. It enables plug-and-play ITIL compliance with best practices without requiring costly consultations or expert views.
Its primary features include a comprehensive ticketing system, an easily accessible KB (knowledge base), asset identification, and a configuration management database (CMDB). Additionally, the program has incident management, vendor management, change management, issue management, and release management features.
How can Freshservice specifically improve the quality of your service? The system's central element is incident management, which was designed in such a manner that no client question falls through the gaps. With a service desk that is available through many channels, the solution allows automation of all regular and boring duties while allowing your staff to agree on the best answer for each question.
Freshservice is also excellent at analyzing problems and resolving them before they have a negative impact on the productivity of your business, as it connects unexpected incidents to common problems, investigates the root cause and recommends precious workarounds, and records all issues in a known-error data repository until a permanent solution is found.
Freshservice Primary Features:
1 Free Custom SSL
Advanced Reporting
Agent Collision
Announcements
Asset Reporting
Basic Reporting
Basic Ticketing
Change Management
CMDB
Contract Management
Custom Mailbox
Customizable Agent Roles
Domain Mapping
Enterprise Reporting
Incident Management
Integrated Game Mechanics
Intelligent Automation Tools
IP Whitelisting
Knowledge Base
MSP Plugin
Multiple Business Hours
Multiple Portal Languages
Multiple SLA Policies
Portal Customization
Priority Matrix
Problem Management
Release Management
Round Robin
Satisfaction Surveys
Scheduler
Self Service Portal
Service Catalog
SLA Management
Time Tracking
Unlimited Mailboxes
Widgets
#7. ConnectWise Control
ConnectWise Control is a highly efficient and responsive remote support, access, and meeting solution for contemporary technical help teams. By using remote assistance and access to repair computers, managing devices, and giving updates, the system enables specialists to increase their productivity.
They may also use it to provide online lectures and create presentations for distant meetings. ConnectWise Control is a quick, dependable, and hassle-free remote control solution that contains the same capabilities as much more complicated remote control systems.
As a member of a well-known productivity software family, this system enables fast, high-quality customer service and unimpeded collaboration between technicians and agents.
Because the tool lends itself to customization, it enables you to emphasize your brand and alter anything from logos and symbols to the language used on your website. ConnectWise Control works in conjunction with ConnectWise Automate and provides a scalable price model based on the user's capabilities.
Additionally, ConnectWise Control is a team-based application rather than an individual one. The extensive collection of cooperation materials enables agents to help one another and share views, files, and even jobs. They will all have unrestricted access to the same client information and will be able to draw lessons from prior instances in order to devise a simpler solution.
As with other ConnectWise features and capabilities, data access is granted across all devices and operating systems and is saved and managed in the cloud to prevent data loss or abuse. However, if you are a single technician, you may apply for an on-premises license and receive one for free.
ConnectWise Control Primary Features:
Automated reconnection
Browser extensions
Cross-platform compatibility
Customization & branding
Device monitoring & device management
Enhanced features for users of Mac and Linux
Granular controls and enhanced security
Integrates with ConnectWise Automation
Multiple agents
No interruptions
Permissions and roles
Remote access
Remote meetings
Remote Support
Secure information
Shared toolbox
Simplified file transfer
Unattended access
#8. HubSpot Service Hub
Service Hub is HubSpot's newest product, which, when combined with HubSpot CRM, HubSpot Marketing, and HubSpot Sales, provides a comprehensive suite of tools for engaging, guiding, and growing your customers. The new product line has a robust set of capabilities that enables your customer care staff to provide the best possible customer experience.
With the addition of Service Hub, you now have a complete front office solution. You now have a single customer view across marketing, sales, and service. Because you get a unified platform, your sales, marketing, and service teams may now access a single consolidated client record from which they can provide the best possible assistance.
HubSpot's Service Hub was born out of a concerted effort to provide products that assist you in delivering an exceptional customer experience to your clients. HubSpot recognized significant shifts in consumer behavior based on its studies, experience, and research. Clients have become more demanding, and impatient, making it very difficult for companies to keep customers.
Your service staff will be able to react to customer problems more quickly, provide customized assistance, encourage customers to self-help, and gather critical feedback to get a better understanding of your consumers as a result of the capabilities and features that HubSpot Service Hub brings to the table.
HubSpot Service Hub Primary Features:
Calling
Canned snippets
Company insights
Company records
Contact insights
Contact management
Conversational bots
Conversations dashboard
Customer feedback
Documents
Email and phone support
Email notification
Email scheduling
Email sequences
Email templates
Email tracking
Integration
Knowledge base
Live chat
Meeting scheduling
Reporting
Routing and automation
Team email
Ticketing
#9. ProProfs Help Desk
A cloud-based customer support software, ProProfs Help Desk provides your support staff with the tools they need to collaborate and handle any problem much more quickly. ProProfs Help Desk is a solution your company can rely on due to its out-of-the-box capabilities and robust reporting.
This straightforward but intelligent help desk software was created to make managing numerous customer-facing inboxes easier. It allows support staff to prioritize issues that need immediate attention by sorting and filtering them according to internal notes and labels.
Users may build their own specialized Knowledge Base, which significantly lowers ticket assistance inquiries (ticket traffic) by up to 80%. A self-service portal is an excellent method to assist consumers in resolving frequently requested problems on their own.
Additionally, an internal knowledge base may be established to facilitate workers' access to documents, manuals, guides, and recommendations, assisting them in becoming acquainted with client pain areas and maximizing the efficiency of a streamlined process for support.
Apart from connection with a knowledge base, ProProfs Help Desk enables the inclusion of Live Chat, which significantly improves the client experience. Your representatives will be able to interact with consumers in real time and address their problems more quickly with the integration of Live Chat. All of these internal connections combine to make ProProfs Help Desk a true powerhouse.
ProProfs Help Desk Primary Features:
Agent Training
Automated Ticket Creation
Automated Ticket Assignment
Customer Training
Instant Support
Mobile Devices Optimized
Prioritize Tickets
Scalable Solution
Share Knowledge
Solve Tickets
Track Tickets
#10. Userlike
Userlike is a mobile messaging and online chat customer support solution. Communicate with consumers via your website, WhatsApp, SMS, Telegram, and Facebook Messenger. It allows connecting the chatbot to your website to automate some aspects of your client interactions. Userlike originated in Germany, and its GDPR-compliant communication solution safeguards your data and the data of your clientele.
From small and medium-sized businesses to industry giants such as Merck, Nivea, and BMW, etc. rely on Userlike. Userlike is used by over 10,000 businesses worldwide to interact with their consumers.
Userlike Primary Features:
Alerts & Escalation
Canned Responses
Cataloging
Categorization
Chat & Messaging
Chatbot
Communication Management
Customer Service Analytics
Customer Support
Customizable Branding
Dashboard
Email Distribution
Email Management
Feedback Management
Geotargeting
Human Handover, and more!
Conclusion
Trust me, the list here is nowhere even close to being a complete one. There are many more that can be added to this. However, doing so is not a feasible option because it is virtually not possible to test every option available in the market.
Your business needs will be different from other businesses. So, the ones mentioned here might not be the right option for you. You can always look around for other customer service software available in the market.
Even for the given list, different software programs have different features. Go through the features available to find out what works for you and what doesn't. Blindly selecting one can cause headaches and unnecessary expenses over the long run. You will definitely not want that to happen!